Walltown Health Clinic Opens
Clinic is the second community health center assisted by Duke Durham Neighborhood Partnership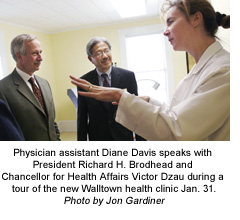 eThe Duke-Durham Neighborhood Partnership celebrated the opening of its second community health clinic on Monday. The Walltown Neighborhood Clinic, located in a freshly painted and renovated former house at 815 Broad St., serves people from the Walltown neighborhood and greater Durham, primarily low-income patients.
"We believe in miracles and we say 'thank you' to Duke for seeing the need and making this miracle happen," said the Rev. Mel Williams, pastor at Watts Street Baptist Church and a member of the Walltown Neighborhood Ministries. Williams first approached Duke's Office of Community Affairs three years ago about the need for accessible health care in the neighborhood located a block from East Campus.
Walltown is one of the 12 neighborhoods in the Neighborhood Partnership, a collaboration between the university and residents to work together to improve the quality of life close to campus. More than half of the residents in Walltown lack insurance and many must rely on public transportation.
The clinic, which features five examination rooms and a small laboratory for limited on-site tests, is a satellite of the Lincoln Community Health Center and is operated byDuke's Division of Community Health, including a physician's assistant who speaks Spanish.  Patients pay on the Lincolnsliding scale, with visits costing as little as $10.
Speakers at the dedication emphasized the fact that the Walltown Neighborhood Association, ministers, Duke and Lincoln Community Health worked together to make the clinic happen.
"We do not go around planting clinics like Johnny Appleseed," said Dr. Victor Dzau , president and CEO of the Duke University Health System and an advocate for addressing inequities in health care. "A community health center must emerge from the needs of the community, not from someone else's social engineering."
Added Duke President Richard H. Brodhead: "This is an example of what it means to be neighborly -- everyone helping to do something together that they couldn't do by themselves. When health care can be made part of everyday life in the neighborhood, then progress has been made."
The Duke Endowment, which is not affiliated with the university, donated $240,000 to Duke to help launch the clinic and finance an expansion at a similar clinic in Lyon Park, another partnership neighborhood. Gary Hock, a local developer, also donated money toward the renovation.
The clinic is named for Walltown founder George Wall, who was born into slavery in Randolph County in 1856. Wall moved to Durham in 1892 at the request of Trinity College President John F. Crowell, when Trinity moved from Randolph County. He worked for university presidents for more than 60 years, and his son continued the tradition of service into the administration of Duke President Robert Flowers, bequeathing scholarships at Duke upon his death in 1946.
"It's dedicated to his memory because he forged a path between Durham and Duke University that exists today," said Susan Yaggy, chief of the Division of Community Health at Duke, who orchestrated the creation of the clinic and hung a framed portrait of Wall in the clinic.
About 30 members of the Wall family attended the ceremony, including representatives of each of Wall's nine children, said Betty Kelly, a greatgreat-granddaughter of Wall, who spoke on behalf of the family and noted that two of his descendants graduated from Duke. "He would be so proud to be so honored by the university he worked for and loved."