Writer Allan Gurganus Named Lehman Brady Professor at Duke, UNC-CH; Reading Scheduled Oct. 28
Allan Gurganus, author of the novel "Oldest Living Confederate Widow Tells All," has been named the Lehman Brady Joint Chair Professor in Documentary Studies and American Studies at Duke and the University of North Carolina at Chapel Hill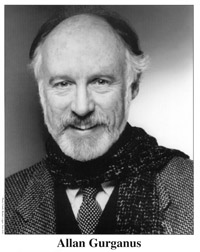 Allan Gurganus, author of the best-selling novel "Oldest Living Confederate Widow Tells All," has been named the Lehman Brady Joint Chair Professor in Documentary Studies and American Studies at Duke University and the University of North Carolina at Chapel Hill for the 2004-05 academic year.
Gurganus will deliver the annual Lehman Brady Lecture at the Center for Documentary Studies at 7 p.m. Oct. 28. He will read his story "My Heart Is a Snake Farm," which is scheduled for publication in The New Yorker magazine. A reception will begin at 6:30 p.m. and continue after the reading. The event is free and open to the public.
"Documentary expression is always about storytelling, employing the skills of writers of fiction, history and community memory," said Tom Rankin, director of the Center for Documentary Studies at Duke, where the Lehman Brady Chair is based. "No one is more talented and brave at weaving our myriad cultural and personal tales than Allan Gurganus."
In addition to the "Oldest Living Confederate War Widow Tells All," Gurganus is the author of a collection of stories and novellas, "White People," which won the Los Angeles Times Book Prize, and the novel "Plays Well with Others." His latest work, "The Practical Heart: Four Novellas," won the Lambda Literary Award.
Gurganus, who lives in Hillsborough, N.C., also is teaching an undergraduate course at both Duke and UNC titled "Writing Fiction, Decoding American History." With 10 students from each school, the course rotates campuses from week to week.
"Our students are excited about studying with Allan Gurganus," said Laurie Maffly-Kipp, acting chair of the curriculum in American Studies in UNC's College of Arts and Sciences. "They're learning from a master how to tell compelling stories by drawing from the news, history and their own memories."
Gurganus said the class "proposes an odd and tonic admixture, the making of new citizen-artist-historians. Along with current events, we are concurrently reading U.S. history from Columbus forward and American fiction as it evolved chronologically.
"By slipping into other identities and the empathy they require, by doing in-depth supplemental historical research, by connecting past tragedies and migrations to today's front page, students have a chance to make something new History is personal."
Gurganus has taught at Duke, Stanford, the Iowa Writers' Workshop and Sarah Lawrence. His short fiction is included in the O'Henry Prize Collection, Best American Stories Collection and The Norton Anthology of Short Fiction. His political editorials often appear in The New York Times.
The Lehman Brady Chair is supported by two endowment funds, one established at the Center for Documentary Studies by the Lyndhurst Foundation and the other established at Duke by the bequest of Lehman Brady, a Durham attorney who died in 1995. Past Lehman Brady Professors have included photographer and filmmaker John Cohen, writer and oral historian David Cecelski, writer Randall Kenan, photographer and visual historian Deborah Willis and country music historian Bill Malone.
_        _        _        _
For more information about the Center for Documentary Studies at Duke University, call (919) 660-3663, send an e-mail to docstudies@duke.edu, or check the CDS Web site.
Note to broadcast editors: Duke provides an on-campus satellite uplink facility for live or pre-recorded television interviews. We are also equipped with ISDN connectivity for radio interviews. Broadcast reporters should contact the Office of Radio-TV Services at (919) 681-8067 to arrange an interview.
For more information contact:
L. J. Toler (UNC-CH) | (919) 962-8589 | Laura@athena.dev.unc.edu