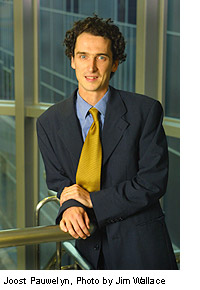 Making Sense Of Law, Trade And Sovereignty
Arriving from the World Trade Organization, law professor has mastered the complexities of international trade law

By Nancy Oates
October 25, 2002 | DURHAM, NC -- Joost Pauwelyn, his wife and two daughters - a 2-year-old and an infant - arrived in Durham from Geneva on a Sunday in mid-August that packed sucker-punch-strength heat and humidity. The kids were sick, the parents had a stack of government forms to fill out and the whole family felt jet-lagged.
Two days later, Pauwelyn began teaching his first class in international trade law at Duke in the 5 to 7 p.m. slot (11 p.m. to 1 a.m. Switzerland time).
"If you have jet lag, it's hard to bring across that enthusiasm," Pauwelyn, 31, said. "When you open the treaty text, it looks like a boring subject - custom duties and internal taxation. But once you've worked in the field, it's easy to make it interesting because you know the disputes are about things that concern every consumer."
Even lack of sleep couldn't tamp down his excitement once he launched into the intricacies of the cases he'd been working on at the World Trade Organization (WTO) almost since the international dispute resolution agency began.
"Trade is no longer just about products crossing borders," he said. "It goes to the heart of sovereignty, what consumers want to eat, whether it's hormone treated, whether the environment is protected while you harvest the product.
"A trade dispute is not just about trade. There's an overlap of trade and environment and human rights; law and economics and politics."
The Belgian-born professor studied public international law at universities in Belgium, at University of Oxford in England, and at the University of Neuchatel in Switzerland where he received his Ph.D. He began working as a legal adviser to the WTO in 1996, when the WTO was barely a year old. On his first day as an international civil servant, his superior plopped a huge case on his desk - a dispute over whether the European Union would allow hormone-treated beef from the United States into its market.
"It was an incredibly interesting beginning," Pauwelyn said. As a legal adviser to a judge appointed to rule on the merits of that particular case, Pauwelyn was responsible for bringing the judge up to speed on the relevant case law. Ultimately, the judge ruled that treated beef was not a justified barrier to trade and should be allowed into the E.U. market.
"As you can imagine," Pauwelyn said, "there was a huge outcry in Europe."
Being at the forefront of disputes over treaties that affect every consumer energized Pauwelyn - and made it difficult for him to leave the WTO for academia. He planned to teach, eventually, and was on a yearlong leave of absence from the WTO to complete his doctorate when Duke approached him about a tenure-track position at the law school.
"I was a bit skeptical; I didn't even know where Duke was situated," he said. He was in New York for a semester teaching at New York University and doing research at Columbia University when he flew to Durham in December to talk with the selection committee. He found Durham to be "far more sophisticated and cosmopolitan" than he expected. Persuading his wife, Fanny Baerts, to leave her high-level position in the International Federation of Red Cross was made somewhat easier by the expected arrival of their second child. (Having stayed home with two small children for several months, Baerts is ready to resume her career.)
Donald Horowitz, the James B. Duke Professor of Law and Political Science, was on the selection committee charged with finding someone to teach international trade law.
"This was a big, worldwide search, and he rose to the top," Horowitz said of Pauwelyn. "There's scarcely anyone in the world who knows more about international trade law than he does."
Trade law is the fastest-growing body of international law, Horowitz said, and is bound to be important in the years ahead. While many of the candidates that the committee interviewed were highly specialized, Pauwelyn emphasized the more general connections between international trade law and public international law, arguing that many of the gaps in international trade law could be filled by looking at public international law, Horowitz said.
"He has a contagious enthusiasm about what he does," Horowitz said. "He'll not only be an outstanding researcher but a very effective teacher."
The small class size and interaction with students using the Socratic method contrast sharply with Pauwelyn's experience of studying law in Europe. He hopes to imbue his students with analytic skills so that when they examine, for instance, the pros and cons of globalization and how to ensure it benefits poor countries as well as rich, his students will be able to discern and balance the many variables.
Pauwelyn has trained government officials in Geneva, but said Duke students are "a completely different audience."
"Here you have complete newcomers to the field," he said, "and you have to make them interested in it, and explain in a limited amount of time the legal intricacies and the economics and politics of it. It is difficult to fit everything into a three-credit course."
But the students seem game, Pauwelyn said, and everyone in class participates in the debates.
"So far," he said, "teaching has been a lot of fun."

Related Links
Conflict of Norms in Public International Law
The Role of International Law in the WTO
A U.N. project on international environmental governance