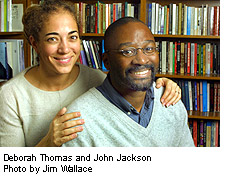 A Meeting Of Art And Scholarship
Two cultural anthropologists work to use art and activism in the support of academic research

By Geoffrey Mock
October 25, 2002 | DURHAM, NC -- It's a sunny day in Harlem, and in keeping with the mythology of the place, there's a story to be told.
On this particular day, former President Bill Clinton is walking to his new office there. Hundreds of people come streaming out to welcome him and to bask in the glow and attention he's brought.
Duke cultural anthropologist and filmmaker John Jackson is getting this on video for a documentary work on the gentrification of Harlem.
"I've been working on the project for four, five years with a Harlem filmmaker named Duana Butler," said Jackson, an assistant professor. "Harlem is a great place to talk about the blurring between factual and fictional images because it's such a legendary place. It has this rich history that almost overcomes the real place itself. We've been looking at what gentrification looks like, who are in the different camps and how it's playing out.
"So into this Bill Clinton comes. It was one of those amazing moments to capture on film with all these people coming out to celebrate. There had been this public discourse about Clinton being 'the first black president.' But on that day, just as vocal and just as obvious as the positive responses were, there was also serious, almost violent reaction from the other side, from people who thought that Clinton and gentrification would ruin Harlem.
"For me it was interesting to see how people not only drew those lines, but also how they debated with other people across them. On both sides there are very strong, heartfelt arguments about why it was either the greatest thing that ever happened to Harlem or the worst thing. And the fascinating thing is that they're probably both absolutely right."
Jackson is one of two new cultural anthropology faculty members who attempt to use an artistic medium to achieve scholarly ends. His goal, he said, is to find ways "to integrate my identity as an urban anthropologist with my other half - my identity as an ethnographic filmmaker. Duke is a place that seems amenable to me thinking through the connections between those two identities."
Author of the book Harlemworld: Doing Race and Class in Contemporary Black America (University of Chicago Press 2001), Jackson, a Brooklyn native, was drawn to film by filmmakers such as Spike Lee who use fiction to attempt to make "truth claims." Jackson said he feels free to move between the mediums of scholarship, documentary films and fiction films because all have the goal of telling good stories truthfully.
"You can do this even when working with fiction film," Jackson said. "I want to use fiction in a rigorous way, in a way that says this isn't just something that is untrue. Thinking through the techniques of fiction film making - editing strategies, narrative strategies - help us think about what we take for granted when we see documentary films and read ethnographic monographs. I want to use some of the attributes of fiction films, the things that make them so compelling and authoritative to talk about real-world ethnographic data."
The other new hire in the department is Jackson's wife, assistant professor Deborah Thomas, a dancer who interweaves her interests in art, social activism and scholarship. The two assistant professors come to Duke from New York: Jackson received his Ph.D. from Columbia; Thomas earned hers from New York University.
Thomas is a former performer with the group Urban Bush Women, a popular group (it has performed at Duke) that mixes performance with grassroots organizing and community activism. In New Orleans, for example, Thomas and two other dancers worked with a local community group that was organizing a large block party to bring peace between two warring neighborhoods. The activists used dance and movement exercises geared toward conflict resolution to help members from each neighborhood build a kind of trust that would endure after the party.
This personal interest is reflected in her research. Her general interest examines how artists attempt to bring about social change. Most of her research focuses on the Caribbean. Her dissertation, which is being turned into a forthcoming book by Duke University Press, looked at art and activism in Jamaica as they related to post-independence nation building and state formation in that country and how they were influenced by contemporary globalization.
Often, she said, she wants to understand where these activist-artists fail in their goals.
"All of us involved in this work feel like artists have the power to change the world," Thomas said. "I wanted to know why we don't. I wanted to know what are all these other factors that affected the way people lived their lives? Why were they not receptive to the artists' message? What were the artists' own shortcomings and limitations about how they conceptualize the ways people should think about something? That has led me to explore how people mobilize around racial, class, national, gender and generational identities."
Dance led to her involvement in anthropology in a roundabout way, Thomas said. "I figured out the way to enter a community most seamlessly was to be active with people in dance class, dance companies or rehearsals. With Urban Bush Women, some of the dance that we did came out of researched performance and anthropology. So just being curious through the language of art led me to be curious through other kinds of languages."
To Thomas, New York was a tremendous crucible in which to strengthen her interests in art, activism and scholarship, but it will be at Duke where she will try to bring those interests together.
"I want to integrate my different backgrounds as a dancer as someone who works for many years in feminist nonprofit groups and as a scholar," Thomas said. "It made sense to me to find a place that was going to be very supportive of trying to make those links in a very deep way, not in a superficial way. I wanted not to keep doing all these things separately but to integrate them in a way that will really produce new kinds of knowledge and will integrate artistic communities, activist communities, academic communities.
"I always lamented in New York that I could never have a party and invite everybody I knew because it was like three different sets of people. Now I'm on a mission to be able to invite everyone to the same party," she said with a laugh.

Related Link
Deborah Thomas: Emancipating the Nation (Again)