A Renovated Mary Lou Williams Center to Reopen in Spring
Center will return with reimagined community space
Image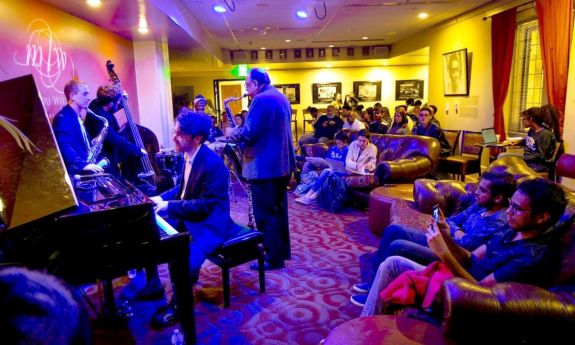 Barring unforeseen complications, the center is expected to open in the spring semester. The project will use new furniture and other design enhancements to give a fresh feel to the two-floor, 4,900-square foot space. The design was completed by Durham-based EVOKE Studio Architecture.
"It will have a more modern look," said Dawna Jones, Duke's assistant vice president for identity centers and community development. "This renovation will help students feel that the space is more comfortable and will have a more futuristic vibe. It will have more natural light and more window seats where students can study."
The furniture itself will be more versatile and encouraging of communal dialogue, Jones added.
"The previous furniture was very elegant but not that functional," she said. "We want the new furniture to spur more conversations."
The flood created significant damage to the space, which is in the Flowers Building on West Campus. It ruined ceilings, carpeting, equipment, furniture, and some drywall.
In the interim, other campus spaces have served as welcoming spaces for Black students, including the temporary Mary Lou Williams Center space on the third floor of the Bryan Center, a student affinity space on the second floor, and the Mitchell-White living and learning community.
The center opened in 1983 and is named after Mary Lou Williams, a jazz pianist and composer whose contemporaries included Miles Davis and Duke Ellington. Williams came to Duke in 1977 as an artist-in-residence, teaching until her death in Durham in 1981.
It has routinely hosted Wednesday night Jazz@MaryLou performances, a popular event series temporarily relocated to the Devil's Krafthouse in the Brodhead Center.
The center will mark its 40th anniversary this weekend with a free community cookout September 29 and a celebratory gala on September 30 in downtown Durham.
In planning the renovation, architects gathered ideas from undergraduates, graduate students and young alums among others. It was important to create a new facility students could identify with, Jones said.
"It was important to us that all students in the African diaspora could be comfortable here," she said. "Whether you're an African-American student from North Carolina or you're a Ghanian student, it's important to us that you could see yourself in that space."