Q&A: What to Know about COVID and Flu Vaccines this Fall
Duke doctors Carol Epling and Cameron Wolfe share advice on how to stay safe during flu season and amid a COVID spike
Image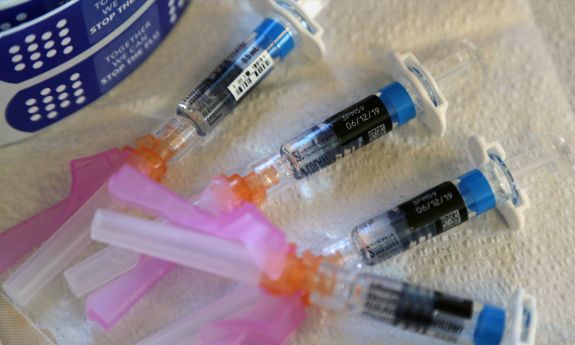 Find Your Flu Vaccination
Staff and faculty can get vaccinated at several sites at Duke this fall.
Hospitalizations and deaths due to COVID are also on the rise nationally.
To date, 1.1 million COVID-19 deaths have been reported in the U.S.
Working@Duke talked with Duke's Employee Occupational Health & Wellness Executive Director Dr. Carol Epling and Duke Professor of Medicine Dr. Cameron Wolfe, an infectious disease expert, about seasonal influenza, COVID-19, and boosters.
WHAT IS HAPPENING WITH COVID?
Wolfe said the current rise in COVID-19 cases is expected. Summer travel, more gatherings and relaxed restrictions have likely contributed to the late summer increase in infections, emergency department visits and hospital admissions.
Also, the virus itself is continuing to evolve, Wolfe said. Mutations lead to newer – sometimes more contagious – strains, such as the current BA.2.86 variant, which can lead to an increase in COVID-19 cases.
"For a number of different reasons, it seems there are repeated spikes, which tend to happen toward the end of July and into August, and then again in the winter," Wolfe said. "We've seen the summer spikes for the last four summers in a row, sadly. It's a healthy reminder that the virus is still out there."
WHAT CAN WE DO TO PROTECT OURSELVES FROM COVID-19?
Nearly halfway through the fourth year of living with COVID-19, the conventional wisdom for avoiding the virus still holds. If you have symptoms, it's important to get tested, isolate and wear a mask.
Another key step Wolfe recommends is getting the updated new COVID-19 booster, which will likely be available in late September or early October. The new booster will be formulated to protect against newer strains of the virus and, if taken in the fall, will provide strengthened immunity during the winter months when the risk of contracting respiratory diseases are highest.
"I think the reality of this moment is that COVID continues to mutate and cause older adults and immunosuppressed adults a lot of problems," Wolfe said. "Even for healthy adults, I think we all know people who have been knocked down by the virus in the past month or so. So there's good motivation to get the updated vaccine. People should view this new vaccine like a flu shot which enables them to stay healthy. Nobody wants to go through a bunch of days feeling sick; no one wants to get Long Covid. They can avoid that with a 30-minute trip to a pharmacy. It's that simple. The virus is here to stay. We need to do what we can to control it."
Due to the end of the COVID-19 Public Health Emergency, which helped fund Duke's COVID-19 vaccination and booster efforts for the campus community, staff and faculty will need to get the updated vaccine through pharmacies or their health care provider.
COVID-19 boosters are covered in full, with no co-pay, under all of Duke's employee medical plans.
With the approval of the updated formula, the bivalent vaccine introduced last year is no longer approved by the FDA for emergency use. Duke and other healthcare providers have discontinued administration of the bivalent vaccine until they receive the updated formula, which should be within the next couple weeks. 
WHAT SHOULD I DO IF I FEEL SICK?
The symptoms for COVID-19 and seasonal influenza are similar and include runny nose, scratchy throat, cough, headache, fatigue and fever. Anyone experiencing these symptoms should isolate, wear a mask, and seek out a COVID-19 test.
Employees who are experiencing symptoms or would like to report an exposure should visit My COVID Link to report and self-schedule an appointment for testing. This link should also be used to report a positive home or outside COVID-19 test.
Staff and faculty may also contact the Duke EOHW Exposure Hotline to report symptoms or seek guidance, by calling 919-385-0429 (choose option 1) from 8 a.m.-5p.m. on weekdays and 8 a.m.-noon on weekends.
According to Epling, wearing a mask is an especially important step in slowing the spread of both COVID-19 and influenza. Anyone experiencing symptoms should wear a mask whenever they're around others.
"Just put your mask on," Epling said. "Even if you test negative for COVID, you can help prevent the spread of all of the viruses that are causing respiratory conditions. Sometimes tests can be falsely negative when you actually have COVID. Or you can have some other virus. But masking will help us all."
HOW TO GET A SEASONAL FLU VACCINATION:
Getting an influenza vaccination remains an essential step in keeping you and your loved ones safe during the months when the flu virus – which the CDC estimates killed between 19,000 to 58,000 Americans during the 2022-23 flu season – is especially active.
EOHW will offer no-cost flu vaccinations at clinics at Duke Regional Hospital, Duke Raleigh Hospital and at the main EOHW location in the Orange Zone subbasement of Duke Clinics. There will also be pop-up locations around campus beginning in late September. Click here for dates and locations.
The quadrivalent vaccine, which protects against several strains of the flu will be administered at pop-up vaccination sites. High dose vaccinations for people 65 and older and egg-free options are available at EOHW clinics.
Influenza vaccinations are a condition of employment for Duke University Health System, the Duke University School of Medicine and the Duke University School of Nursing. The deadline to show proof of vaccination or receive an approved exemption is 10 a.m. on Tuesday, Nov. 7. Vaccinations are strongly recommended for Duke University students, staff and faculty.
"By getting vaccinated against the flu, you're protecting yourself from severe illness, but you're also protecting the people close to you," Epling said. "You can be infectious the day before your symptoms ever start. So you can transmit the flu to others before you know you have it, which can be devastating to another person."
Send story ideas, shout-outs and photographs through our story idea form or write working@duke.edu.
Follow Working@Duke on X (Twitter), Facebook, and Instagram.