A Message from President Vincent Price
President shares message on socioeconomic diversity at Duke
Image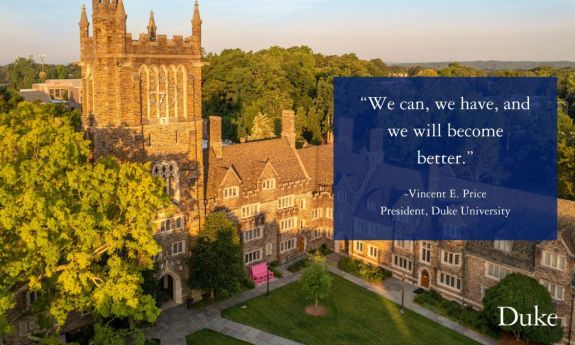 Dear members of the Duke community,
As you may be aware, the New York Times Magazine has published an article portraying socioeconomic diversity among undergraduate students at Duke in a rather harsh light.
We care deeply about socioeconomic diversity at Duke, and we know we have more work to do in this area. But that work is well under way and has already yielded significant positive results. Thanks to redoubled efforts, the number of students who are Pell grant-eligible at Duke has grown quite significantly this year, to approximately 17% of our entering class. We are firmly committed to building on our recent recruitment efforts. Our amazingly talented students are making the most of their Duke experiences and contributing to the vitality and diversity of our community.
We are also working to make sure all outstanding students know Duke is an option, regardless of their financial circumstances, and that they can thrive here. Our new financial aid program for Duke students from the Carolinas provides full-tuition grants for students from families with total incomes below $150,000 and additional assistance for housing, meals and some campus expenses for families with total incomes of $65,000 or less. This initiative has supported more than 300 students enrolled at Duke this year.
In recent years we have also made progress in aligning our campus culture and support systems to help students from all backgrounds fully engage with the Duke experience. The Duke LIFE program coordinates support for students from low-income and first-generation backgrounds. Duke now provides additional support for a range of common needs including laptops, health and dental insurance, medical and housing assistance, and Duke is among the few universities to offer a ninth semester of financial aid for qualified students. And through QuadEx, we are creating an inclusive and welcoming living and learning experience for all undergraduates.
While we certainly have more yet to do, I am proud of the many ways our faculty, staff, student leaders and administrators are together striving to make Duke a more accessible and supportive community for students from all backgrounds. I see on a daily basis the care and expertise so many of you are bringing to this critical work, reflecting our shared commitment to building an ever more diverse and inclusive Duke community. We can, we have, and we will become better.
Vincent E. Price
President
---
READ MORE