Deondra Rose Named 2023-24 Presidential Fellow
Sanford School faculty member will get close look at administrative workings across the university
Image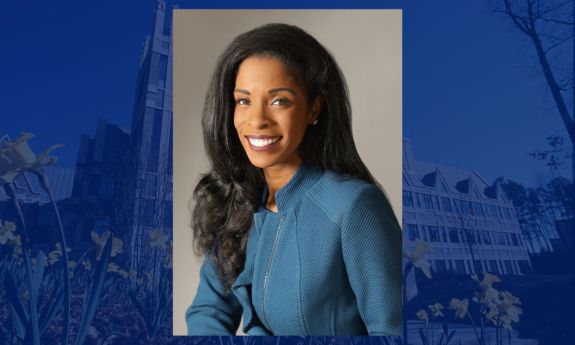 "After I talked with Tyson and Adrienne about their experiences, I was eager to be part of the program," said Rose, the Kevin D. Gorter Associate Professor of Public Policy.
"I'm drawn to activities that help you learn how to engage in high-quality problem solving. And one thing that is clear to me is that to help solve complex challenges, universities must be very intentional about understanding our role in and value to society.
"I've watched President Price and other Duke leaders address issues from the pandemic to the climate crisis, and I've been inspired by how they have put our values at the very center of our response. I'm excited that I'll get to watch that process closely for the next year, and I hope to contribute to that process as well."
Rose added: "Not every university has a program like this. That President Price recognizes the value of substantial investment in faculty leadership is extraordinary, and I'm grateful for the opportunity."
Part of Price's strategic vision to empower bold thinkers, the one-year fellowship prepares promising mid-career faculty members for future leadership roles and engages them in the administration of the university.
"I'm thrilled that Deondra Rose will serve as our next presidential fellow," Price said. "I look forward to working closely with her in the months ahead, and know that Duke will continue to benefit from her insightful leadership, commitment to enhancing the student experience, and influential scholarship in higher education policy."
Rose said she sees the fellowship as boosting faculty leadership in any variety of roles.
"My feeling is that all faculty exercise leadership in whatever we are doing in our roles," said Rose, who will continue to direct Polis but will not teach courses during the fellowship. "To have the opportunity to listen and watch and learn how Duke leaders engage in their work, I think there's so much intrinsic value in that. Whether for the work I do as director of Polis, or in the classroom, in my research, or working on university committees, the returns from this year will be immense."
Each of the two previous presidential fellows have brought their own expertise to the position, but as a scholar of higher education, Rose is keen to participate in policy discussions. Her most recent scholarship touches on race in higher education and promoting civil classroom discussions on hot-button issues -- two pertinent issues currently engaging Duke leaders.
Raised in Ohio and Georgia, Rose made use of the prestigious Hope Scholarship to attend the University of Georgia. She said her experience of finding a life path through education with the support of mentors underlies much of her approach to higher education concerns. In working with students, she emphasizes the value of exploration and discovery and taking time to explore how education can help them contribute to society.
That question of the value of higher education will shape her fellowship, Rose said.
"I appreciate that people at Duke are asking questions about where Duke has been, where we are now, and where we are going," she said. "That's a question for everyone in higher education. Are we working to narrowly develop future workers or are we working to developing holistic citizens with a variety of skills?
"To my mind, that latter approach is the real value of higher education. We have a unique capacity to invest in the development of people who have a robust understanding of our local, national and global landscape and who have a keen understanding of the challenges we face, but also a sense of can-do to address those problems."
---