Purposeful Partnerships: Duke Units Collaborate to Lead Climate Policy in DC
Duke in DC hosts the Climate and Sustainability Summer Institute
Image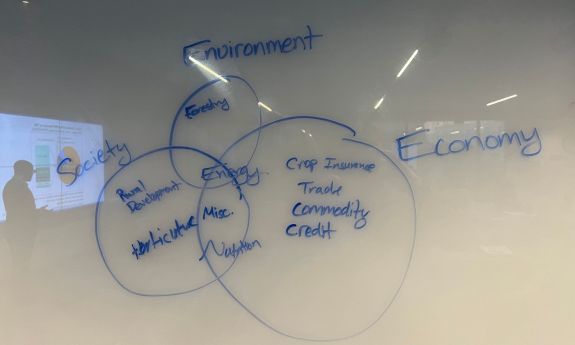 "Climate change is a wickedly complex problem.
It's not just about science and engineering. It's a societal problem, an economic challenge and a political dilemma."

Brian Murray, PhD
"As we turn to the future, we look forward to training the next generation of climate changemakers."
Thirteen learners comprised the first cohort of the course; they brought a range of experiences, with the Duke in DC location an ideal site to network and learn from each other.
Murray said that a major goal of the summer institute was to set up the right learning environment. "All the participants were busy people with significant roles in their organizations," he said. Completing online activities on their own, they met in four two-hour evening sessions.
"The participants were well-prepared to engage in lively discussion and thoughtfully tackle the course exercises," added Murray. "We wanted to challenge them by offering new perspectives on the roots and consequences of climate change as well as solutions to mitigate climate risk."
Spencer Hodapp, an energy data scientist, said he was initially drawn to the portion of the course that focused on the economics of climate solutions. In his job, he helps the Department of Defense and military organizations find sources and distribute power for military bases in foreign countries. "Different countries have different emission policies and fuel mixes," he said. "I need to be able to systemize and connect sources economically."
He found the entire course to be a "master class" in energy generation and said he particularly enjoyed getting the perspectives of the other learners, who came from both private and public sectors.
"Everyone left the sessions saying, 'I now have an understanding of the system to tweak it to be green and be better for all,'" he said, adding that he felt empowered: "I can use my skillset as a data scientist to help solve this."
Others came for the course's in-depth look at policy, including the Farm Bill, the Paris Climate Agreement, and the complicated Inflation Reduction Act. The act, signed into law last August, earmarks $400 billion in federal funds for clean energy, with the goal of lowering carbon emissions by 2030.
"I was impressed deeply with the knowledge of the learners coming in," said Murray. "For some, the material was core to their work. Others wanted to bring entirely new knowledge to their work."
For Hanna Lester, it was the latter; specifically, she sought new information on policy. Lester works on large-scale conservation efforts internationally. "I had heard about the Farm Bill and the Inflation Reduction Act and didn't understand the implications," she said. "The class did a really good job of walking through those … for an understanding of domestic climate policy."
Hannah Townley, a NASA contractor who works on its earth science data collections, said she took the course because of her interest in sustainability. "I grew up in Florida and I've spent a lot of time farmlands and on the coast. I've seen the impact of climate change on my own community," she said. In her role she works on making science data more accessible to communities, including farmers, and was particularly interested in discussing the Farm Bill and the possibilities for sustainable agricultural practices.
The course also proved beneficial for those simply seeking to become more informed citizens. Duke alumnus Jim Fuechsel ('76), who sits on the Nicholas School of Environment Board of Visitors, said that's why he took the course.
"My background is not environmental, so I've been actively pursuing this learning curve," he said. "The program showed me that there are reasonable things people can do in small ways to support the pathway forward."
Brian McAdoo
Session 1: The Science and Natural System Impacts of Climate Change
Elizabeth Losos
Session 2: The Human Impacts of Climate Change
Brian Murray
Session 3: The Economics of Sustainable Climate Solutions
Nico Hotz
Session 4 (1st hour): Sector-Specific Sustainable Climate Solutions
Norbert Wilson
Session 4 (2nd hour): Sector-Specific Sustainable Climate Solutions
Lessons from the Sessions
Over the four sessions, participants discussed a variety climate-related of topics and shared their perspectives informed by their own disciplines. Here is a small sample of the points they discussed.
Session 1: Science of Climate Change
Session 2: Resilience
Session 3: Inflation Reduction Act
Session 4: Farm Bill
Duke's home in the nation's capital
Duke in DC works with policymakers, academics, researchers, alumni and the higher education community to advance the intellectual life of the university beyond campus. They also host academic programs, DC-based university faculty and staff, alumni receptions and meetings, as well as other activities and events related to official university business in Washington.
Duke Partnerships Behind The Summer Institute
The Nicholas Institute, Duke Continuing Studies, the Office of Climate & Sustainability and Duke in DC all came together to produce this first-of-its-kind opportunity.