Duke Kunshan Celebrates 10th Year, Looks Ahead Toward New Challenges
As university enters second decade, it remains an example of global cooperation in higher education
Image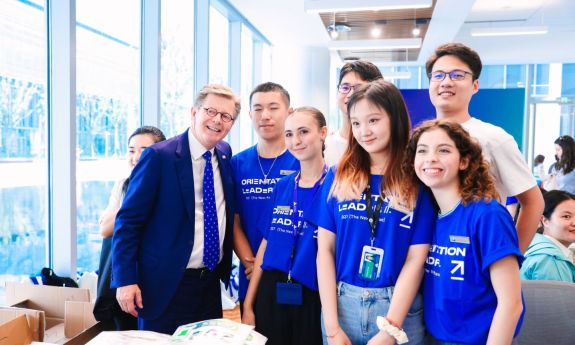 DKU has thrived in its first decade because officials at Duke, Wuhan and Kunshan worked closely together while emphasizing understanding and mutual respect, Price noted. It is the same sort of cross-cultural collaboration DKU now asks of its students as it prepares them to live in a connected global society, he added.
Price and other Duke officials also noted that in 10 years, DKU has grown into a hub for groundbreaking teaching and research that draws students from across the globe.
Its new Class of 2027 includes about 400 undergraduates from more than 30 countries. About 300 of those are Chinese, with the rest coming from countries all over the globe, including the United States, Canada, Denmark, India, Italy, Morocco, Peru and Singapore. For the first time, Chile, Jamaica, Jordan, Sweden and Uruguay are represented among the Duke Kunshan student body.
DKU's growth is physical as well. The August celebrations included the formal unveiling of DKU's phase 2 campus, an expansion that more than doubled the campus footprint to 83 acres – another indicator of the university's endurance and promising future. The expansion included 26 new classrooms, 22 new laboratories, sports facilities, green spaces and other amenities.
A convocation ceremony welcoming the new DKU class was held at a new sports complex, one of those 22 new buildings. Speaking to the new class of students, Price emphasized the importance of exploration and asking questions, even on topics unfamiliar or outside the strict boundaries of a course or curriculum.
"It can be as simple as choosing an unfamiliar topic for your project or paper. Or maybe it's pursuing electives in subjects that intimidate you," he told the new first-year students. "Even these seemingly small choices can help you discover new interests, make new connections across disciplines, and open your aperture on the world. Here you will be surrounded by fellow students and faculty who love learning, and who are eager to help you broaden your intellectual perspectives."
Students in the four-year bachelor's degree program also have the opportunity to study at the Duke campus in the United States and receive degrees from both DKU and Duke, at which point they join the Duke/DKU global alumni network.
That global theme carried through the Duke delegation's visit. During a forum on the importance of international collaboration in higher education, Duke Provost Alec Gallimore praised DKU's faculty for its ability to help students understand the broader world.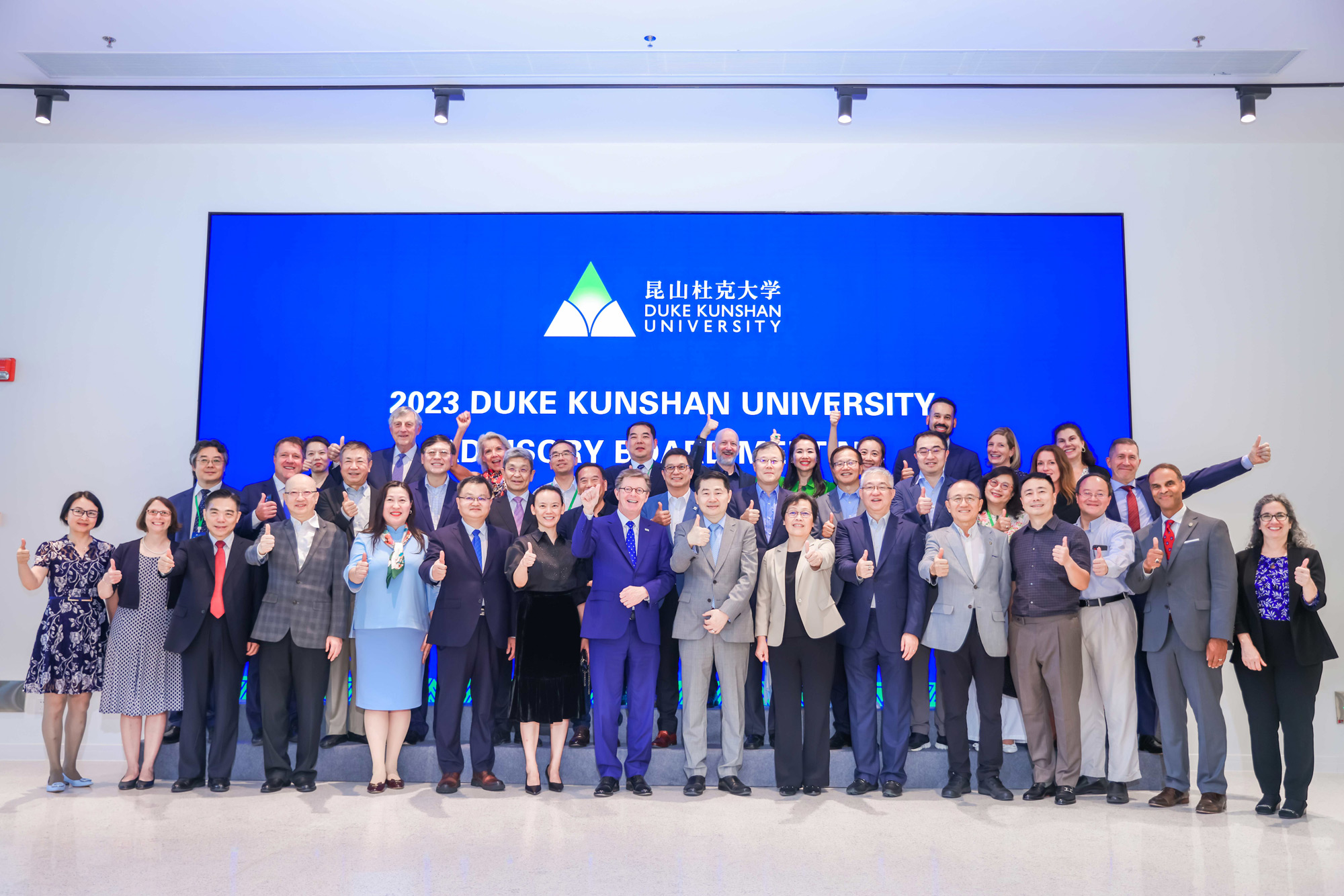 "The faculty pioneers who joined this young university also embody the ideal of cooperation in higher education," Gallimore said. "Their research bridges disciplines, connecting the arts and humanities, social sciences, natural and life sciences in new ways in order to deepen our understanding of the world around us."
The next phase of the partnership will see Toddi Steelman, Duke's vice president and vice provost for climate and sustainability, lead a delegation of deans visiting Kunshan in November. The visit coincides with the Duke International Forum, the focus for which is focus is climate and sustainability.
"The visit is a chance to reconnect in person and to energize and reimagine the kinds of work we want to promote together and across our campuses," said Steelman, who leads Duke's Climate Commitment. "This kind of educational and research diplomacy is essential to strengthening the relationship between our two countries, and is exactly where we can collaborate to build bridges."
---
10 Years of Kunshan-Durham Sister City Ties
To celebrate the 10th anniversary of the Kunshan-Durham Sister City relationship and enhance mutual understanding, The Sister Cities of Durham Program and the Kunshan Foreign Affairs office are organizing a photography exhibition. The exhibition will be presented as an E-album featuring 50 carefully selected pictures from both cities, including several showcasing Duke University and Duke Kunshan University.
To view the e-album, use the link below.