Boundless Learning with the Duke Employee Tuition Assistance Benefit
The tuition benefit expands, enabling higher education opportunities across the U.S.
Image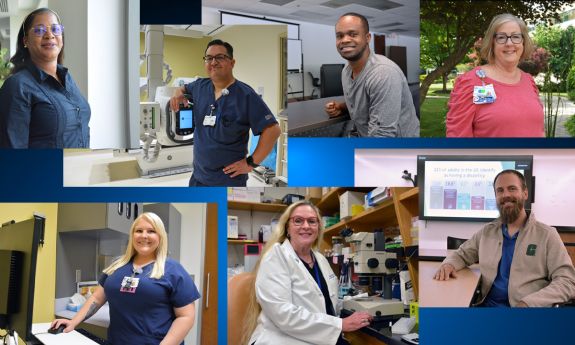 "It's been super helpful, especially for a working adult," said Lloyd, who briefly attended college in the 1990s but felt that it wasn't the right fit at the time. "College can be very expensive. But with this, it's not as hard as you think."
Dating back to 2017, Duke has invested nearly $16.1 million in helping its employees, including Lloyd, get a degree by providing reimbursement of up to $5,250 per calendar year for tuition at Duke or any other accredited higher education institution.
Earlier this year, Duke expanded the benefit, reducing the waiting period to become eligible from two years to six months. And in a move surpassing some peer institutions, Duke expanded the benefit from being exclusive to North Carolina schools to encompass institutions nationwide. The Watts College of Nursing in Durham has also been added as an eligible institution.
"When employees join the Duke family, we want to provide them with the stepping stones to help them continue to grow and build their careers," said Antwan Lofton, Vice President of Duke Human Resources. "This benefit doesn't just help them in their current job; it also allows them to continue working toward their dreams and their goals of lifelong learning."
Workers have placed an increased value on pursuing educational goals or building skills. In its recent national employee benefits survey, the Society for Human Resource Management found that 65% of employees ranked professional and career development benefits, such as tuition assistance, as a very or extremely important benefit for an employer to offer. The figure is up from 37% in the previous year's report, suggesting that employees are moving past pandemic-era uncertainty and looking toward their futures.
While Duke has expanded its benefit, the survey indicates a sluggish expansion of educational benefits among employers, with employee tuition assistance dropping from 56% in 2019 to 48% in 2022.
"This is a wonderful investment in Duke," Lofton said of the benefit. "It ensures that we can continue to hire and retain the top skilled employees and allows them to further their careers."
Meet some inspiring colleagues who have embarked on educational journeys that shaped their lives and propelled their careers forward.
---
TAYLOR CHAPMAN
CLINICAL NURSE, DUKE PRIMARY CARE
AGE: 29
UNC WILMINGTON
When she joined the staff of Duke Primary Care's Heritage Pediatrics clinic in September of 2022, Taylor Chapman, a Clinical Nurse II, had been chipping away at a bachelor's degree in nursing for more than a year. The degree would enable her to advance in nursing, potentially becoming a Clinical Nurse IV, and leading and mentoring a team.
She'd been paying her own way through the program at UNC Wilmington, taking one class at a time. When she started at Duke, she had four classes left. But without help, it would take another year to pay for them herself.
To make the employee tuition assistance program more accessible to new employees, such as Chapman, Duke reduced the eligibility waiting period from two years to six months. The move allowed Chapman to use the benefit to cover the costs of a final few classes. She will get her degree in December from UNC Wilmington, the most popular educational destination for Duke employees using the tuition benefit in 2021-22.
"This allows me to move the whole timeline up, which helps me a whole lot," she said. "This just shows that Duke wants its nurses to be well-educated, and it's willing to help them with that process."
---
JASON RAPER
RADIOLOGIC TECHNOLOGIST, DUKE RALEIGH HOSPITAL
AGE: 43
BOISE STATE UNIVERSITY
Starting this fall, Jason Raper's schedule will be packed. He'll have work shifts at Duke Raleigh Hospital, playground trips with his daughter Camila Grace and, after enrolling at Boise State University, plenty of college coursework.
"I hope this won't be too insane," said Raper, a radiologic technologist who has worked at Duke since 2015.
As he's grown more comfortable in his role, and at Duke, Raper has explored opportunities to take on more responsibilities and new leadership challenges. And to do that, Raper, who earned an associate degree several years ago, saw an applied sciences bachelor's degree as a solid foundation for his next career step at Duke. But when he looked at the degree programs in North Carolina, he felt they weren't perfect fits.
Earlier this year, when Duke adjusted its employee tuition assistance benefit to allow any accredited institution in the U.S., things changed. Now able to search nationwide, Raper found Boise State's online applied sciences bachelor's degree program, which had the courses, price, and schedule to fit his already busy life.
"With Boise State, everything just kind of fell into place," Raper said.
---
CHERYL BOCK
SHARED RESOURCE MANAGER, DUKE CANCER CENTER
AGE: 65
DUKE GRADUATE LIBERAL STUDIES
After working in Duke labs for 39 years, Cheryl Bock knows her way around science. But as she goes about overseeing one of the research operations of the Duke Cancer Center, she often leans on skills she strengthened while learning about subjects that have little to do with science.
In 2001, Bock began the master's degree program in Duke Graduate Liberal Studies. The flexible, self-designed program allowed Bock to sharpen her research and writing skills, while chasing her curiosity about a range of subjects. During her four years in the program, she spent time in England studying poetry, ventured to France to learn about the architecture of cathedrals, and wrote her thesis on formerly enslaved people who lived on South Carolina's barrier islands.
"It was a lot of work, but I got a lot of value out of it," said Bock, who used the tuition benefit to help pay for the degree, which she earned in 2005.
While it's been nearly two decades since she finished the program, the experience is rarely far from her mind.
"This was about life enhancement and personal growth," Bock said. "But the techniques I used writing papers and doing research are things I still use today."
---
DENNIS IRERI
CERTIFIED NURSING ASSISTANT, DUKE UNIVERSITY HOSPITAL
AGE: 31
WATTS COLLEGE OF NURSING IN DURHAM
When he started working in a hospital environment four years ago, Dennis Ireri underestimated how much purpose he would find in interacting with patients. In his role as a certified nursing assistant on the float pool for Duke University Hospital and Duke Raleigh Hospital, Ireri often found himself sharing small moments with patients, offering comforting words and helping them through challenging times.
"I had no idea I could make that kind of impact," said Ireri, who receives encouragement from his mother, Katherine, a longtime nurse. "If I could do more with more knowledge, then maybe this is my calling."
During the 2021-22 fiscal year, 324 Duke University Hospital employees used the employee tuition assistance benefit, the most for any Duke unit. This fall, Ireri will contribute to that total by pursuing a bachelor's degree in nursing from the Watts College of Nursing, which he chose partly due to its location in Durham and its eligibility for the Duke employee tuition assistance program starting in summer 2023.
The Watts College of Nursing, which is affiliated with Duke University Health System and accredited by the Accrediting Bureau of Health Education Schools, has been educating caregivers since 1895. Because it's not among the institutions accredited by the Southern Association of Colleges and Schools, it wasn't eligible for the Duke employee tuition assistance program until the benefit expanded this year.
"We have a need for highly trained nurses, and this helps us build our pipeline," said Antwan Lofton, Vice President for
Duke Human Resources.
---
JOEL CRAWFORD-SMITH
SENIOR WEB ACCESSIBILITY ADMINISTRATOR, OFFICE OF INFORMATION TECHNOLOGY
AGE: 42
UNC CHARLOTTE
In 2022, Joel Crawford-Smith completed a roughly two-year run of online courses and exams that left him with a pair of new professional web accessibility certifications and a desire for a new challenge.
"I really like to learn, so I thought 'What do I do now?'" Crawford-Smith said. "Why not try to go to grad school?"
In Crawford-Smith's role at Duke, he assesses Duke University's online footprint to gauge the ease with which everyone, including people with disabilities, can use it. He also trains colleagues on web accessibility,
the part of his job he wants to strengthen.
This summer, Crawford-Smith began working toward a master's degree from UNC Charlotte in learning, design and technology where he hopes to sharpen his ability to teach and create learning materials. His goal is to complete the online coursework in under two years.
"My job falls into a predictable rhythm," Crawford-Smith said. "I just felt like I needed a little bit of a change, and this was a healthy risk. Why not try? Duke is hopefully going to get better training out of me, and I get to further my education. It's a win-win."
---
KIM STEPHENSON
CLINICAL NURSE, DUKE RALEIGH HOSPITAL CANCER CENTER
AGE: 61
UNIVERSITY OF MOUNT OLIVE
Kim Stephenson earned her nursing degree in 1993, kicking off a long caregiving career that eventually led to her joining the Head & Neck Oncology team at the Duke Raleigh Hospital Cancer Center in 2019.
With a wealth of research linking more educated nurses to better patient outcomes, Stephenson knew that for her career to move forward at Duke, she would need to go back to school. In the fall of 2022, at the age of 60, Stephenson, a Clinical Nurse III, enrolled in the online bachelor's degree in nursing program at the University of Mount Olive.
Stephenson, who has used the employee tuition assistance benefit to help cover the costs of getting her degree, said that it took time for her to adjust to online courses and regain the feel for doing schoolwork. But soon, courses on law and ethics in nursing and nursing leadership gave her new perspectives on the decisions and methods that guide her work.
"I love learning," said Stephenson, who expects to earn her degree in May 2024. "My mindset is to keep learning new things every day. You're never too old to learn."
---
Send story ideas, shout-outs and photographs through our story idea form or write working@duke.edu.
Follow Working@Duke on Twitter, Facebook, and Instagram.