Duke Colleagues Who Stay Cool in Hot Summers
Temperature is important to the work of Duke colleagues across campus
Image
"I'm just trying to keep everybody happy," said Lopez, whose coworkers sometimes call him 'Cold Box Carlos,' or 'CBC' for short because he is the point person for troubleshooting and repairs for the roughly 75 walk-in coolers in the science area.
Throughout hot summers, with recent heat indices near 105 to 110 degrees, Lopez is among the Duke employees who play a vital role ensuring that optimal temperatures are maintained across campus. The work to keep spaces cool not only guarantees the comfort of the campus community but also ensures temperature-dependent research progresses smoothly in greenhouses and laboratories.
Handling the complex process of cooling requires precision. Water chilled to 39 degree is pumped into buildings across Duke's campus. The chilled water is used to cool the air in the buildings to a comfortable 70 to 75 degree temperature. Along with the chilled water, steam and hot water are used to control the humidity levels in the air to provide even greater comfort to the occupants.
But when that air comes out too hot or too cold, Lopez is there for the fix, crawling into ceilings to inspect equipment or servicing pipes and machinery in air handlers in the penthouses of buildings.
"Every day is different," said Lopez, 32, who has worked at Duke eight years.
Get to know some colleagues who work cool jobs during a hot summer.
---
Ensuring cool and reliable connectivity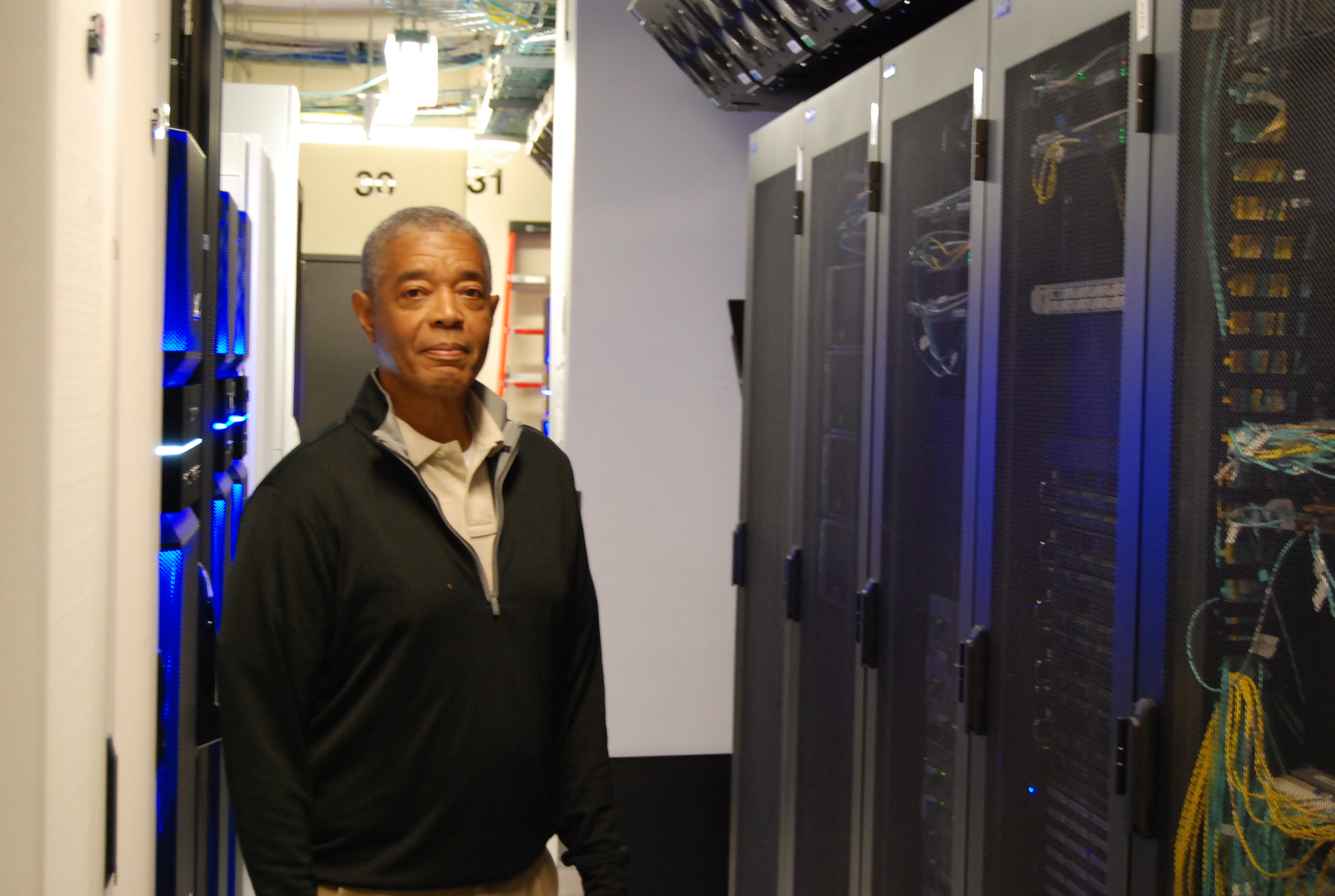 The server fans and the rush of cold air emanating from the raised floor vents create an overpowering noise in the basement of the Fitzpatrick Center for Interdisciplinary Engineering, Medicine and Applied Sciences.
The environment — kept at about 65 degrees — is for good reason. The 7,000-square foot facility is home to rows and rows of technological infrastructure cabinets, cables and wires that are essential data storage and basic operations on campus.
"A good way of looking at it is like the brain or heart," said IT senior manager Carl McMillon, who manages the data center for the Duke Office of Information Technology. "It certainly is a source of a lot of information that people are using day-to-day on campus. It's little known, and we take it for granted."
The temperature in the room ensures that the equipment pumping out hot air don't overheat. To keep it all cool, conditioned air is pumped through the raised floor to the cooling cabinets that reach up to 9-feet tall.
However, there is a tradeoff for staff members who spend more than a few minutes in the room to install or repair hardware: they wear a sweatshirt, even during summer.
"If there's ever an error or something goes down, we get a call from the remote monitoring service at Vertiv," McMillon said. "And of course, people literally will come running, whether it's in the middle of the night or on weekends."
---
Working Poolside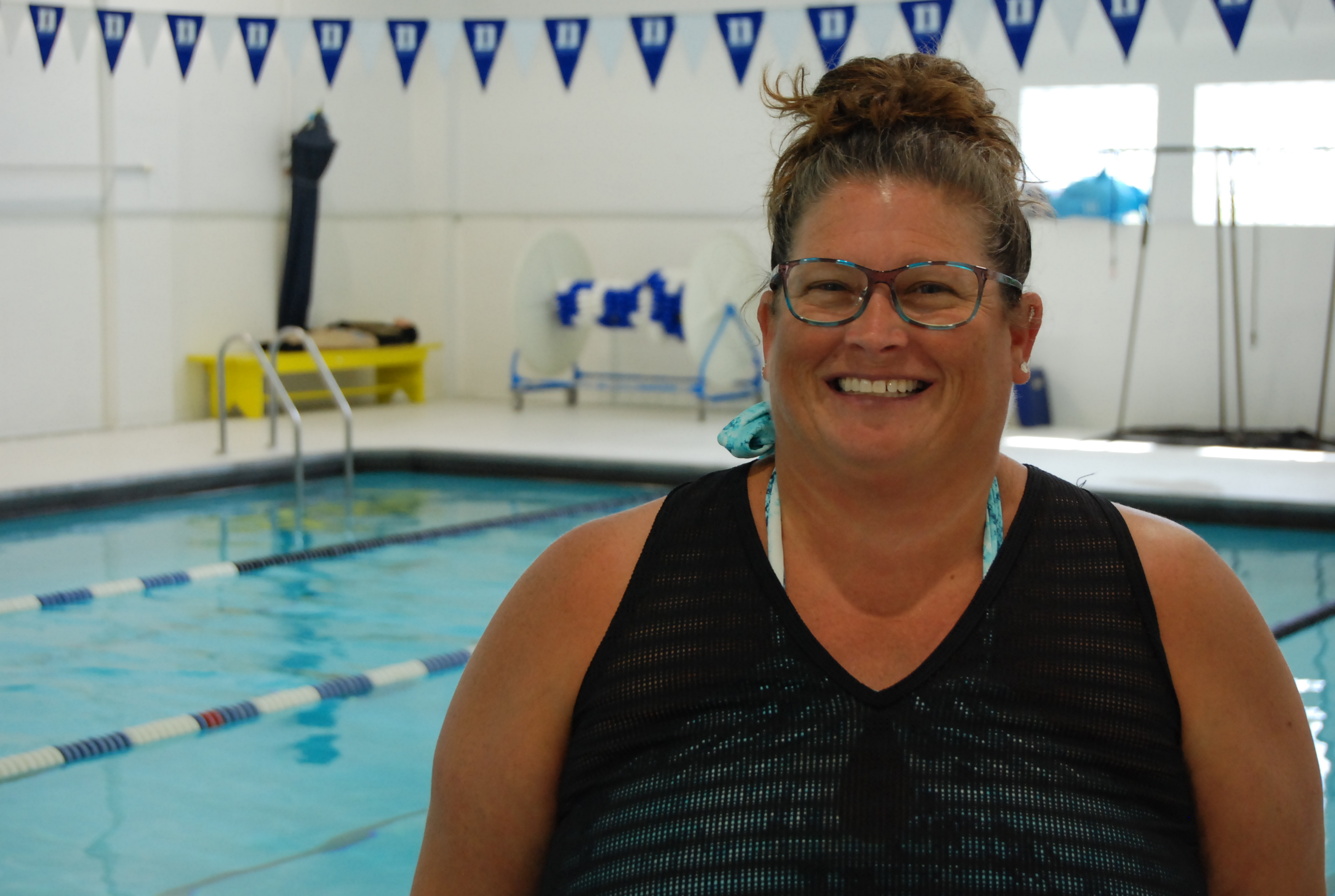 Jenn Strobel appreciates that she can count on her work environment to include the familiar scent of chlorine and sound of splashing water.
"It makes me feel relaxed and comfortable and happy," said Strobel, coordinator of Aquatics for Duke Recreation and Physical Education. "It feels very homey. It's my jam."
Strobel oversees programming at Duke's two pools, the Brodie Aquatics Center on East Campus and the Taishoff Aquatics Pavilion accessed through Wilson Recreation Center. That includes supporting group fitness classes, club water polo practice, ROTC and local first responder water training sessions and scheduling time for campus community members who want to swim laps all year.
Growing up in Kent, Ohio, Strobel developed a deep affinity for indoor pools, spending countless hours there. Her fondness for the sensation of pruned fingers and the synchronicity of using her limbs to stay buoyant led her to pursue a major in recreation during college. With the aim of staying connected to aquatic environments, she joined Duke two years ago after gaining experience working with pools in Raleigh and Cary.
She and her team members monitor the water temperature to ensure it remains between 79 and 82 degrees.
"On our pool deck, it's always 84 degrees and sunny," Strobel said. "It's always comfortable. The temperature, the humidity, the water temperature on the pool deck is very consistent, whether it's January or June."
---
A giant walk-in cooler – for books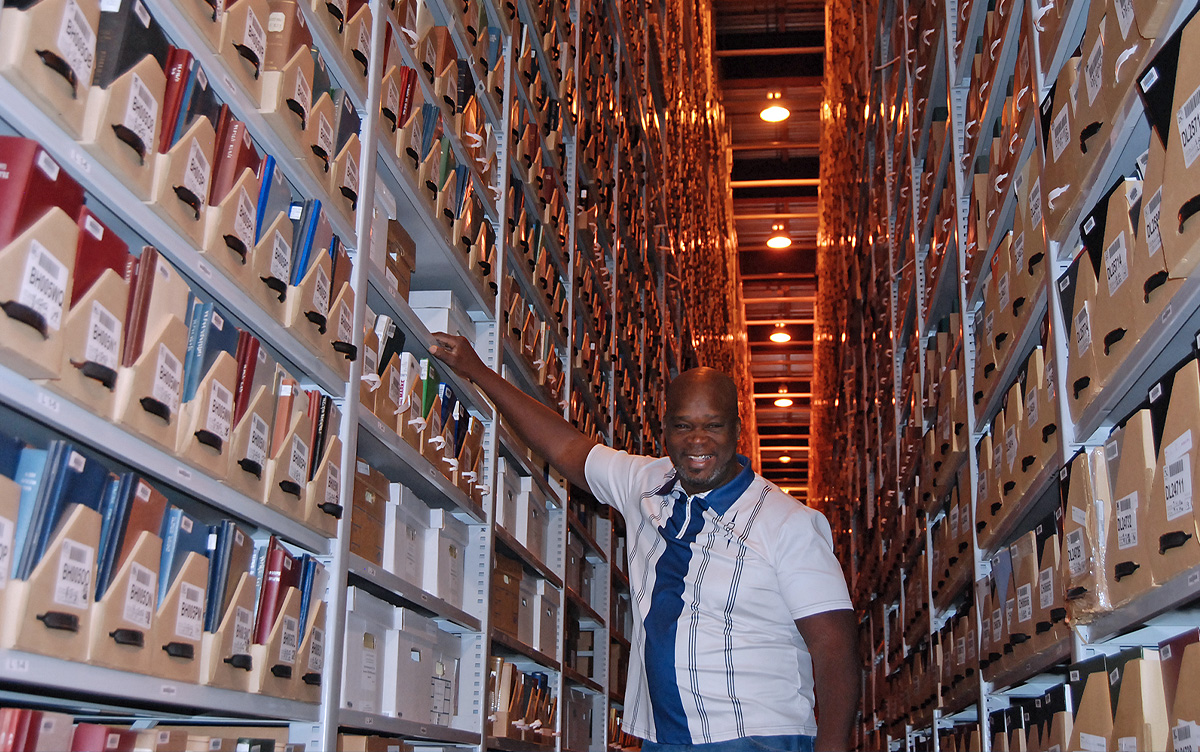 With 10 locations, Duke University Libraries can store approximately 2.6 million books, media and archival materials across main campus.
But that accounts for only a sliver of the materials at Duke. So what happens with the rest? That's where Marvin Tillman and the Library Service Center come in.
As manager, Tillman oversees the storage, preservation and delivery of approximately 9 million materials from a warehouse about 10 minutes from main campus. While the facility includes materials mostly from Duke, it's also storing materials from the University of North Carolina at Chapel Hill, North Carolina Central University and the Durham Public Library — with a capability of housing up to 15 million books and materials.
Materials in the center — ranging from rare New York Times collections to Duke football film of practices and games and microfiche — are stored on 30-foot shelves and organized by bar code that's searchable through software. When needed, staff members in the center look up items and use a forklift to retrieve them, collecting and delivering about 1,000 to 4,000 materials to campus each day for patrons who requested them and scanning other materials to send digitally.
"A lot of librarians are finding that it's better to put the materials over here because it creates more office space on campus and in classes," Tillman said. "I can store more books in a smaller capacity than they can."
To keep books safe, the warehouse is essentially one giant walk-in cooler, kept at exactly 50 degrees and 30 percent humidity all the time. That environment draws moisture out of books, ensuring mold doesn't grow and pages don't wear, preserving the life of materials an average of an additional 50 years if they were used daily. Since some of the materials are used sparingly — if ever requested — they will essentially last forever in those conditions, Tillman said.
While some staff wear jackets and beanies in the warehouse, Tillman, after 25 years at Duke, has learned to brave the unconventional work temperatures with short sleeves.
"After a while, you won't even notice it," Tillman said. "I'm from upstate New York."
---
A Cold Job That Warms the Heart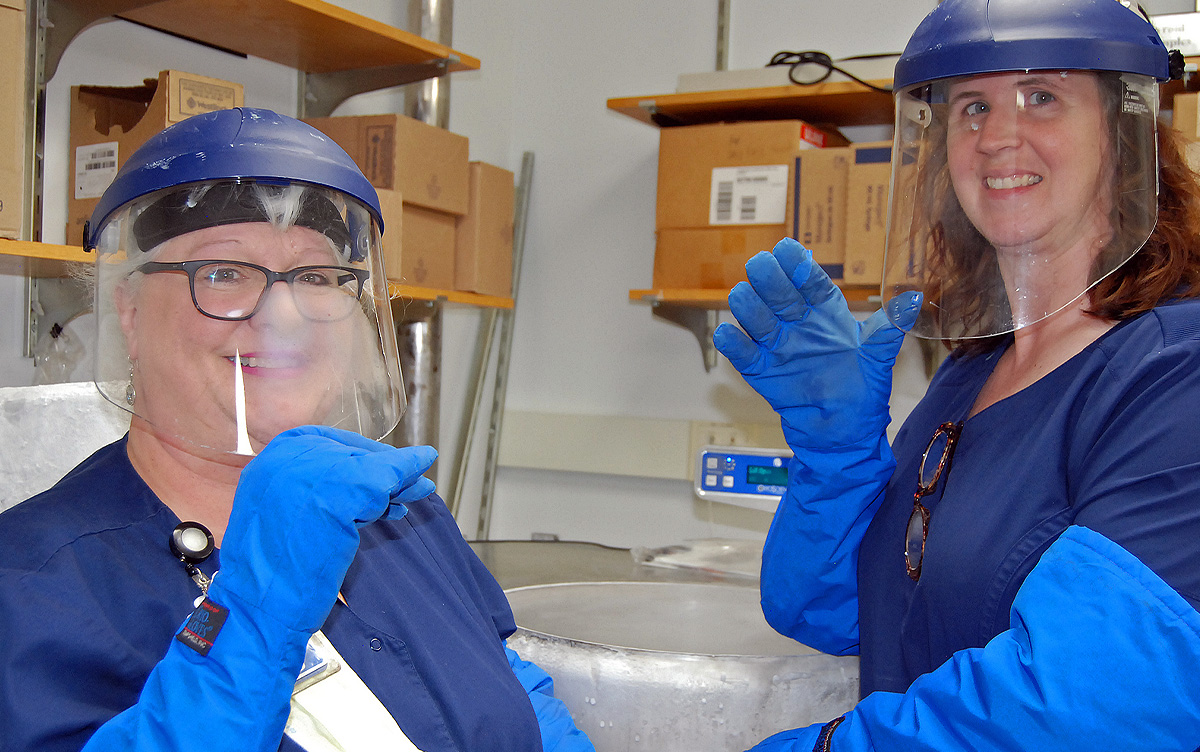 After stepping through a stark white door, it's noticeably cooler in one corner of the Duke University Health System Stem Cell Laboratory (STCL).
Inside the first-floor facility at Duke North Pavilion, three cylindrical, metallic freezers powered by a 3,000-gallon liquid nitrogen tank safely store stem cells, bone marrow and umbilical cord blood used to treat patients with diseases like Lymphoma, pediatric brain tumors, Multiple Myeloma and Leukemia.
To ensure viability for 10 years or more, products undergo cryopreservation, which is a process that gradually control-rate freezes the cellular products for storage at around -190 degrees Celsius (about -300 degrees Fahrenheit). The beyond-polar temperatures keep stem cells below the minimum temperatures required, so that they always remain viable, safe and sterile in liquid nitrogen freezers, even in the event of a week-long power outage.
Liquid nitrogen freezers (as well as other temperature-sensitive equipment) are continuously monitored 24 hours per day, 7 days per week using the REES Scientific temperature monitoring system.
"It's a lot of responsibility," said lab manager Barbara Waters-Pick, "and it can be a very stressful job because patient schedules can change on short notice which requires adjustments be made quickly in order to accommodate those changes."
When patients need them, Stem Cell Laboratory staff can thaw out cells in a 37 degrees Celsius warm water bath in just a few minutes to ensure each product bag is infused into the patient within 20 minutes. Stem cells are carefully transported from the lab and hand delivered to the nursing staff at Duke University Hospital so they can be administered into the patient for transplant or other regenerative medicine therapies in the Children's Health Center, the Blood Cancer Center and for pediatric and adult transplant patients at Duke Central Tower.
For the 10 lab staff who don't always get to see the outcome of their hard work, it's a cold job that warms the heart.
"I think the reason that we come here every day is because there's people who need us to be here," said Waters-Pick. "They need somebody watching their back in the background."
---
Send story ideas, shout-outs and photographs through our story idea form or write working@duke.edu.
Follow Working@Duke on Twitter, Facebook, and Instagram.