Lab Administrator's Kitchen Project Wins a Duke Time Off Photo Prize
Adam Davidson enjoyed a staycation with his wife
Image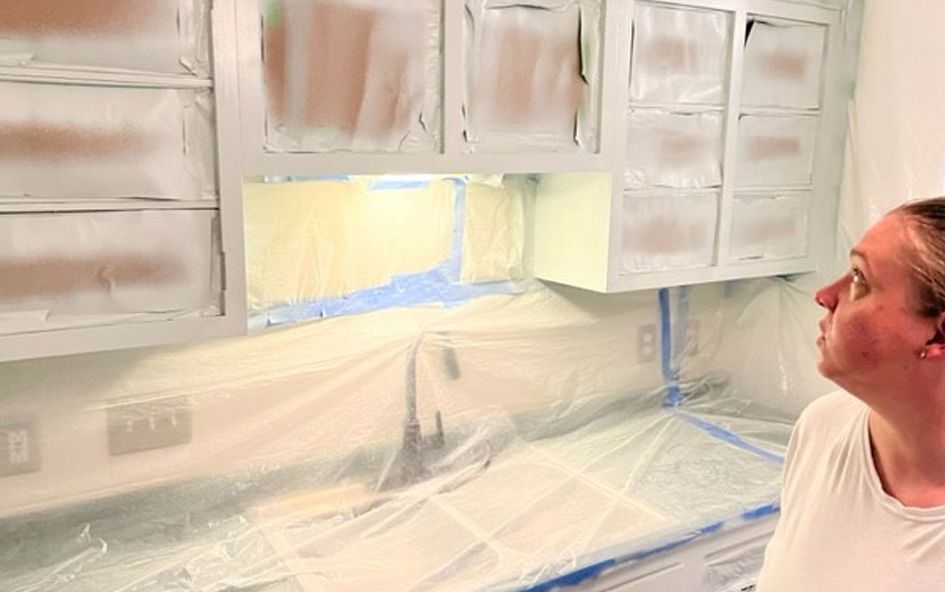 He and his wife worked together on the first day to remove the cabinets and cabinet hardware. The next day, they cleaned sanded, resurfaced and taped off the walls, counters and floors and painted until 2 a.m. with a fresh coat of "Sea Salt" color paint – a shade of gray. On the last day, they put everything back in their kitchen and enjoyed a pizza from Domino's Pizza.
He shared a photo of his wife inspecting his first coat of the new paint on the second night of the project.
The image was selected as the second winner of the 2023 summer-long contest, earning him a Duke-branded gym bag courtesy of Duke University Stores.
"I love having the time to do things like this," said Davidson, who joined the Pratt School of Engineering in January 2022. "I appreciate it a lot, because I don't have to worry about, 'when am I going to get this done?'"
Now, Davidson said their home feels complete with their pets, a dog, Odin, and cats, Leela and Solo.
They look forward to many moments ahead in the kitchen, where Erin bakes lemon blueberry zucchini cake and other sweet treats.
How to share your 2023 summer pictures:
Post and tag a photo on Twitter, Instagram or Facebook with #DukeTimeOff. Tell us what you're doing with your time away from work. Remember to include #DukeTimeOff in your post, so we can find your snapshots on social media.
If you're not on social media or prefer to share your picture another way, go to hr.duke.edu/DukeTimeOff2023 to upload your picture.
To be eligible for prizes, photographs must be taken between May 24, 2023 through Aug. 6, 2023, and shared by current University and Health System staff and faculty during the same time period. The deadline for submissions is 12 p.m. Aug. 7.
We welcome and encourage frequent submissions (there's a prize for a shutterbug), but only the first picture in a series will be entered whenever one submission contains multiple images. Collage photographs and videos are not eligible for prizes.
During the campaign, the Working@Duke editorial team will award Duke-themed merchandise from the Duke eStore, courtesy of Duke University Stores. All eligible pictures shared throughout the course of the campaign – May 24, 2023, through Aug. 6, 2023 – will be in the running for these grand prizes:
A "Classic Package for Two" at the Washington Duke Inn, which includes a king or double/double room for one night and full breakfast for two in the Vista Room or room service, courtesy of the Washington Duke Inn. Sunday brunch is not eligible.
A Walking with Lemurs tour for four with Lemur Center Executive Director Greg Dye, courtesy of the Duke Lemur Center.
Grand prize winners will be announced on Working@Duke in late August.
Send story ideas, shout-outs and photographs through our story idea form or write working@duke.edu.
Follow Working@Duke on Twitter, Facebook, and Instagram.