Henry Petroski, 'Poet Laureate of Technology' and Professor of Engineering and History, Dies
Image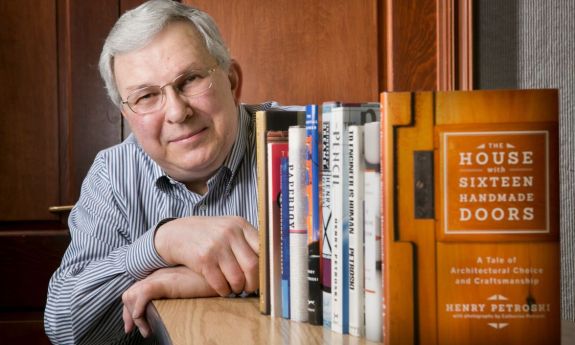 Increasingly asked to write longer and longer pieces, Petroski sought a position at a university where he might have more time to focus on that side of his career.
"I came to Duke University because the people who interviewed me were actually interested in my non-technical publications," said Petroski, who joined the school's faculty as a professor of civil and environmental engineering and history in 1980. "They saw them as a plus and not a dilution of my technical work."
This was a perfect match, said current Pratt School of Engineering Dean Jerome Lynch. "Henry exemplified Duke's unique ability to beautifully integrate the traditions of the liberal arts and engineering to unearth deep insights into how engineering has transformed our world for the better," Lynch said.
Five years later, Petroski published his first book, "To Engineer is Human," in an effort to answer in straightforward language the fundamental question, "What is engineering?" His answer: Engineering is design, and design is about avoiding failure, which is nonetheless an essential part of the process. The book focused on large structures like bridges and buildings, but Petroski believed the concept could be applied to small things such as paper clips, zippers and pencils.
Petroski's third book, "The Pencil: A History of Design and Circumstance," and fourth book, "The Evolution of Useful Things," do just that. In them, Petroski refutes that form follows function, and instead claims that form follows failure. When things don't work, they fail, and inventors and engineers look for ways to improve them.
These books were his first to gain critical acclaim and commercial success, launching a prolific writing career featuring 20 general interest books and countless general-interest articles and essays for magazines and newspapers, including the New York Times, the Washington Post, the Los Angeles Times and the Wall Street Journal. He also wrote regular columns for the magazines American Scientist and ASEE Prism.
His most recent book was "Force: What It Means to Push and Pull, Slip and Grip, Start and Stop" (Yale University Press, 2022), which explores the ongoing physical interaction between people and things that enables them to stay put or causes them to move.
"Even if my books focus on different topics — like bridges or pencils or toothpicks — their general objective is to elucidate the nature of invention and engineering," Petroski said. "They demonstrate how failure is an integral part of the process and not necessarily something that should be excused and forgotten."
Petroski was particularly adept at translating engineering concepts and communicating them widely, said Mark Wiesner, a former chair of the civil and environmental engineering department.
"He was a true scholar in every sense of the word, who brought a renaissance flavor to his work," Wiesner said. "His writings are as engaging and rich in historical perspective as they are prodigious. He was an effective and media-genic communicator for the engineering profession as a whole, and his works, such as 'The Road Taken,' will continue to have relevance for years to come as the U.S. and other countries struggle with aging infrastructures."
Earl Dowell, who served as dean of the engineering school from 1983 to 1999, said Petroski's ability to write well helped him reach a broad audience.
"Henry was a quiet revolutionary through his many books," Dowell said. "Before his career as an author of widely praised books, he was a well-respected scholar in theoretical and applied mechanics, a field that anticipated much of what is now pervasive throughout engineering. Henry was a wonderful colleague and made the Pratt School, and indeed all of a Duke, a better place."
As Petroski came to be known in the literary world as "America's poet laureate of technology," he also continued a successful technical career at Duke. Named the Vesic Professor of Civil and Environmental Engineering in 1993, he pursued research in structural engineering and design that was sponsored by the U.S. Army Corps of Engineers, the National Science Foundation, the Alfred P. Sloan Foundation and other organizations. He published more than 75 refereed journal articles in such places as the International Journal of Fracture, Engineering Fracture Mechanics, the Journal of Applied Mechanics, Structural Safety and Research in Engineering Design.
From 2004 through 2012, Petroski held a presidential appointment as a member of the U.S. Nuclear Waste Technical Review Board. He was also a distinguished member of the American Society of Civil Engineers, a fellow of the American Society of Mechanical Engineers and the Institution of Engineers of Ireland and was an elected member of the American Academy of Arts and Sciences, the American Philosophical Society and the U.S. National Academy of Engineering.
Petroski held fellowships from the Guggenheim Foundation, the National Endowment for the Humanities and the National Humanities Center. Among his many other honors were the Ralph Coats Roe Medal from the American Society of Mechanical Engineers; the Washington Award from the Western Society of Engineers; and the Civil Engineering History and Heritage Award from the American Society of Civil Engineers, where he served a term as chair of the history and heritage committee. He also received honorary degrees from Clarkson University, Trinity College, Valparaiso University, Manhattan College, Missouri University of Science and Technology, and McGill University.
He is survived by his wife Catherine Petroski, his daughter Karen Petroski (TJ Bross), his son Stephen Petroski (Laura) and grandsons William and Teddy Petroski.
Memorial service information will be announced later. Friends wishing to make memorial contributions may send them to the Duke Cancer Institute or the charity of their choice.