Image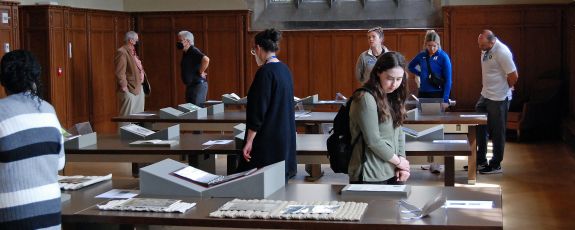 Duke University Libraries Displays Archival Materials that Celebrate Black Culture
A recent event included a peek inside some of Rubenstein Library's materials centering on Black voices in print
Second Independence Day

Duke Vice President of Human Resources Antwan Lofton shared a message about celebrating Juneteenth.
What she didn't see coming was that she'd have her own connection to the history in the room.
As she flipped through the pages of a 2002 edition of "The Talking Drum," a newsletter published by the Black Student Alliance when she was a student at Duke, she saw her byline on a story that she wrote during her sophomore year.
"What it made me realize is that Black students at Duke have always contributed to the excellence of Duke," said Smith, associate professor of Political Science and interim vice provost for Undergraduate Education. "To see it in print made me realize maybe I'm also part of that legacy, and the people I went to school with are part of that legacy."
In April, as part of an ongoing series, Duke University Libraries showcased 80 materials of African American history and culture from the David M. Rubenstein Rare Book and Manuscript Library. Over three hours, staff, faculty and students could see, feel, read, and experience materials that ordinarily must be requested from the collections.
Selections on view at the event were organized on tables according to themes — Black Life at Duke; Black Life in the Bull City; Black Power; Black Women Activists; LGBTQIA+; Medicine and new acquisitions.
Materials featured a range of items from a magazine published by the National Coalition of Black Lesbians and Gays, a collection of photographs of life in Durham from the Alvin T. Parnell Photograph Collection as well as a scrapbook from Florence Small Gaynor, the first Black woman to lead a major teaching hospital, and books about the Black Panthers.
"There's something really visceral about picking up a book that's 100 years old and being able to turn the pages," said John Gartrell, director of the John Hope Franklin Research Center for African and African American History & Culture. "For some people, that's a life-changing experience."
A committee of library staff members organized the event, which is part of the libraries racial justice roadmap, a commitment to prioritize identifying, documenting, and sharing the history and contributions of Black people, including those at Duke. As Duke celebrates Juneteenth on Monday, a federal holiday commemorating when news of freedom reached the last enslaved people in Galveston, Texas, on June 19, 1865, Working@Duke is highlighting the event and archival materials to honor Black history and culture.
Over the past three years, Rubenstein Library staff members have been processing legacy collections, particularly from the 1900s, and updating descriptions and catalogues to remove offensive or outdated terms and better centering the Black voices who created them.
"This is not just an event, but it's the fabric of our mission and our work here," Gartrell said.
Going forward, a display of materials will be an annual fixture on the first Monday of April —National Libraries Week is observed annually in April — to help the campus and local community to see the rich variety of materials housed at Duke created by Black voices across the globe.
Neal Shipe, a research services associate in the Rubenstein Library, appreciated that the variety of materials this year centered on a diversity of Black experiences such as recipes in "The Historical Cookbook of the American Negro" created by the National Council of Negro Women to personal experiences of lesser-known figures, like a scrapbook created by activist Elna B. Spaulding compiling her work with the Women-In-Action for the Prevention of Violence and Its Causes organization.
"What's really important about these sorts of events is that it brings out some of the unknown voices of the archives," Shipe said.
Dawna Jones, assistant vice president for Identity Center and Community Development in Duke Student Affairs, attended the event because she knew it would help her serve diverse groups of students on campus.
She was struck by a Black Panther Party booklet and a pamphlet from the opening ceremony of the Mary Lou Williams Center for Black Culture at Duke in 1983. The pamphlet featured author Toni Morrison as keynote speaker.
"I'm always looking for more information as a person who's new to Duke, especially about the Black community here," said Jones, who oversees all the identity centers in Duke Student Affairs. "It's awesome to me to be able to learn more about the history, and I learned names I hadn't seen before."
Staff, faculty and students who could not attend the event can request materials and view them at the Rubenstein Library Reading Room during regular business hours.
And for those interested in the materials curated for the event, a companion guide includes more information on materials selected and how to request them.
"These materials are always going to be here," Gartrell said. "This is really the tip of the iceberg."
Send story ideas, shout-outs and photographs through our story idea form or write working@duke.edu.