Navigating AI at Duke
Duke faculty and staff wonder how AI is going to change campus
Image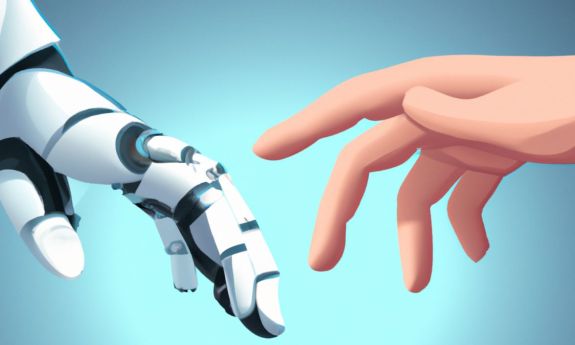 He says the advancing technology could open doors for those who wish to develop their skill sets or explore new ones.
"People feel empowered and have new capabilities when they have access to a whole new set of tools," Hirschey said. "Hopefully this helps people do what they did poorly better or do things they couldn't have before."
The good work of becoming educated
AI has been around for years but it has very recently undergone a quantum leap with tools like the buzz-worthy ChatGPT, the first freely available, consumer-facing AI application.
"People at universities like Duke have long been developing and researching AI and machine learning," said Evan Levine, Senior Director of IT Services & Support in the Office of Information Technology. "What changed in the last year or so, though, is that now AI-powered services are emerging that are more accessible and user friendly."
Michael Greene, associate director learning technology services and strategy in Learning Innovation, said AI is often used in research, particularly within disciplines at Duke such as engineering and medical studies. It's also used to generate classroom materials, such as demos and simulations. But the way AI would be integrated into a writing course producing essays would be different from a software engineering course producing code.
"Faculty on the engineering side are used to building their own tools if something's not available," said Greene. "They will build a learning platform where AI will take care of manual tasks such as creating quiz questions through hosted lecture notes, or it can act as a 'study buddy' for students where they can ask it questions."
Regardless, Elise Mueller, a senior consultant also in Learning Innovation, says AI can only do so much within the learning process.
"AI, at least ChatGPT, is like a smart Wikipedia entry, it's not academic level content," said Mueller. "It does the work of combing through the internet to find information, but it can't analyze and reflect, or make interpretations of how things influence other things. None of the good work of becoming educated can happen there."
Pushing the profession
Levine said that it is too soon to tell the extent to which faculty will use AI for teaching, but the answer will become more evident within the next year as AI is developed to create custom-tailored educational experiences. The technology could bridge gaps in education for students wanting to learn about subjects where faculty lack expertise.
"It's scary how good it is," said Steve Toback, media architect and senior producer in the Office of Information Technology, who is confident tools like ChatGPT will not replace jobs. Instead, he sees it as a tool to potentially help with efficiency.
"It's like when everyone started using a calculator: everyone freaked out, but it didn't stop us from learning basic math," Toback said. "It just makes basic knowledge easier to get to in order to help get work done faster and better."
He adds, "ChatGPT won't replace workers, but workers using it could replace workers that don't use it."
As AI changes the learning environment, people like Mueller will need to not only analyze the functionality and utility of AI tools, but also understand the underlying impacts of implementing them in the classroom.
"It will push me and my colleagues in thinking and dealing with this new angle of work, as much as students and faculty will grapple with it; our profession is going to be pushed," Mueller added.
Learning to live in an increasingly AI world
While some universities are outright banning or ignoring AI altogether, Levine hopes that Duke will embrace it, learning from it as we go.
"Higher education is about learning and exploring, and ignoring AI is not a solution," Levine said. "That approach will not prevent inappropriate use or solve problems."
Others are betting that common sense will prevail in the use of any new tool, but especially those using AI.
"When new technology comes along with such profound implications, you need to strike a balance between being open minded and being critical," Hirschey said. "If we are too optimistic or pessimistic, I think that we're going to miss some things."
---