Infertility Benefit Helps Staff Member Start a Family
Certain Duke medical plans include infertility treatment for employees with two continuous years of service
Image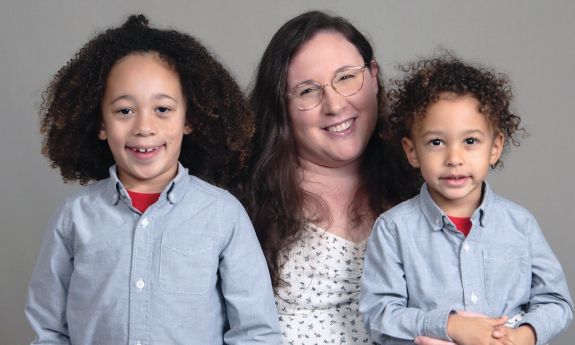 As a Duke employee with more than two years of continuous service, Koffi found that her Duke Select medical plan covered aspects of infertility treatment – offered to eligible staff and faculty since the 1980s – through the Duke Fertility Center.
Staff and faculty members with at least two years of continuous service based on their most recent hire date with Duke can receive coverage for infertility treatments by enrolling in either the Duke Select or Duke Options medical plans. Members of Duke Select or Duke Options who live in North Carolina get their treatments through the Duke Fertility Center.
In a new enhancement starting in 2023, Duke Options members who live outside of North Carolina receive coverage for infertility treatment from approved in-network providers.
"Duke has always had a state-of-the-art benefits plan," said Antwan Lofton, Duke's vice president for Human Resources. "Whether it's fertility benefits, parental leave, lactation spaces or elder care, we've always tried to find ways to help employees wherever they may be in their lives."
Under the Duke plans, infertility services include a co-pay based on a packaged group of services. For controlled ovarian hyperstimulation or a frozen embryo transfer, the co-pay is $800. For in vitro fertilization (IVF), there's a co-pay of $5,000 to $5,500 per cycle, depending on treatment. Medications and other procedures which can accompany an IVF cycle will have their own co-pays.
According to the Society for Assisted Reproductive Technology, the average cost of one IVF cycle is between $10,000-15,000 in the U.S.
For Koffi, Duke Fertility Center doctors found the right medication to give her a more reliable ovulation cycle. And in February of 2016, Koffi gave birth to son, Noah.
"We were ecstatic, just over the moon," said Koffi, who welcomed a second son, Evan, in 2019, following more treatment, including intrauterine insemination, at Duke Fertility Center.
With her Duke coverage, Koffi said that, for both of her pregnancies, the total out-of-pocket cost for the fertility treatments and prescriptions was around $2,000.
"I'm forever grateful," Koffi said. "I know some people try and try and aren't able to start a family the way they'd like to. I'm lucky to be somewhere with benefits that allowed me to be where I am today and have this family."
For Duke's infertility treatment benefit eligibility, visit hr.duke.edu/benefits/medical
Send story ideas, shout-outs and photographs through our story idea form or write working@duke.edu.
Follow Working@Duke on Twitter, Facebook, and Instagram.