Adam Silver: Lesson for Graduates from 'The Secret Game'
The NBA commissioner, a Duke alumnus and trustee, encourages students to challenge convention
Image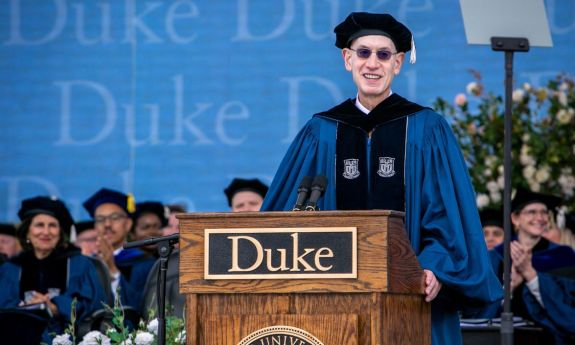 You play to exercise. You play to compete and win. Even if you come up short, you do your best or at least you try to. In many ways, It's as normal as can be.
Now – imagine a different Sunday morning in Durham in the spring of 1944. World War II. Jim Crow. Ten years before Brown vs. Board of Education desegregated North Carolina public schools. Sixteen years before Dr. King inspired sit-ins in Greensboro. And 19 years before Duke admitted its first Black students.
Three miles from here there's a gym at North Carolina College for Negroes, what's now known as North Carolina Central University – where, by the way, one of today's honorary degree recipients – Branford Marsalis – has taught for nearly 20 years.
On the sidelines was the school's basketball coach, John McLendon. He had been a student at the University of Kansas – where he learned the game of basketball under Dr. James Naismith. Dr. Naismith, of course, invented the sport at a YMCA in Springfield, Mass., to teach young men the values of self-discipline, teamwork, and fitness.
When John McLendon was ready to coach on his own, his choices were limited to Black schools, so he came to North Carolina College – here in Durham – and built a basketball powerhouse. He would go on to coach at four other universities during a successful career that spanned three decades.
He was the first Black assistant coach of a U.S. Olympic Basketball team -- a team which won gold in 1968. He also went on to become the first Black coach in professional basketball.
A visionary, he's credited with introducing everything from the full-court press, to fast-break basketball, to the four corners offense that Dean Smith used at Carolina.
But don't hold that against him for this story!
John McLendon would go on to earn the distinction of being the first person to be inducted two separate times into the Basketball Hall of Fame – as both a coach and contributor.
Again, it's 1944 – Coach McLendon had just led his dominant Eagles of North Carolina College, down the road in Durham – to a 19 and 1 season and yet another conference championship. But there was no invitation to the NCAA Tournament because Black schools were not allowed to participate.
Meanwhile, here at Duke, there was a group of all-white medical students, several of whom were also All-American basketball players as undergraduates at other universities. They wanted to play against the best, so they reached out to the Eagles to set up a game.
In his 2015 book, historian and Duke graduate, Scott Ellsworth, describes how both teams agreed to play on a Sunday morning in March, when most everyone in then segregated Durham was in church. Participating in the game could mean going to jail or worse.
They padlocked the doors so no one else could enter. They covered the windows so no one else could see.
The game started eerily quiet. Some of the Black players had never shaken the hand of a white person before – and vice versa. But that day, they did.
As one of the Black players would later say – "by the first half we realized the white players were just men like us."
One of the Duke players would write a letter to his family a few days later, describing how the game had caused many of his teammates -- "to change their views quite a lot."
The Eagles beat the Blue Devils that day 88 to 44. But that of course wasn't the point.
That game later came to be known as the "Secret Game" and was the first integrated college basketball game in the South.
As Dr. Ellsworth wrote, "The Secret Game ushered in a new era of basketball – one that was both black and white, Northern and Southern, Eastern and Western, old school backdoor cuts, and a new school up-tempo game that was beginning to take shape."
The Secret Game happened because those players – young people your age –challenged convention, and took a calculated risk, to do what they thought was right.
I arrived at Duke nearly 40 years after that game. Much had changed – but the complex history of the South continued to weigh heavily, as it does today, on American culture and politics. Like many of you, my first exposure to North Carolina was when I came here as a freshman.
It was hot that day. There was no air conditioning in my dorm room at Trent Hall. My mother wasn't able to drop me off – but it felt like she was here – just as it does today on Mother's Day.
She was a public high school teacher – and had a huge influence on me. But she also smoked the king-sized Chesterfield, non-filtered cigarettes that were made at the then nearby Liggett and Myers factory -- so there was a familiar smell in the air.
Duke, Durham and the state of North Carolina introduced me to new people and perspectives -- and helped me understand who I wanted to be and why. It changed me in ways that I didn't understand until years later.
One of my most meaningful experiences at Duke was taking a seminar – just a handful of students – with the late Professor John Hope Franklin. He was a revered historian of the Reconstruction era and race in America.
Among his many awards is the Presidential Medal of Freedom. A building on this campus now bears his name – and I only recently discovered that he was a professor at the very same North Carolina College at the time the Secret Game took place.
Professor Franklin was one of the Duke professors who had a powerful influence on me – and I still have my notes from his seminar and one of his books that he signed. In the Smithsonian Museum of African American History and Culture, there's a quote from Dr. Franklin inscribed on a wall that I think is very appropriate for today. It reads:
"Whatever you do, it must be done in the spirit of goodwill and mutual respect and even love. How else can we overcome the past and be worthy of our forebearers and face the future with confidence and with hope."
When I look back now, my Duke experience opened my eyes – on how to face the future, just as Professor Franklin said, with confidence and with hope. And how to overcome – and even celebrate – deep-seated differences, if we have a spirit of goodwill and mutual respect.
Six years after the Secret Game, the NBA signed its first Black players. And today, sports continue to be at the center of some of society's most controversial and contentious issues – particularly around race and gender. But sports at every level also provide a critical outlet for physical and mental wellness and social engagement, which breaks down barriers and brings people together.
As commissioner, my job is to ensure the league stays true to its founding principles and enduring legacy – and provides space for debate and dialogue.
Not everyone agrees on everything. It's messy. It's nuanced. It's not always black and white. But it requires building relationships. Finding compromise. Forging consensus.
For me, basketball is life. For you, it might be something different. But I sincerely believe that Duke, in part, because of its unique history and location, will play an outsized role in shaping the future of our culture and society, as it did on that Sunday in 1944.
And all of you graduates educated here are uniquely positioned to lead us forward. I'm not saying it's your responsibility to solve the challenges in front of us; challenges that face your generation acutely. That's still my generation's responsibility.
In your time here, you've lived through so much during such a consequential period in our history. But I know that you are better prepared than any prior generation.
When I was in the same position you are in today, I was thinking my Duke experience was ending. In reality, it was just beginning. One of the best parts of my job is not just shaking the hands of Duke basketball players at the Draft. It's meeting Duke graduates
all around the world who are doing amazing things. This university will help open up such incredible doors for you throughout your life.
So I encourage you to take advantage of all those opportunities. Because it's not a secret -- you are forever Duke. Face the future with confidence and with hope.