Image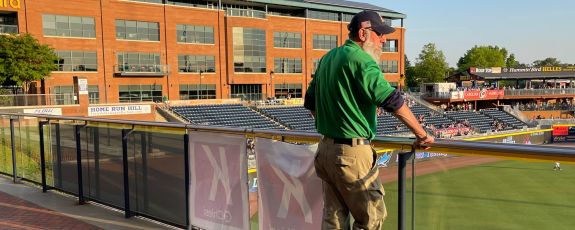 Harris Cooper: Psychology, Baseball and the History of Whiskey
Former chair of psychology & neuroscience finds endless discoveries in retirement
Assessment made. Next, what to do with all these observations from the summer of 2022?
Cooper wrote a book, "Finding America in a Minor League Ballpark," set to publish in February 2024.

With the eye of a social psychologist, the book recounts his experiences working at the ballpark by relating funny and poignant stories about the employees and fans he meets. There's the 94th birthday celebration; the dad whose 6-month-old son drops the car keys between the centerfield wall and the protective padding; the lost autistic child.
Book chapters defined by Durham Bull homestands alternate with chapters on the history of the minor leagues and the team, the city of Durham, the ballpark and ballplayers, and the moving parts that make a ballpark run.
"Minor league baseball hits the sweet spot between thrilling displays of athleticism and intimate contact for fans," Cooper says. "I have nothing but admiration for the Bulls organization. It's a class outfit. Durham and the Bulls are privileged to have one another."

Cooper came to Duke from the University of Missouri at Columbia in 2003. Before retiring from Duke in 2020, his roles included professor of psychology and neuroscience, chair of the Department of Psychology & Neuroscience, Hugo L. Blomquist Distinguished Professor and dean of social sciences.

A noted expert on the effectiveness of homework among K-12 students, Cooper also directed Duke's Program in Education. He was a pioneer in the development and use of meta-analysis, now the gold standard for integrating the results of separate studies on the same topic.  He has been a visiting scholar at Stanford University, the University of Oregon and the Russell Sage Founda­tion in New York City.
Longtime friend and former Duke provost Peter Lange attributes Cooper's success as a scholar to "his critical intelligence combined with a broad intellectual curiosity and great energy, his enjoyment of people, their strengths and their foibles, and his terrific Bronx sense of humor -- as perceived by a person from a Manhattan youth."

In his retirement, Cooper also wrote his first popular non-fiction work, "American History Through a Whiskey Glass: How Distilled Spirits, Domestic Cuisine, and Popular Music Helped Shape a Nation," published in June 2021.

The book, in its third printing, includes a how-to manual for hosting history-and-whiskey-themed dinner parties.

Like baseball, Cooper's lifelong love of American history sparked his interest in whiskey. He's now an Executive Bourbon Steward and has visited more than 60 distilleries throughout the United States.
It all happened by accident.Cooper and his wife, Beth, spend around five months a year at their home in Colorado. When asking for advice on visiting the wine country in Palisades, Colorado, a liquor store clerk recommended they also visit distilleries that were on the way.
The storied history of whiskey grabbed Cooper's attention. The couple started going to "whiskey dinners." But he realized those events were limited in scope because the presenters were affiliated with a particular distillery.

"I said, you know, I don't have that restraint. I could take my interest in American history and mash it with American whiskeys, finding whiskeys from different eras. I could find popular music from the different eras. I could also include recipes from historical cookbooks. And it's not like hosting a dinner is that much different from presenting a seminar."

That led to a string of whiskey dinners Cooper hosted in places ranging from a cooking school in New Jersey to a country club in Lincoln, Nebraska.
"And then COVID hit. I thought, why don't I just write a book? Give it away." So, he did.

During the height of the pandemic, Cooper also taught online classes on research methods for rising high school seniors around the world. Classes included students from Asia to Africa. "They were phenomenally bright kids, incredibly, incredibly motivated," he says. "Most of them wanted to come to school in the United States."

"Over 40 years, I've always enjoyed watching the development of the methods psychologists use to study their topics. When you teach methods you also teach kids how to think critically."

Then, there's his other part-time job, as editor of the 80,000-circulation American Psychologist, the flagship journal of the American Psychological Association. He has four years remaining on a six-year appointment.

"It's incredibly challenging," he says. "But it's also incredibly interesting. In the mail last Friday, I got two manuscripts on using artificial intelligence in psychological research. One was simply why you shouldn't be afraid of it. And the other one was using ChatGPT to generate hypotheses for studies in social psychology."
Lange, the former provost, says he's not surprised Cooper has remained so active.

"His pursuits in retirement are a perfect reflection of the qualities I highlighted. Diverse, off-beat topics, approached with a combination of seriousness and whimsy and, in the case of the Durham Bulls book, an enjoyment in people and their passions.
"He's just fun to be with," adds Lange. "We text almost daily about things we read or experiences we have and we get together regularly -- with spouses and without -- to just enjoy each other and where our minds will wander."
Cooper acknowledges he's fortunate that "wondering what was wrong with me" as a teen led him to a career in psychology and a life of endless discovery.

"I've been a lucky guy," he says, recalling a recent conversation with his wife.
"This notion came up about how do you spend your retirement, how can you do it right or wrong? And I said to her, 'My back and my feet feel like they're 71 years old. But my head and my heart feel like they're 17.'"