Image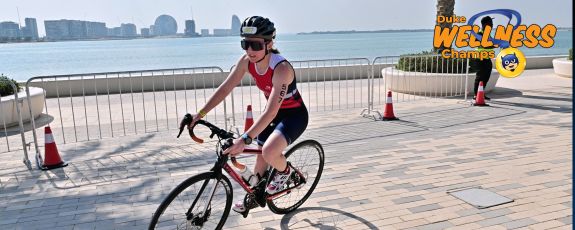 Duke Wellness Champs: Brianna Blackwell Swims, Bikes and Runs
Brianna Blackwell's love of triathlons brings lifetime experiences
Brianna Blackwell works in a lab in Duke Raleigh Hospital, running tests on routine patient samples.
Outside of work, she competes in triathlons.
"I've learned from triathlons to have fun," said Blackwell, a medical lab scientist who has worked at Duke since 2018.
Through our series, Duke Wellness Champs, Working@Duke is spotlighting staff and faculty who take charge of their overall physical, mental, and/or social well-being. Through each person featured, we hope to inspire and help other colleagues in pursuit of wellness goals.
We talked with Blackwell about the role triathlons play in her life.
Why triathlons?
In college, Blackwell swam long distance events, 500 and 1,000 meters, at NCAA Division III York College. While others were drawn to shorter races, she found her niche in 500 to 1,000 meters, which required endurance, disciplined breathing, and patience since a 1,000-meter event, for example, lasts about 12 minutes or more.
Before her final college season in 2016, Blackwell's coach suggested she try triathlons as part of training. From the first event, she loved the multisport race. Since college, 25 triathlons has kept her connected to overcoming big challenges.
"What I enjoy the most is training," Blackwell said. "I like putting in the time to get to the starting line, putting all the work into it and then just performing."
How do triathlons help your physical and mental well-being?
For Blackwell, training for triathlons lifts her mood and brings a positive lift to each day.
During the workweek, she runs about five miles near her house in Clayton, completes an hour bike ride and fits in a strength training workout. On weekends, she swims for an hour, runs 10 or more miles, and rides her bike 30-miles around Jordan Lake or the Neuse River Trail.
"I'm definitely much more upbeat and happier when I'm training," Blackwell said.
On race days, she enters a meditative state. At the end, the rush from crossing a finish line carries her forward to the next event.
"It's the satisfaction of, 'I just did that,'" Blackwell said. "I just swam, biked and ran. It's a lot."
Most memorable race:
Over Thanksgiving in 2022, Blackwell competed with Team USA in the World Triathlon Age-Group Championships in Abu Dhabi, the capital of the United Arab Emirates.
Blackwell finished 10th in the age 25 to 29 female group in the super sprint event, a shorter and faster triathlon, completing approximately 500 yards of swimming, about 6.2 miles on a bike and running about 1.4 miles in 44 minutes and 59 seconds.
The triathlon race was primarily completed on Yas Island, a strip of land on the Persian Gulf where Blackwell swam among jelly fish, and biked and ran around the urban desert oasis. During the final leg of her journey, she passed by the Formula-1 track while drivers were testing their vehicles for a race, and residents gathered around the path to encourage her and other competitors.
"The best part was racing in a foreign country," Blackwell said. "It was somewhere I've never been and an experience of seeing different scenery, feeling a dry heat versus the humidity, it was pretty cool. To hear the race cars racing as we were racing and just to have the support of the locals there was pretty cool too."
Advice for people beginning their competitive race journey:
When she started, Blackwell trained alone, but finding a group helped her identify the best ways to train and how to stay motivated.
Locally, Blackwell suggested FS Series events, which are approachable races.
"If you can't swim, they let you run-walk in the pool," Blackwell said. "They'll start you first and I think that helps a lot…they're very good entry-level races and not intimidating."
Is there an inspiring colleague in your corner of Duke who embraces physical, mental and/or social well-being? Let us know.