Image
Duke Joins Ambitious Climate Effort on Governors Island in New York City
Living laboratory for urban and coastal climate solutions
President Vincent E. Price, Fuqua School of Business Dean Bill Boulding, and Pratt School of Engineering Dean Jerome Lynch attended a Monday morning announcement of the Exchange on Governors Island with New York Mayor Eric Adams.
"Duke is thrilled to be a partner in the New York Climate Exchange and its community-first approach to confronting the complex impacts of climate change," Price said. "We look forward to bringing Duke's academic, research and applied expertise to this critical partnership, which will help provide transformational solutions to the climate crisis."
Duke is an affiliate member of the consortium that won a competition run by the Governors Island Trust to build a center for climate research, teaching and public education. There are more than 40 organizations involved with the winning bid, including large corporations, conservation advocacy groups and local chambers of commerce and Boys & Girls Clubs.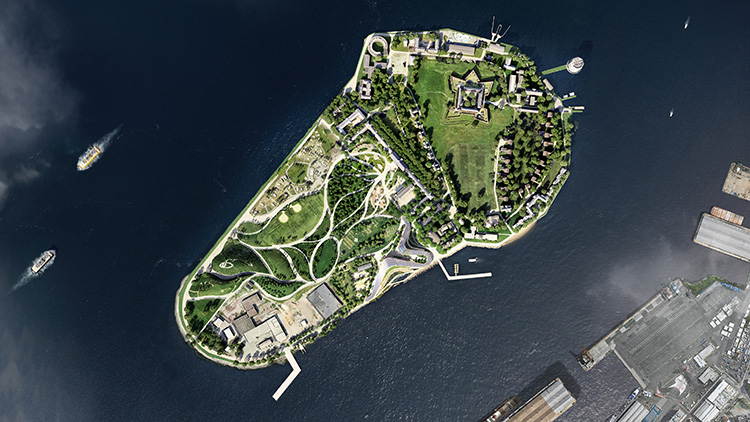 The effort is led by Stony Brook University on Long Island, NY. Duke is joining with Georgia Tech University, the University of Washington, the Pratt Institute, Pace University and IBM, to address the social and practical challenges created by climate change — including new technologies that could become commercially viable responses to the global climate crisis.
Plans call for 400,000 square feet of green-designed space, much of it made from wood, including research labs, classrooms, exhibits, greenhouses and housing facilities. It will be a combination of new space and historic restoration, plus 4 acres of open space. The all-electric facility, which will stand on the east side of the island facing Brooklyn, will be built to withstand a sea level rise of 18 feet.
The $700 million effort has received pledges of $150 million from the Simons Foundation and the Bloomberg Philanthropies and is expected to create 2,200 jobs.
In addition to housing undergraduate and graduate students for learning and research, the Exchange will host green job training and skills-building programs for up to 6,000 local residents per year, helping them launch successful careers in sustainability.
"We're leaning in to intellectually contribute," Lynch said. "With climate a focal point for Duke and Duke Engineering, the Climate Exchange will provide a platform for our students and faculty to learn about climate change and deploy new technologies with community partners in New York City." Being a stone's throw from one of the world's great financial markets may also be a plus for Duke's commercialization ambitions, Lynch added.
"My hope is that this is going to create opportunities for our students and faculty," Boulding said. The business school's role will almost certainly include work in "developing markets to facilitate our transition away from carbon."
The Duke Climate Commitment is a university-wide, impact-oriented initiative to address the climate crisis by creating sustainable and equitable solutions that place society on the path toward a resilient, flourishing, carbon-neutral world. Through education, research, external engagement and campus operations, the Duke Climate Commitment seeks to imagine, design and implement a sustainable future for all.
Stony Brook University is hosting a virtual "town hall" on Tuesday, April 25 at Noon ET to share more details about the Climate Exchange. The Exchange is expected to break ground in 2025 and open in Summer 2028.