Frank Tramble Appointed Vice President for Communications, Marketing and Public Affairs
Current Howard University Chief Communications Officer will assume new role July 1
Image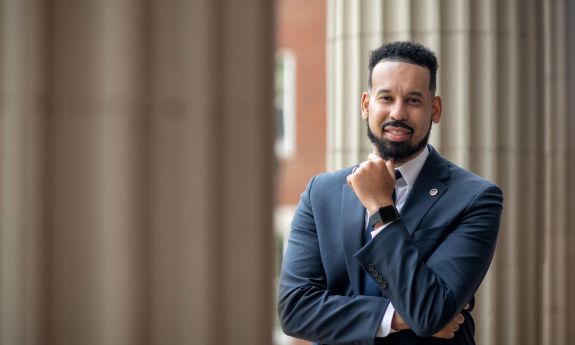 Tramble will serve on the President's Cabinet, acting as a strategic adviser and partner to Price and other university leaders. He will directly lead the university's central communications, marketing, media relations and brand management activities and will provide additional leadership for communications professionals working in schools and units across the university.
"I am delighted to welcome Frank to Duke," said Price. "He has distinguished himself as a strategic and creative leader of marketing and communications programs that advance institutional priorities and celebrate the extraordinary contributions of students, faculty, staff, and alumni. I look forward to working with Frank to position Duke as the leading university of the century to come."
Tramble's appointment follows a nationwide search conducted by a committee of administrators, faculty, and representatives of the Board of Trustees.
"I am grateful to the search committee members for their service, and especially to Jerry Lynch for his outstanding work as chair," Price said. "And I very much appreciate Chris Simmons' excellent interim leadership of our communications and marketing."
As Howard's vice president and chief communications officer, Tramble oversees integrated marketing and communications activities to support the university's reputation and institutional priorities, including the university's strategic plan, student experience, fundraising, alumni and community engagement, athletics, hospital communications, and government relations. He has advanced the university's reputation and brand recognition by introducing new approaches to storytelling and outreach, including an award-winning redesign of the university's magazine and the creation of the university's first daily storytelling hub, The Dig.
Tramble and his colleagues' work has generated extensive national media coverage, including the university's swim and dive team becoming the first all-Black swim team ever to be featured on the cover of Sports Illustrated. Their work also includes collaborations with many notable writers, artists, and photographers including Pete Souza.
Prior to Howard, Tramble led communications strategy and operations for fundraising events and activities at Georgetown University, and managed student engagement, telemarketing, and alumni annual giving marketing campaign activities at Michigan State University.
"I am thrilled to join Duke at such an exciting moment in the university's history," said Tramble. "I have long admired Duke's commitment to excellence in research and education, and its focus on achieving impact on a global scale. As the university looks ahead to its next 100 years and truly engages people from all backgrounds to fight the world's problems, I am incredibly honored to have the opportunity to help build and tell that story, as well as support President Price's vision for the future."
In addition to his role at Howard, Tramble teaches brand concepts as an adjunct professor in the integrated marketing communications graduate program at Georgetown. He has been active at the national level of the Council for Advancement and Support of Education (CASE) as a lead judge for the circle of excellence digital communication awards. He has been an invited speaker on a range of topics including crisis communications, career development, the role of HBCUs in communities, and branding and marketing best practices; and as a mentor for communications students and professionals.
Under Tramble's leadership, the Howard Office of University Communications has earned numerous awards. They include two silver and bronze Education Digital Marketing Awards; thirteen CASE Awards including a gold award for the redesign of Howard Magazine; and a silver award for the 2021 magazine series. The office also won four Eddie & Ozzio Awards for writing and magazine design and a PRSA Bronze Anvil award for executive communications.
Tramble earned a master's degree in integrated marketing communications from Georgetown and completed his undergraduate degree in advertising management at Michigan State University.
Tramble will relocate to Durham with his wife, Shekinah, and son, Kaidan, this summer.