Image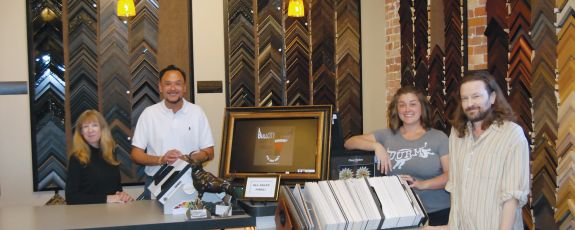 Framed with Care at a Savings
Use a discount at Bull City Art & Frame to display cherished belongings
The gift commemorated an important time for mother and son as they grieved the death of Lee's father, Kyle. After his father died, Lee dove into learning how to create his own computer video games, working to create worlds and tell stories in community with other gamers. The special hobby helped Lee, and OFF remained a favorite game of his to play.
But before Simpson could give her son the art piece, she needed help properly displaying it.
Using a 10 percent discount for staff and faculty, Simpson took the art to Bull City Art & Frame Company in Durham's Historic Brightleaf Square. With attention to detail, Bull City Art & Frame listened to Simpson and created a matching sleek black wooden frame that helped the art come to life on the wall.
"They were interested in what I wanted and why I wanted it," said Simpson, a strategic services associate in Duke Performance Services. "They treated me like I was their only customer, and all of their suggestions were to help bring out what I wanted."
When Lee opened the gift on Christmas Day, he cried and wrapped his mother in a tight hug. The piece now proudly hangs in his room as a tribute to his favorite game, and a memorial to his father.
For 15 years, Bull City Art & Frame owners Tiffany and Lewis Bowles, and their team of five framers, have been proud to play a part in helping clients display cherished items in a meaningful way.
Working in what the owners call "the shadow of Duke Chapel," Bull City Art & Frame has helped hundreds of Duke clients over the years — from Duke University Hospital and Facilities Management to Athletics and countless individual faculty and staff.
The small business boasts creating all custom frames in-house, including art, diplomas, photos, awards and more. When it comes to their clients, Lewis Bowles said his motto has always remained that no project is too big or too small to be worth their time and attention.
"We're here to serve the masses, and we're here for everyone," said Bowles, a Durham native. "We'll do everything from routine glass changes to Marc Chagall originals, and we'll meet every price point."
Visit hr.duke.edu/discounts to access framing discounts and for a full list of vendor savings. Your NetID and password may be needed to access deals.
Send story ideas, shout-outs and photographs through our story idea form or write working@duke.edu.