Durham's New Field of Miracles
Duke partners to create new stadium for baseball players with special needs
Image
The celebration is open to the public. Duke University played an important role in making this happen in the Durham community. Duke's involvement includes giving around $120,000 toward the new ballpark. But the Duke-Miracle League relationship runs much deeper than finances.
The Durham league began last fall but construction of its own ballfield was delayed. So Duke provided its baseball field for the players to use, and Coach Chris Pollard and Blue Devils players worked with the youngsters.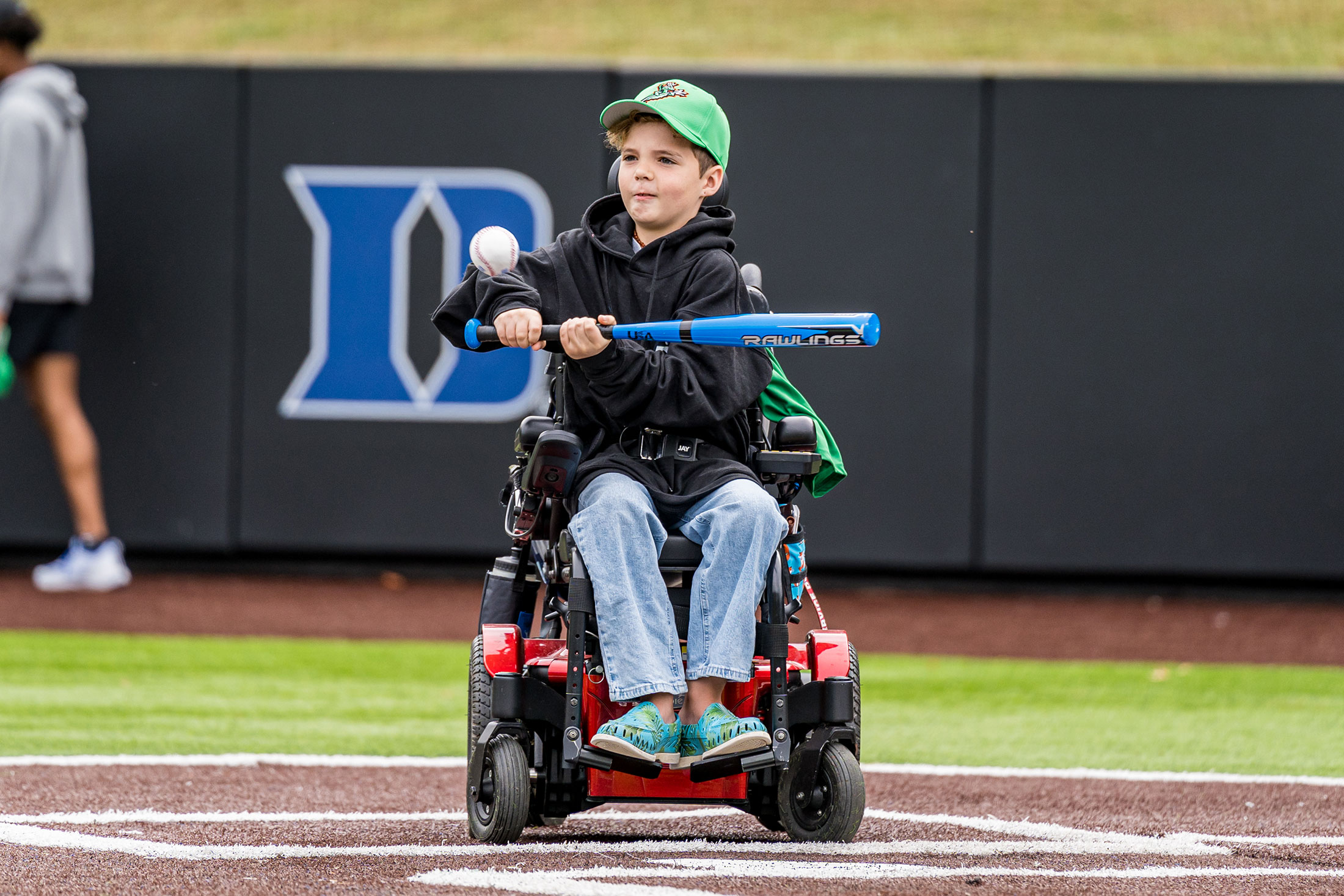 It's a partnership that started even before Pollard arrived at Duke in 2012.
"My first experience with Miracle League of the Triangle was in the fall of 2012," Pollard says. "That first trip to Cary was an unbelievable experience. Since that time it has been an annual highlight for us. It was really cool for me to see my own son participate as a buddy this fall."
Benjy Capps, executive director of the Miracle League of the Triangle, says Duke's involvement has been valuable.
"Duke is such a vital part of Durham," Capps says, adding that Duke softball players have also participated. "It has been an amazing partnership to be able to work with Duke and the Athletics Department."
The new Durham park on the northwest corner of Morehead Avenue and Blackwell Street is a nod to the old Bulls park, with similar features and paint color.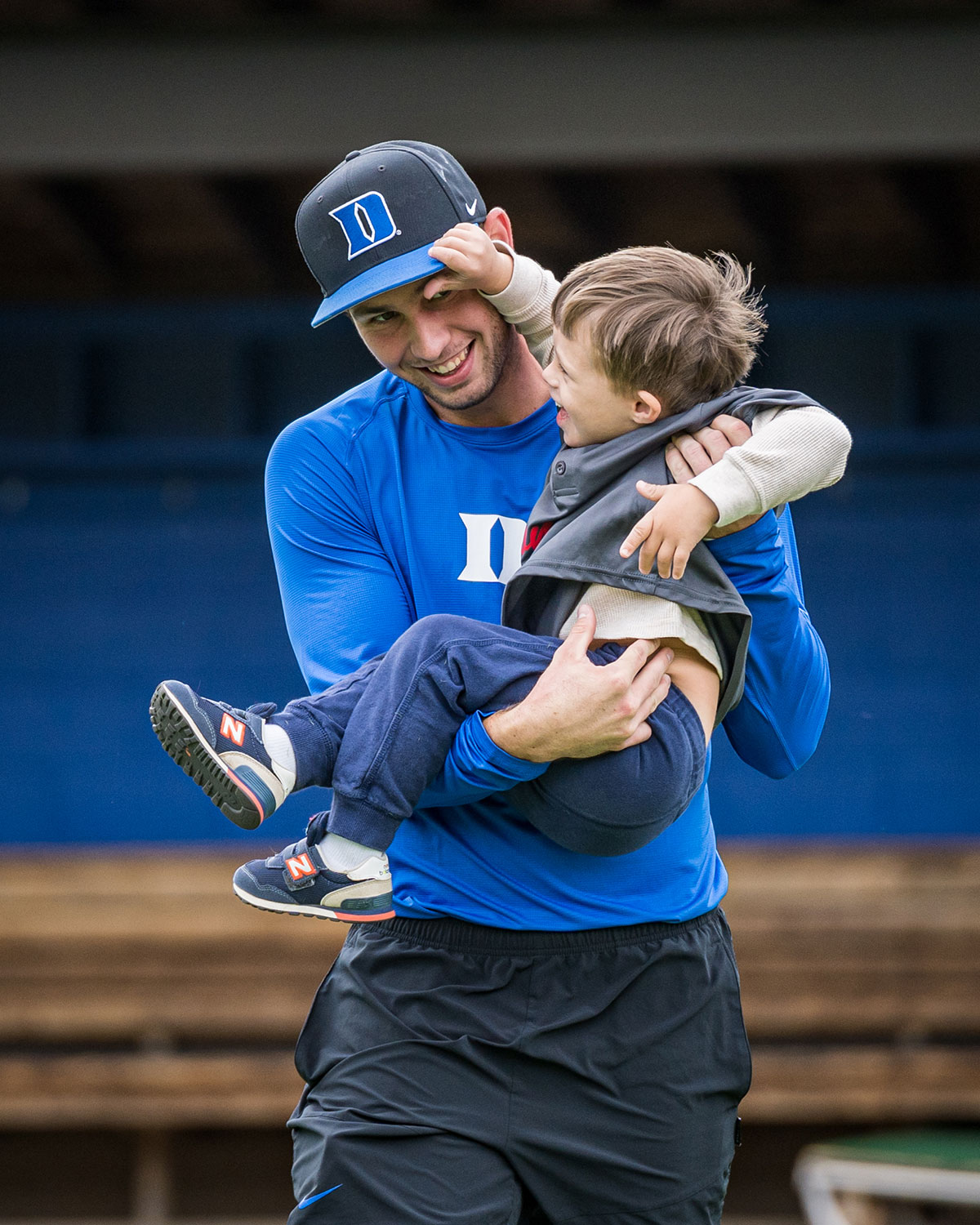 The ballfield took several years to complete, delayed in part by the COVID-19 pandemic and working out property agreements with Capitol Broadcasting Co. (which owns the Bulls and donated around $700,000) and the Durham Housing Authority, Capps says.
From Duke's standpoint, the project touches on three main priorities: reinforcing downtown vitality, helping children and assisting local nonprofits, says Sam Miglarese, former deputy chief administrator to the vice president for Durham and Community Affairs and a Miracle League board member.
"Duke is pleased to be a partner with the city, Housing Authority, Capitol Broadcasting and others that has made this partnership project a success," Miglarese says. "The Miracle League of Durham joins Raleigh and Cary as great weekend opportunities for our children and volunteers."
The noncompetitive games are two innings and played on Saturdays over eight weeks in the fall and spring. Just like Bulls and Blue Devils players, each youngster from Durham's four teams has a personalized walk-up song when they go up to bat.
But for these families, providing an opportunity for their child to play baseball is just one of many benefits of the Miracle League.
"It's a baseball game but it's also a vehicle that provides joy to our players and families," Capps says. "We can share ideas, we can share successes, we can share challenges, and you know what, they're gonna support me just like I would support them. And that's what our community is about."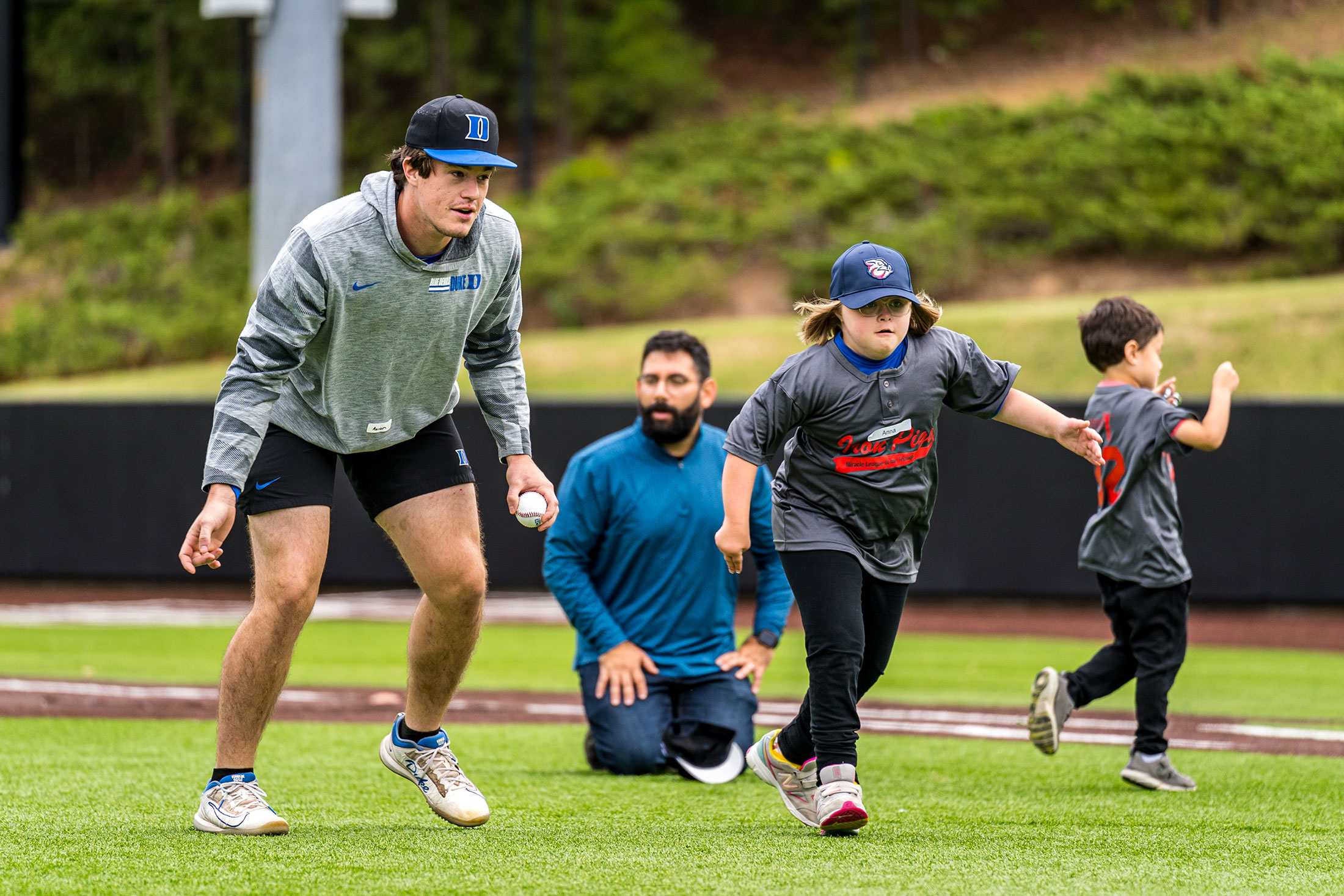 The Hartman family of Durham has been part of the Cary league since 2011. Father Bobby coaches and son Andrew has been playing since he was around 10. Andrew will play in the adult league at the new Durham field while also continuing to play in Cary, where he's made solid friendships and loves his coach, says Bobby Hartman.
An Eagle Scout, Andrew also built three picnic benches that will be placed at the Durham site.
"I love the socialization aspect of it. I think for a lot of the kids, it's a little independence, they're not there with their parents at their side," Bobby Hartman says. "And with so many of these kids it's a 24-hour job for the parents to take care of them. We're lucky that Andrew is pretty independent."
Hartman says there's always a need for volunteer "buddies" who assist during the two-inning games. (Volunteers have to be age 12 or older.)
"If you volunteer or go to one of these games and you're not be smiling most of the time, there's got to be something wrong with you. It's the best," Hartman says. "I think this new field is just going to make it even better. It's going to be great."
Adds Pollard: "When I ask our players what service opportunities are important to them that we continue, our partnership with the Miracle League is always at the top of the list. Every one of us feels like we get more out of the experience than we put into it.
"There are so many benefits to our partnership with MLT. The relationships we have made over the years are meaningful. You can't spend a Saturday morning as a buddy and not leave the experience smiling and filled with gratitude."