Image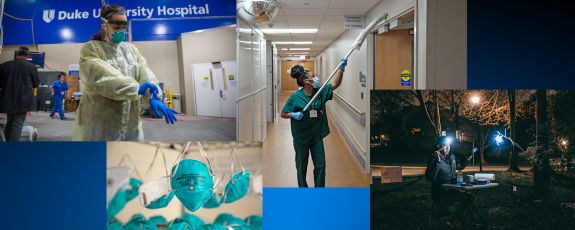 Documenting and Preserving COVID-19 Pandemic History at Duke
Duke archivists are collecting the experiences of staff, faculty and students during the pandemic
"I knew that, even if this only lasted a month or two, it was going to be historic," said Rocco, who has nearly 200 images from the pandemic's early days in the collection of the Duke University Medical Center Archives.
This month marks three years since the novel coronavirus swept into the United States, leaving 1.1 million Americans dead and reshaping society and everyday life. At Duke, the pandemic summoned heroic efforts from health care teams, breakthrough science from researchers, and nimble adjustments from staff and faculty.
While the work of preserving materials that will tell these pandemic stories is in its early phases, archivists at Duke are taking on the challenge and using creative approaches to collect history for future researchers.
"COVID, and the way messages changed and came out, made us step back and think about how we're capturing materials and how materials are disseminated," said Lucy Waldrop, assistant director and head of Technical Services for the Duke University Medical Center Archives.
The first effort to document Duke's pandemic history came in 2020, when the Duke University Archives and the Duke University Medical Archives invited Duke community members to share written reflections, images or video documenting their pandemic experiences.
"It was a good way to record stories that might have been lost or forgotten as the immediacy of the events passed," said Duke University Archivist Valerie Gillispie. "I was glad we were able to do it in a way where people could submit anonymously if they preferred or they could restrict it for a couple of years. People were really honest about the experiences they were having and that gives us a look at that very strange time period from a very personal point of view."
Normally, the Duke University Archives and the Duke University Medical Center Archives collect items when offices or individual staff or faculty members donate their papers. These donations, which usually occur when a person leaves Duke or the particular materials are no longer relevant to ongoing work, are kept confidential for 25 years before researchers can access them.
That means it will likely be several years before the relatively recent pandemic-era items – papers, digital files and physical artifacts – become part of Duke's archival collections.
Gillispie said that, with so much recent turnover among Duke's leaders, many collections of COVID-era papers will likely be headed to the archives soon. Though it will still be decades before they're available to the public.
In the meantime, the Duke University Archives have collected the digital history of the pandemic, preserving old versions of COVID-related websites and recordings of Living While Black, a daylong conversation about race.
In addition to the photographs from Rocco and his colleagues, the Duke University Medical Center Archives has accessioned 18 batches of digital files, including recordings of virtual town halls for Duke's nurses from 2020 and 2021 outlining COVID-19 safety measures, and videos of panel discussions for Duke University Health System's Moments to Movement initiative.
The collection also contains old versions of Duke websites which covered COVID-19 policy changes and protocols, and a collection of Friday video messages from Duke University School of Medicine Dean Mary Klotman.
Waldrop said Klotman's messages were important to preserve since they were educational, with Klotman providing updates on the latest pandemic-related concerns, and encouraging, as she often showed gratitude for the school staff members who continued their strong work amid uncertain circumstances.
While some digital items – such as Klotman's messages – are still available online, for others, researchers can contact the Duke University Medical Archives to get help accessing materials.
Rocco, who, along with fellow senior media relations strategist Erin Roth, spent time in Duke's hospitals and clinics, capturing images of front-line caregivers under challenging circumstances, is encouraged to know his work will be part of Duke's COVID-19 story.
"This is a big part of why I do what I do, it's ingrained in me," Rocco said. "I want to capture these moments and preserve them for history."
Want to contribute to a COVID-19 archival collection? Duke University students, staff and faculty members can contribute at this website while Duke University Health System and Duke University School of Medicine students, staff and faculty can contribute here.
Send story ideas, shout-outs and photographs through our story idea form or write working@duke.edu.