Alec Gallimore Named Duke's Next Provost, Chief Academic Officer
Noted academic currently serves as engineering dean at University of Michigan
Image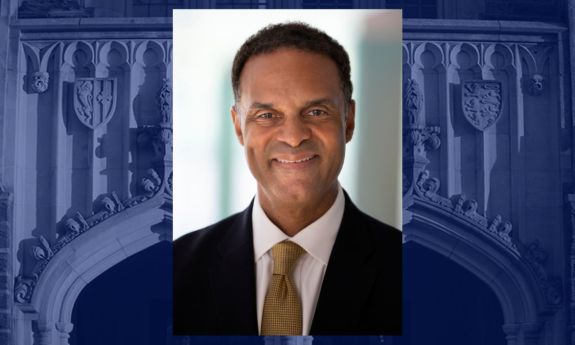 "I am honored to have been asked to serve Duke University as provost," Gallimore said. "I look forward to working with President Price and our entire community of students, faculty, staff and alumni to cultivate collaboration and respect, fostering a more inclusive and equitable campus and world. Together, we can address the great challenges of our day, partnering with purpose to advance humankind, serve our communities and make a lasting, positive impact on the world."
Since his appointment as dean in 2016, Gallimore has led Michigan's College of Engineering, a renowned institution with more than 12,000 students and post-doctoral fellows, 1,600 faculty and staff, and an annual research expenditure of $300 million. He previously served the college as a senior administrator, including as Associate Dean for Research and Graduate Education and Associate Dean for Academic Affairs, and as Associate Dean of the Horace H. Rackham School of Graduate Studies.
Through his strategic vision as dean, Gallimore has pioneered People-First Engineering, a new approach to education, research and practice that both supports a more diverse population of students, staff and faculty and better reflects the societal context and needs of the people their discoveries reach. Under his leadership, Michigan Engineering has launched an Office of Culture, Community, and Equity and the Teaching Engineering Equity Center, which has been funded with a grant from the National Science Foundation.
A widely respected aerospace engineer and plasma physicist, Gallimore founded and directs the Plasmadynamics and Electric Propulsion Laboratory at Michigan, where he and his team have made transformational contributions in the fields of space propulsion, plasma physics, and advanced probe-based, microwave and laser diagnostics. Gallimore is also a dedicated mentor and teacher; he has advised nearly 60 graduate students who have gone on to careers in the academy, military, industry, and government, and he has been recognized by the university for his commitment to undergraduate teaching. His diverse experience as an academic leader has been characterized by interdisciplinary collaboration and support of a wide range of scholarly perspectives.
Gallimore was selected after an extensive national search conducted by a committee chaired by Amy Herring, Sara & Charles Ayres Distinguished Professor of Statistical Science, Global Health, and Biostatistics and Bioinformatics, including faculty, students, trustees, and administrators.
"I am absolutely thrilled to welcome Alec Gallimore to the Duke community," said Herring. "In a pool of highly talented, inspirational candidates, Dr. Gallimore's outstanding scholarship and intellect, along with his deep commitment to embracing and enhancing his community, made us eager to be a part of his team. I'd also like to thank the search committee, who gave very generously of their time and energy as part of this important process. They are an amazing group of faculty, staff, students, and trustees."
"As we look ahead to the transition, I too want to thank the search committee—and particularly chair Amy Herring—for their advice and counsel in this important decision," said President Price. "I also want to recognize interim provost Jennifer Francis for her truly exceptional leadership, her tireless commitment to Duke, and her wisdom and friendship."
Gallimore has received numerous awards for his research, including the Ernst Stuhlinger Medal for Outstanding Achievement in Electric Propulsion, the highest recognition in the field, and the Wyld Propulsion Award from the American Institute of Astronautics and Aeronautics (AIAA). He is a member of the National Academy of Engineering and the American Society for Engineering Education, and a fellow of the AIAA. He received his Bachelors of Science in Aeronautical Engineering from Rensselaer Polytechnic Institute, and his Masters and Ph.D. degrees in Aerospace Engineering with a focus on plasma physics from Princeton University.