The People Behind Duke's Unique Places and Things
From the highest to coldest, meet staff and faculty working with Duke's extreme places and things
Image
Image
Duke is home to plenty of impressive tools like the Cryo Transmission Electron Microscope, as well as special places.
A few of these, such as the microscope, take their unique qualities to the extreme.
Whether the oldest campus building or the coldest freezer, there are staff and faculty whose ordinary workdays include working with extraordinary pieces of Duke. Meet some of these Duke colleagues and learn about the places and things that add a unique twist to their work.
Highest Spot
Image
While Duke's campus has grown larger in the roughly nine decades since Duke University Chapel was built, its 210-foot tall gothic-revival tower remains the highest point at Duke.
And if you want to go up there to see the view, Visitor Relations Assistant Nikki Manderico is the person to contact. Manderico fields calls and emails from groups of students, staff, and faculty who want to book a 30-minute excursion to the top of the chapel, where they can soak in an unforgettable view of campus and Durham.
"For a lot of people, this is a once-in-a-lifetime thing," Manderico said. "They're pretty excited about going up, and then when they come down, I like to ask them how it was. Sometimes they're too tired to really articulate it, but they always seem to have had fun."
While she's helped hundreds of people fulfill their goal of getting to the top, Manderico has only been to the top herself once. As a Durham native, Manderico said the view was more powerful than she expected. The view of Duke's medical campus proved to be particularly meaningful since her mother is a clinical nurse at Duke University Hospital and her father works at the Durham VA Hospital.
"From up there, you could see those two little buildings side-by side," Manderico said. "That was sweet."
Coldest Freezers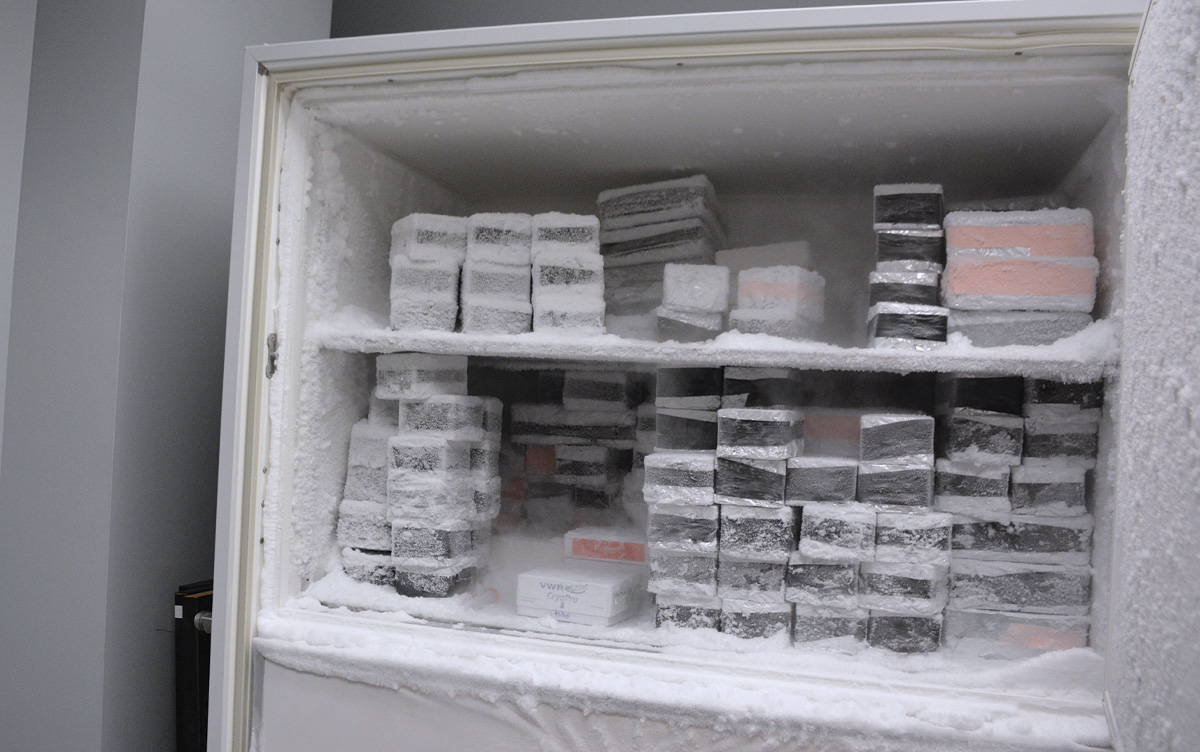 A few doors down from Christine Drea's office on the first floor of the Biological Sciences Building, there's a room filled with humming freezers. Drea a professor in the Department of Evolutionary Anthropology since 1999, points out the four freezers that belong to her lab.
"I would do no research without my freezers," Drea said. "I'm very grateful to have these."
Each one named after a singer – Elvis, Sinatra, Simone and Ella – the freezers are larger than versions found in household kitchens and feature heavy handles and digital displays. The biggest difference can be seen – and felt – when the doors are opened, unleashing a wave of fog and intense cold. These freezers keep their contents at nearly minus-80 degrees Celsius, or four times as cold as the freezer you may have at home.
The inside of these ultra-cold freezers – found in a handful of labs and departments at Duke University and Duke University Hospital – are as consistently cold as you can get on campus.
Drea, who studies the biological factors which shape the behavior of mammals such as lemurs, hyenas and meerkats, uses the freezers to help her store, among other things, samples of scent-producing substances, such as excrement or sweat, harvested from animals at the Duke Lemur Center or during her trips to Africa.
For these items to be used in research, the compounds which release scent, which degrade quickly, must be kept intact, which requires airtight storage and extreme cold. Tucked away in these freezers, the samples can be viable for several years.
"You're trying to preserve the samples and keep their time stamp from advancing of these samples by stopping all biological activities," Drea said.
A few moments after Drea opens one freezer and the rush of frigid air blows by, the small room begins to smell slightly like a zoo, the scents of animals from the other side of the world seeping into the air.
Oldest Building
Image
Built in 1892, Epworth Residence Hall has a colorful and lengthy past. The oldest remaining building on campus, at different times it's housed both students and faculty, it's been home to staff offices, a chapel and a dining hall. Once a sprawling structure with porches and rambling wings, now a third of its original size it's a quaint, tree-shaded East Campus residence hall that can house as many as 40 students.
Image
"It's kind of cool because if feels like you're living in a giant house" said Associate Dean of Residence Life Brandin Howard, who oversees the residence halls on East Campus. "Because of the building's size, it gives students the opportunity to build those deep meaningful connections."
During the 2022-23 academic year, Epworth is adding a new chapter to its history as it's housing students from Duke Kunshan University. For most Duke Kunshan students, spending a period studying in Durham is part of the experience. With the COVID-19 pandemic making it more complicated to get students into China, some have opted to spend more time in Durham. For these students, being housed in Epworth allows them to opportunity to live together.
Howard said that while the 130-year old building requires plenty of maintenance, the cozy feel and rich past make it a unique place for Duke students to call home.
"Yes, this is an older building, but by living here you get to be part of a lot of history," Howard said.
Busiest Place
Image
In the 2021 fiscal year, Duke University Hospital admitted around 41,000 patients, had 1.3 million outpatient visits and welcomed tens of thousands of visitors. For many of those people – as well of the hospital's 11,000 employees – the entry point to the sprawling hospital is Duke North's bustling lobby, perhaps the busiest place at Duke.
Image
From her spot at the Duke North information desk, Patient Service Associate Charzena Williams sees thousands of people pass by her each day. It's her job to check in visitors, provide directions and answer questions.
"No matter what someone's situation is, we try to be helpful and sympathetic," Williams said.
While the lobby's foot traffic remains steady through most of the day, the busiest times during Williams' 6 a.m.-2:30 p.m. shift are the 7 a.m. shift change, when masses of scrub-clad hospital staff members flow in and out of the front doors, and around 8 a.m., when visiting hours begin.
"It can get pretty loud and you might have a long line," Williams said. "You just try to work fast and make sure everybody can get where they need to go in a timely manner."
Most interactions Williams has are with people entering the hospital. But it's the exchanges with people leaving the hospital which can be the most memorable. Williams said that she'll often see people she helped on the way in, stop and speak with her on their way back home, thanking her for the help she and the rest of the hospital staff gave them during their stay.
"That's what we care about the most," Williams said. "You never really know what's going on with the patients or visitors, so you just want to make sure they feel well taken care of."
Got a place or thing to fill in the blank for one of "Duke's ____est"? Let us know through our story idea form or write working@duke.edu.