A New Look at Mentorship, Professional Development and Well-Being to Help Scholars Succeed
Sherilynn Black joins other national leaders to guide new National Academies initiative
Image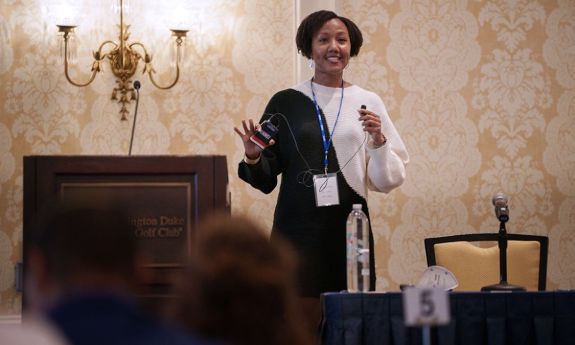 Over the past few years, Black and her colleagues have seen an increase in mental health challenges across their campuses.
"We must address this point," she said, since "mental health and well-being are directly correlated with our ability to learn and educate others. It also impacts how effectively we are able to collaborate and bring the full extent of creativity to our campuses."
On Jan. 31, the group concluded an initial two-part discussion to get started.
"We have already begun the process of thinking deeply about how the different variables involved in mentorship, professional development and well-being can work in synergistic ways to improve academic outcomes at all levels," Black said. They expect to develop and host five roundtable events in 2023-2025.
"We will provide opportunities for academics across the country who are interested in engaging with these issues," she added, "and we'll engage students, postdocs, faculty and members of the staff — everyone who's involved will have a voice. The group is committed to doing rigorous work with an equity lens."
"This work builds and expands upon a deep portfolio of work that independently spans the topics of mentorship, well-being and professional development," said Maria Lund Dahlberg, director of the roundtable at the National Academies. "But the evidence points to the importance of exploring how they inform and affect each other and the next generation of STEMM professionals."
"Sherilynn is a proven and highly respected leader in this space," said Abbas Benmamoun, vice provost for faculty advancement at Duke, "and I am thrilled that the National Academies will draw on her expertise. The scope and goals of this initiative are exactly what we need. We know, for example, that for faculty to be effective mentors of their students and trainees, we need to be attentive to their own mentoring needs."
Black is excited about diving into this work. "The National Academies are trusting us to think about these topics in innovative ways," she noted. "We don't have a clear roadmap. It's an opportunity to develop something that is effective and will have lasting impact."
---
Resources
Explore mentoring resources from Duke Faculty Advancement, and access the National Academies' guides to The Science of Effective Mentoring in STEMM and Graduate STEM Education for the 21st Century.
About Sherilynn Black
Sherilynn Black, Ph.D., is associate vice provost for faculty advancement and assistant professor of the practice of medical education at Duke University. Her social neuroscience research examines the effectiveness of interventions that promote diversity and equity in academia, culturally aware mentorship practices, and catalyzing systemic change for academic organizations. She holds national appointments with HHMI, AAMC, Burroughs Wellcome Fund, Society for Neuroscience, and NIH (Advisory Committee to the Director, Working Group on Diversity). Distinctions include the Samuel DuBois Cook Society Award, the Dean's Award for Inclusive Excellence in Graduate Education, the Equity, Diversity and Inclusion Award, and Cell's 'Most Inspiring Black Scientists in America.' She previously served as the inaugural director of the Office of Biomedical Graduate Diversity and principal investigator of the NIH-IMSD Duke Biosciences Collaborative for Research Engagement (BioCoRE). Dr. Black served on the NASEM Consensus Study on Graduate Education and on the NASEM Roundtable Committee on Anti-Racism in Health Professions Education.