Image
Forward Together: Locking in Team Culture
Duke Clinical Research Institute builds a lasting tradition around celebrating milestone moments
Forward Together
As the post-pandemic work landscape evolves, Working@Duke is sharing stories of how individuals and schools, departments and units are building a positive culture at Duke. 
It's a feat worth celebrating.
And since 1999, putting a lock on the wall is how DCRI has done it.
"The lock is really important," said Curtis Campbell, program manager for DCRI's Clinical Data Operations team. "It just gives people that sense of accomplishment, we can celebrate a win. And it's also just a great way to show all of our work over time. We did all of this. And we did this together."
As the post-pandemic work landscape evolves, Working@Duke's Forward Together series is highlighting examples of how schools, departments, units or individuals are fostering a positive work culture.
DCRI's tradition of celebrating the completion of databases is a creative way to recognize team members and build a sense of investment in an organization.
A study by Gallup and Workhuman found that, when an employer recognizes life events or work milestones, employees are three times as likely to say they feel strongly connected to company culture and 30 percent more likely to say they plan to be at their organization in five years.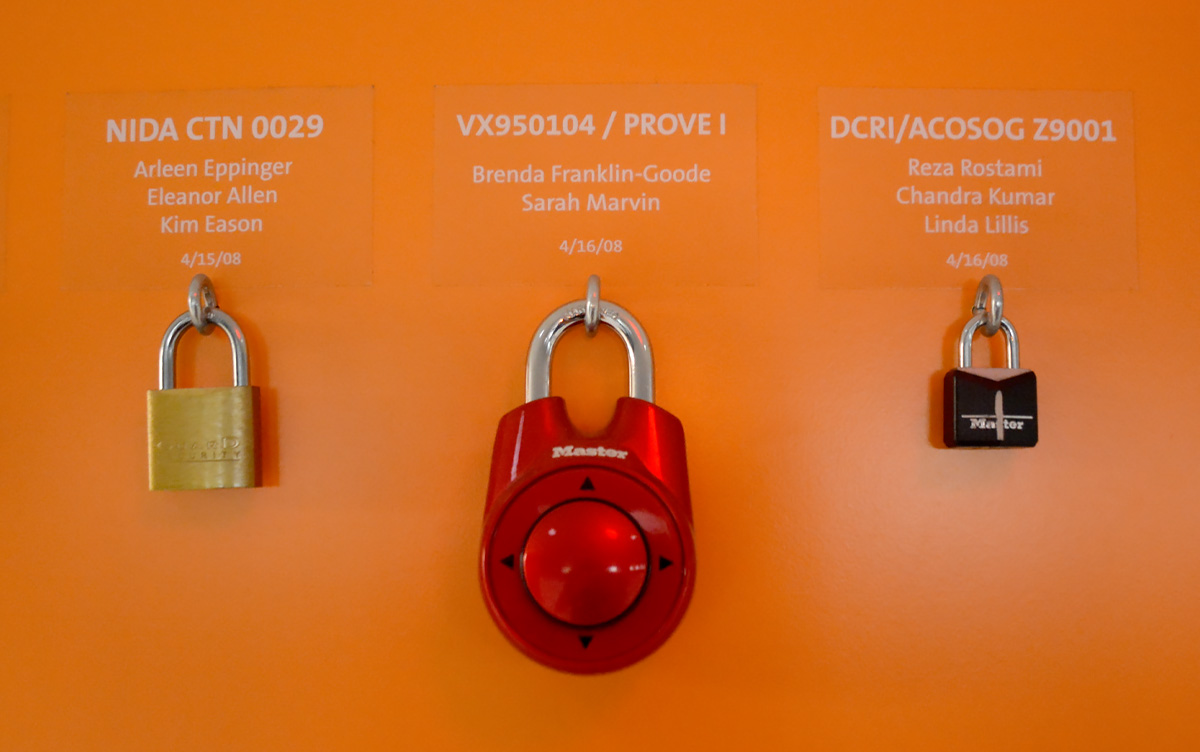 "The locks give you a sense of history, a sense that you were a part of something," said Associate Director for Technology and Data Solutions Brenda Franklin-Goode, who has been a part of several studies since joining DCRI in 2000. "Part of the fun of it is being able to look at the locks and remember what was going on at the time. You might remember something that was going on in the world. Or maybe someone on your team was pregnant. It's like a little photo album for your work family and helps you remember how many different people you got to work with."
The tradition dates to 1999, when Brian McCourt, senior director of DCRI's Data and Knowledge Management group, was leading a team that neared the end of a particularly large study. With two years of work approaching completion, McCourt and Campbell, the program manager for DCRI's Clinical Data Operations team, wanted to mark the moment.
"We were looking for a way to recognize the team, and we were playing around with the database lock idea," McCourt said. "I had an old wooden plaque in some closet at home and so we went one afternoon to Home Depot and bought an old lock. We got some cake, and we went to a little trophy shop in Durham to get everyone's names put on the plaque, and we just had fun with it."
Before long, other studies began locking around DCRI, leading to more locks on plaques, more parties and the birth of a tradition. The custom continued as DCRI moved into the Durham Centre and the number of locks on the wall grew to triple digits – the total is now around 350.
And, as part of the tradition, the particular locks chosen to be mounted often reflect the nature of the study. A cardiology study will likely get a heart-shaped lock. A study of pediatric patients may get a child safety lock, or a toy lock. One study, which involved collaborators from Japan, was marked with a decorative Japanese lock.
The lock celebrations were paused during the pandemic as most of DCRI's staff worked remotely. But in early December of 2022, with meetings bringing several team members on-site, McCourt and his colleagues arranged to have several new locks added to the wall, and mark the occasion with cake and a celebration.
"It was pretty cool to talk with some of the folks who have been around DCRI aa long time and reminisce about the projects we did together," McCourt said of the celebration. "But standing next to me would be someone who just joined DCRI since COVID, and it was great to get to know them and give them some background on DCRI and the research projects we've already done. The whole dynamic was really cool,"
Send story ideas, shout-outs and photographs through our story idea form or write working@duke.edu.