Image
Duke Softball Coach Marissa Young: Lessons on Building from the Ground Up
Young, who developed a championship program, shares wisdom for starting anew
Cheer on the Blue Devils
Duke Softball's regular season runs from until April, with home games played on East Campus.
Nearly a decade ago, in December 2013, Duke announced it would add softball as its 27th varsity sport. On July 29, 2015, Duke introduced Young, then 33, as its first softball coach.
With the first game roughly two years away, Young got right to work, building Duke Softball, by herself, in a small office in one of Cameron Indoor Stadium's back hallways.
Now in her sixth season, Young's work has resulted in an established program. The Blue Devils won the Atlantic Coast Conference title in 2021, earned berths in the past two NCAA Tournaments and entered the 2023 season ranked No. 16 in the coaches poll.
"It was just like a startup business," said Young, who recalls designing the first Duke Softball letterhead, business cards and T-shirts, and showing recruits the grassy plot on East Campus which would one day be the Blue Devils' home field. "That was my mindset the whole time. I just had to find a way to get things done."
Most roles at Duke don't involve being asked to create something as complex as a varsity athletic program. But whether it's pulling together a team, creating a new event or taking on a complicated project, many staff and faculty will find themselves in situations where they must chart a course forward.
For these moments, here are lessons Young learned while building the Blue Devils softball program.
Don't Be Afraid to Ask for Help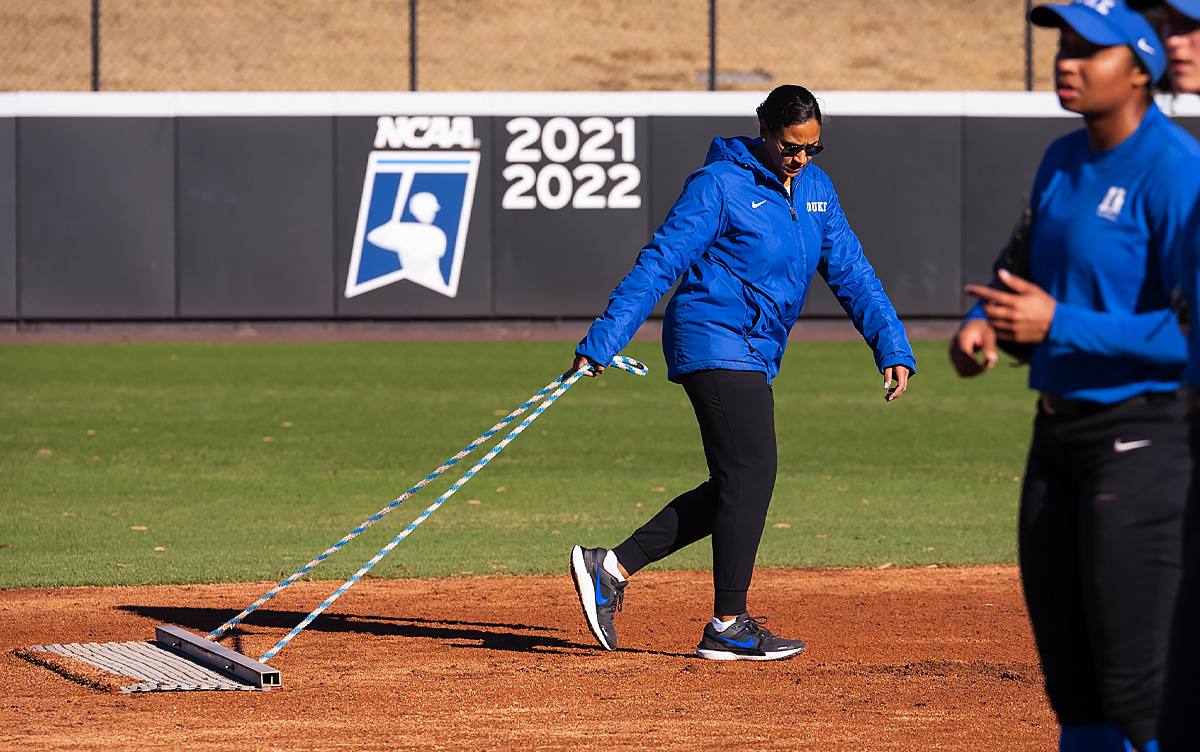 When Young was hired as Duke's first softball coach, she was a team of one. It was six months before she hired her first assistant coach.
A standout pitcher at Michigan during her playing days, Young been a head coach at Concordia University Ann Arbor from 2008-11 and spent the previous three seasons as an assistant coach at Eastern Michigan, and later, North Carolina. Being the head coach at a Division I, major conference school was something brand new to her.
But at Duke, there were no shortage of coaches who were well-acquainted with that challenge. And Young took full advantage of their wisdom, consulting with many of her fellow Duke coaches during her early years on campus.
Young recalls taking plenty from conversations with Duke Field Hockey Coach Pam Bustin, who built the Blue Devils into a national power in the sport. The Duke women's basketball coaching staff, then led by head coach Joanne P. McCallie, helped her learn how things functioned within the Duke Athletics.
And Young said opportunities to talk with Duke's former men's basketball coach Mike Krzyzewski were always incredibly valuable.
When facing a steep challenge, it may seem as though you're the first to take it on. But, as Young found out, there are likely people around you who have done something similar and can offer helpful perspectives.
"Duke is about the people and the relationships," Young said. "I don't think you fully grasp that until you're here and sort of live it day-to-day. That's something that really resonated with me. Duke is a special place with a lot of great people who are willing to help. It's just about getting outside of your comfort zone and reaching out."
Keep Your Standards High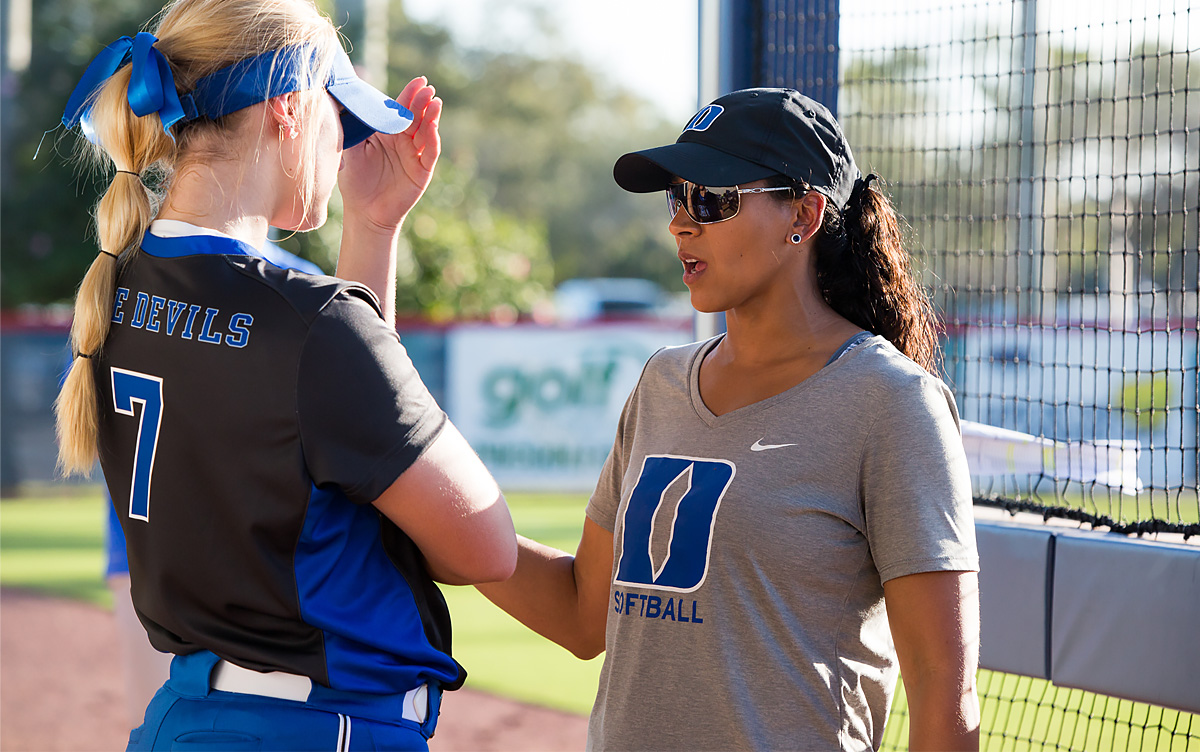 Well before Young's team had any players, it had a players' handbook.
Citing a need to set a high standard for her players early, one of the first tasks Young tackled was to put in writing the expectations that her eventual players would uphold. The handbook stated that players were expected to be five minutes early to all appointments, meetings and classes. They were to sit up front in class.
Young's high standards shaped the Blue Devils' first schedule as she added non-conference games with perennially solid programs such as Kentucky, South Carolina and Coastal Carolina.
"I wanted to challenge them and see what it was like to play the best in the country so they knew where the bar was," Young said. "I was trying to instill the belief that you are good enough, you can do this, you're equipped for this. Getting the belief system strong was important."
While the Blue Devils held their own during the first two seasons, the pandemic-shortened 2020 season saw them truly blossom, putting together a 23-4 record – including a road win against national power Texas.
While Young knew her team would be new, she didn't want to lower the standard of excellence.
"I think it's important, when you set out to do something new, or maybe you're in a different role, to still aim for excellence," Young said. "Even though we were a brand new program, I absolutely wanted to be competing for championships and winning championships early on. Setting the vision and having high standards is really important. It's more difficult to get the ball rolling and then say 'OK, now we're going to take it up a notch.'"
Find the Right Collaborators
When it came time to begin building her coaching staff, Young's first step was to look inward. She had been on coaching staffs before and seen how different personalities and skill sets fit together to form a group to meet the needs of the wider team.
To do that, Young needed to gauge which parts of her coaching personality were strongest, and which aspects of her style would benefit from having an assistant coach who could help.
"I was in a new role, so I needed to learn myself, learn where my strengths and weaknesses are going to be," Young said. "Over time, it became more clear of the type of people I needed to fill those gaps. For instance, I'm not always the most warm and fuzzy person, so I need somebody who's going to be able to come behind me and be that soft spot for the players. I need someone who can tell me if I'm being unreasonable or if I need to soften a message."
Young knew she wanted colleagues who shared her passion and who wouldn't back down from the challenge of building a program at a university where standards are high. She also prized honesty when it came to finding new staff members. That's part of the reason she brought her father, longtime club softball coach Robert Young, on as a volunteer assistant for her first three seasons.
"Trust is very important," Young said about building a team of collaborators. "Knowing that someone has your back and is going to be honest is crucial."
Send story ideas, shout-outs and photographs through our story idea form or write working@duke.edu.