Duke Hospital and Athletics Staff Take Safety to Heart
Preparation and training can save life during a cardiac emergency, including a recent event in Cameron Indoor Stadium
Image
The fan, Jeff McNeil, the father of an Ohio State player, was having a heart attack. 
With help from Carr and fellow Event Medicine Team members from Duke, as well as Duke Athletics staff, the McNeil was quickly helped to the Cameron Indoor Stadium lobby, where he received medical attention. Within minutes, he was placed in an ambulance and whisked to Duke University Hospital, where he was able to have life-saving surgery.
This event, and the situation with Buffalo Bills player Damar Hamlin, who required life-saving resuscitation after suffering a cardiac arrest during a January football game in Cincinnati, underscore the value of responding quickly to heart-related emergencies. And while these scenarios featured life-saving actions performed by medical professionals, it's important to know that there may be a moment when non-emergency responders need to jump into action.
"The vast majority of the time, this doesn't happen with a highly-trained and skilled crew right there to help out," said Dr. JJ Hoff, emergency medicine physician with Duke University Hospital and one of the team members who responded to the emergency at Cameron Indoor Stadium. "So the more we can encourage people to be aware of the ways they can help, the better."
The first and most important step to take when someone is experiencing a cardiac emergency is to immediately call 911 and get help on the way as fast as possible. But there are a few other simple steps to take to help save a life during a heart-related emergency.
Learn CPR
When somebody is experiencing a heart-related emergency, the heart's ability to move blood around the body is affected. Every moment without proper blood flow can do serious damage to organs such as the brain and decrease the chance of survival.
That's why quickly performing cardiopulmonary resuscitation (CPR), which can move some blood through the body through regular chest compressions, can be a life-saving step. According to the American Heart Association, immediate CPR can double or triple the chances of survival for someone experiencing cardiac arrest.
"Getting trained on CPR is one of the most important things you can do," said Andrew Potter, clinical operations manager for Duke Life Flight. "High Quality CPR leads to better outcomes for patients. It's something that's pretty quick and easy to learn."
Learning how to properly perform hands-only CPR – which does not require any contact with a person's mouth – is a simple process for Duke community members. The Duke Health Life Support Training Center features around 280 Duke-affiliated instructors who are certified by the American Heart Association to teach hands-only CPR. No-cost training sessions are available for members of the Duke University and Duke Health communities.
"Our main focus is to teach the clinical folks so they can meet their job responsibilities," said Duke Regional Hospital Assistant Director of Staff Education and Professional Development Tracy Stell, who oversees the CPR training program. "But whenever we have the opportunity, we love to teach this to all of the other areas of Duke."
The training sessions can take roughly an hour or less and feature interactive mannequins to teach trainees who to do effective compressions.
To organize a training session for your team, contact Tracy Stell at tracy.stell@duke.edu
The volunteers of Duke University EMS also offer CPR training to Duke students, staff and faculty. For more information, contact duemsoutreach@duke.edu
Locate the Nearest AED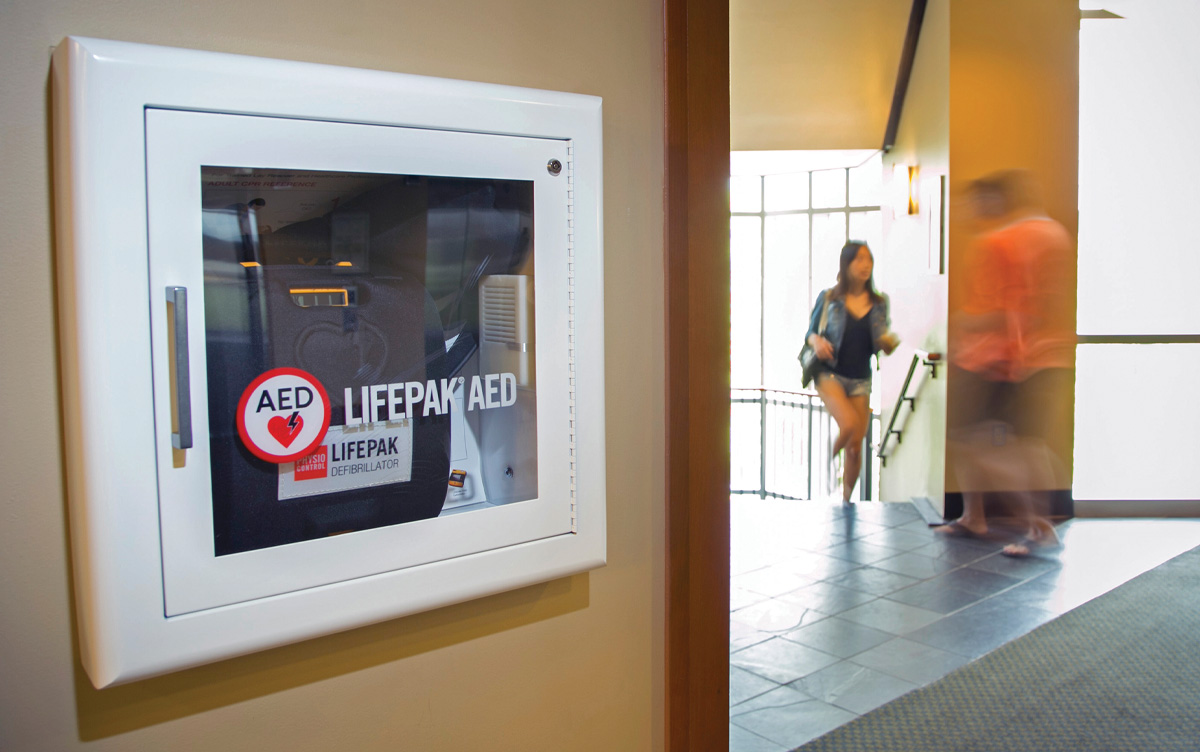 Automated external defibrillators (AEDs) are found in many of the buildings on Duke University's campus and in all Duke Health facilities.
When used on a person who is experiencing cardiac arrest, these devices analyze the heartbeat and, if needed, deliver an electrical shock to re-establish an effective rhythm.
Simply retrieve the device, push the 'on' button and follow the voice commands.
"AEDs are foolproof, they tell you exactly what you need to do," Potter said. "As long as you can open them up and hit the 'on' button, they will walk you through every step."
Often mounted on walls in high-traffic locations, as you travel through campus, look for AED locations and take note of those near your workspace. For information about how to get an AED installed in your building or near your workspace, contact Duke Emergency Management.
Take a Moment to Prepare
Prior to each basketball season, Duke's Event Medicine Team gathers in Cameron Indoor Stadium and practices dry runs of emergency response situations. Before each game, as the crowd files in, team members study the venue, taking note of exceptionally crowded sections, spotting older fans or those with potential mobility issues, and conferring about what they may need to do should something happen.
"Every scenario is going to be a little bit different, so there's no way for us to gameplan for every exact situation," said Duke Life Flight Critical Care Transport Nurse Matt Benson, a paramedic and member of the Event Medicine Team. "But we spend a lot of time prepping and making sure that, whatever happens, we've got the right equipment in the right areas and we know what we need to do."
While the Event Medicine Team's job is to be ready for such moments, no matter what your Duke team does, taking a moment to prepare for an emergency is wise.
"It's all about preparedness," said Dr. Jason Theiling, Life Flight assistant medical director and vice chair of operations for the Department of Emergency Medicine at Duke. "You have to think about things that you don't ever want to have happen, so that you can develop plans so that if and when they happen, you can execute."
Send story ideas, shout-outs and photographs through our story idea form or write working@duke.edu.