Blue Devil of the Week: A Proud Guardian of Duke
After leaving his native country of Iraq, Marwan Mohammed is grateful for his new home
Image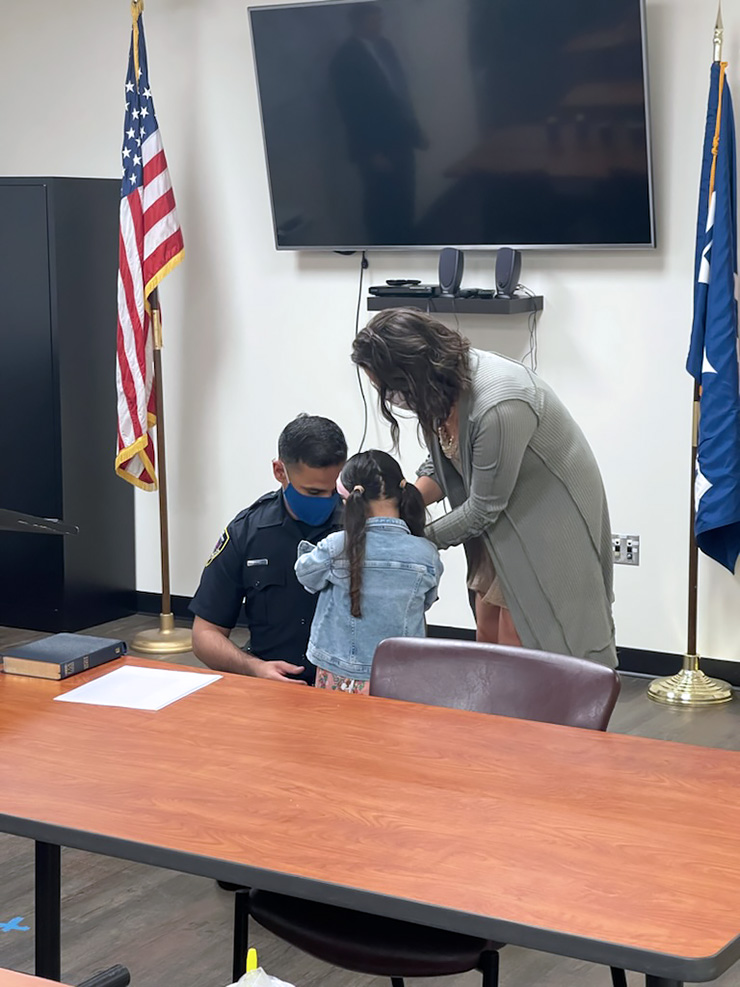 "I'm helping people and that makes me happy, I enjoy that," Mohammed said. "We see people at their best and people at their worst. My guiding principle is, whether you're having a good day or a bad day, I'm going to try my best to make your day better."
What he values about working at Duke: When he first joined the Duke University Police Department in 2019, Mohammed was a security officer. He patrolled campus and offered assistance, but he wasn't commissioned by the state to do more involved police work.
After roughly a year in the security role, and with the support from the Duke University Police Department, Mohammed started training to become a police officer, including taking police academy courses and earning proper certifications.
In 2021, Mohammed completed his journey and joined the police department ranks, his daughter Mina affixing his badge on his uniform at the ceremony making the move official.
"I am proud to be a member of this department and a guardian of Duke," Mohammed said."People come from all over the world to serve humanity through their research, medicine and education. I appreciate the opportunity that Duke provides to their employees and their families. They provide the resources and tools to exceed in your job. They provided me with the all the resources to succeed."
Something people may not know about him: On November 7, 2012, Mohammed stepped foot in the United States for the first time. At 27, he'd left his home country of Iraq in search of a fresh start.
Years earlier, Mohammed had been living a relatively comfortable life in Baghdad, surrounded by family and friends and studying literature in school. But when the Iraq War broke out in the early 2000s, life became immensely harder. To get by, Mohammed served as a linguist and cultural advisor for the U.S. Army.
"It was very dangerous but we had limited options at the time," Mohammed said. "Everything involved violence and war. I chose to help the country by working with the military."
After the war, fearing for his safety and facing what he felt was a bleak future, he used a special Visa program for people in his situation and emigrated alone to the United States.
With the help of Lutheran Services' New Americans Program, Mohammed ended up in Raleigh and found assistance with housing, employment and the simple logistics – such as transportation to appointments – involved with settling in a new country.
Now comfortable in his new home, Mohammed volunteers with the New Americans Program often, helping recent immigrants receive the same welcome he was grateful to have.
Is there a colleague at Duke who has an intriguing job or goes above and beyond to make a difference? Nominate that person for Blue Devil of the Week.