Welcome to the New Duke Today
Image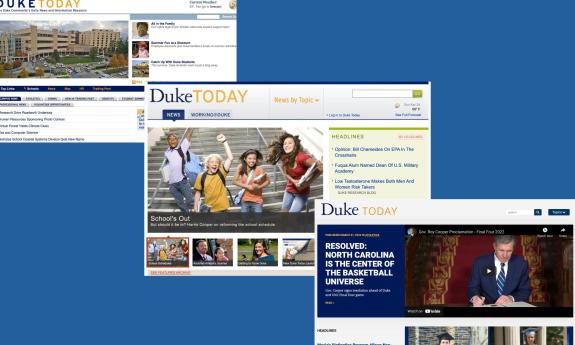 Welcome to the new Duke Today, the fourth version of the site that since 2006 has been the university's main news source covering the entire university.
The new site features more intuitive navigation, improved search filters to help readers find archived material, and story pages that are easier to read and showcase sharper and larger images.
But the most important improvement is in our storytelling. The new system offers a new, expanded set of features for storytelling, greater opportunities for highlighting strategic content and dedicated sections for recent video and trending content.
This storytelling ability is important to a site that continues to draw more than 60,000 pageviews a day during the academic year and seeks to provide essential services and information to the university community. Duke Today will also remain a central part of university emergency communications.
Several important things haven't changed: We will continue to feature stories from schools and departments from across the university and health system, continuing a tradition of showcasing the best of the entire university. This includes off-campus news, such as from Duke Kunshan, the Marine Lab and Duke Kannapolis. We have always intended that the news site should help maintain a university community, even as Duke extends its reach away from campus.
We will continue to highlight the accomplishments of our remarkable students as they use their Duke educations to address large issues in the wider community.
Finally, and importantly, the site continues to be integrated with employee news from Working@Duke and will continue to be a valuable one-stop site to learn about all facets of staff life.
This project has been ongoing for more than a year, with the valuable contributions of the Digital and Brand Strategy Office in University Communications, the Office of Information Technology and the developers at Savas Lab in Durham. Many thanks to all of those who assisted.
We expect there will be some snafus in the first days. Please let us know of any problems you face, and while we will ask for some patience, we will address them as fast as we can. And if you have any comments about the reader experience of the site, we want to hear from you.
Finally, thank you for reading Duke Today!