Taking a First Step in a Yearlong Leadership Journey
Duke Leadership and Duke Management academies welcome 2023 classes
Image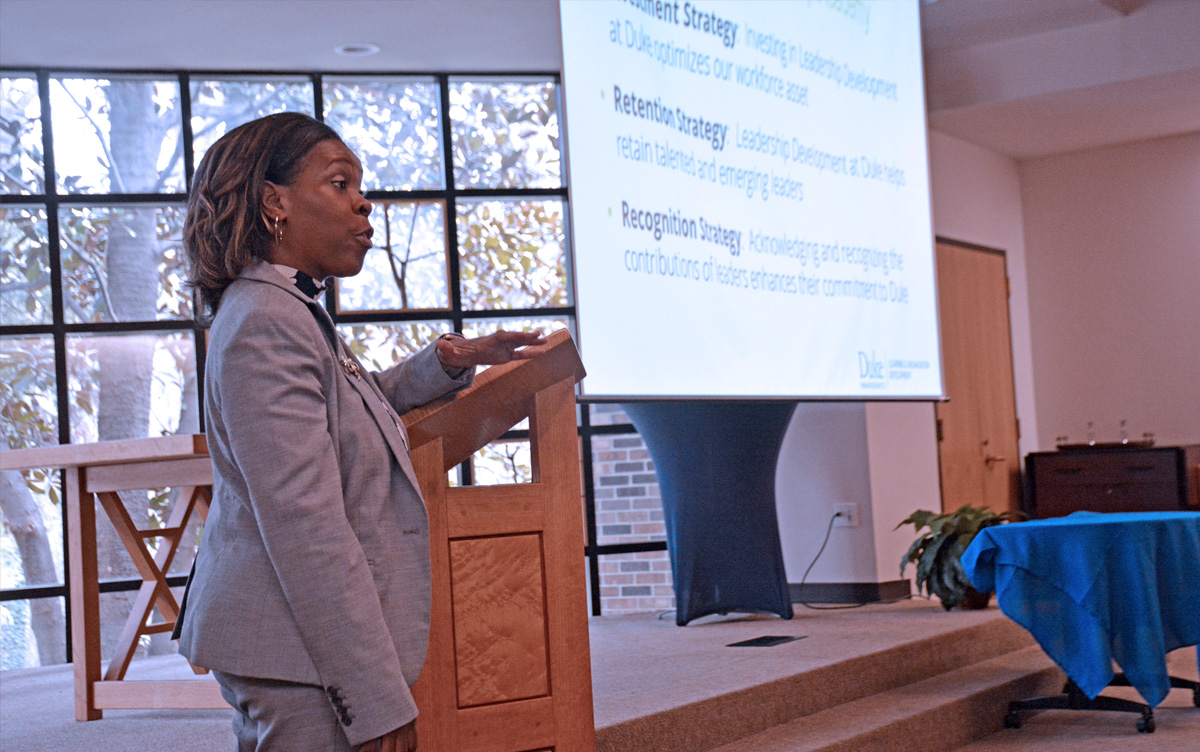 Duke Leadership Academy
The Duke Leadership Academy's 13th class gathered on January 12 for its kickoff ceremony at the Freeman Center for Jewish Life.
"This is a commitment to invest in our leaders," Duke Assistant Vice President for Learning & Organization Development Keisha Williams told the 26-member class. "We know we can hire externally, but we want to groom and grow our own talent. This is a retention strategy. We want to keep all of you, so we're going to develop and invest in you. And this is about recognition. I hope you feel great that someone saw something in you and wanted you to have this opportunity."
Duke University President Vincent E. Price welcomed the group by sharing stories of his leadership journey and offering congratulations to the participants for earning their spot in the program.
After his remarks, Price fielded questions from members of the class, discussing the challenges of leading a large institution with a complicated organizational structure, how he's valued the opportunity to work with Duke's Board of Trustees, what goes into creating and maintaining a health organizational culture, and the how Duke's spirit of trust and teamwork helped it navigate the COVID-19 pandemic.
"It is a privilege to be at a place like Duke, I think about this every single day," Price told the class. "I hope you do as well. And I hope you can feel in your presence here a sense of gratification that your interest in being a part of Duke and doing well by Duke and for Duke is recognized by your colleagues."
Duke Management Academy
The fifth edition of the Duke Management Academy began on January 20 with a kickoff ceremony at the Freeman Center for Jewish Life. Over the next year, the 27-member class of supervisors and middle-managers drawn from across the university and health system will have a chance to learn about themselves, and how they work best, as well as how to create a healthy team culture and how to lead in a variety of situations.
"We could not run this place without all sorts of people stepping up and leading in whatever way that they can," said Associate Director for Duke Learning & Organization Development Joy Birmingham, who oversees the Duke Management Academy.
Much like its companion program, the Duke Leadership Academy, the Duke Management Academy class will have the opportunity to learn from Duke leaders and collaborate on a group project addressing a real-life issue facing Duke.
"What will the next five or 10 years look like for Duke? That's up to each of you sitting in this room," Antwan Lofton, interim vice president for Human Resources, said in his keynote remarks to the class. "You are the leaders that have been identified by your departments. And whether you realize it or not, by sitting in this room, you are helping pen the next chapters for Duke University and Duke University Health System."
Duke Leadership Academy Class
Aimee L. Turner, chief financial officer for Duke Clinical Research Institute
Alexandra de Havilland, associate director, Foundation Relations, Duke Alumni Engagement & Development
Allison Besch, director, Career Services in the Nicholas School of the Environment
Alonzo Jaynes, assistant chief for Duke University Police
Brendan Murphy, director, Global Administrative Support in Duke Central Finance
Damaris Murry, assistant vice provost for Faculty Affairs Administration in the Office of the Provost, Finance & Administration
Elinor Hurt, assistant athletics director in Duke Athletics Administration
Geoffrey Krouse, assistant dean for Alumni & Development and Senior Lecturing Fellow, Duke Law School
Gina Vizvary, director, Development Communications & Donor Relations, Alumni Engagement & Development
J. Phillip Duhart, associate director of Major Gifts, Pratt School of Engineering Development, Alumni Affairs & Corporate Relations
Jeanna McCullers, senior associate dean of Students, Policy & Gov, Office of Student Conduct
Jennifer Averitt, associate dean for Medical Education Administration, Duke School of Medicine/Medical Education
Jennifer McCallister, assistant dean, Research Administration in the Office of Research Administration
Jill Borland, senior director of Research Administration in the Duke School of Nursing Center for Nursing Research
Johanna Zawada, associate director, Benefits, in Duke Human Resources
Joshua Schoedler, director, Investment Operations, DUMAC
Julie Siegmund, director, Real Estate in the Duke University Real Estate Office
Karis Boyd-Sinkler, director of Diversity, Equity and Inclusion & Adjunct Assistant Professor in the Pratt School of Engineering Dean's Office
LaWillette Wilkins, head, Strategy Development/ Corporate Communications, Duke Clinical Research Institute
Lynn Sutton, assistant dean, Clinical Research Initiatives & Alliances, Office of the Vice Dean for Clinical Research, Duke School of Medicine
Martay Smith, director, Human Resources, Office of Information Technology
Mitchell Sava, managing director of Operations and Programs, Duke Innovation & Entrepreneurship
Nicholas Alena, associate dean for Graduate Admissions, Office of Admissions in The Graduate School
Richard Outten, director, IT for the Office of Information Technology
Sophia Brelvi, director of Affirmative Action and Compliance Programs, Office for Institutional Equity
Sumetrice Porter, Human Resources Director for the Sanford School of Public Policy
Duke Management Academy Class
Alistar Erickson-Ludwig, Program Director, Master of Quantitative Management Program in the Fuqua School of Business
Allison Mooney, Graduate Medical Education Program Director, Department of Obstetrics & Gynecology
Aris Marton, director of Retail Operations for Duke Dining
Ashley Price, senior research program leader in the Department of Family Medicine and Community Health
Barbara Puccio, manager of the Creative, User Experience, and Accessibility Practice in the Office of Information Technology
Blake Tedder, assistant director of Engagement for Duke Forest
Christie Flintosh, grants and contracts manager in the Department of Neurobiology
Chrystal Benson, interim cloud manager for Architecture Design and Innovation
Colin Yuckman, senior director of Digital Learning Formation in Academic Programs
Danielle Stone, director of Operations for the Trinity College of Arts & Sciences & The Graduate School, Alumni Engagement & Development
Danielle Wiggins, assistant director, Ph.D. Programs in the Nicholas School of the Environment
Emily Durham, program director for the Office of Undergraduate Education/ Duke Athletics
Francene Richardson, research administration manager for the Office of Post Award Administration
Heather Mountz, senior manager, D-CHIPP in the Office of Global and Community Health Initiatives, Duke School of Nursing
Irina Adams, director, Student Engagement, Duke Office of Duke Kunshan University Relations (DODR)
Jennie Slate, assistant division administrator, in the Duke Department of Medicine – Gastroenterology
Jeremy Bandini, senior manager in the Duke Office of Information Technology, Enterprise Systems and Support
Jillian Dirkes, program Manager in the Duke Cancer Institute
Karema Atkinson, assistant director, Residence Hall Operations, Division of Student Affairs Housing & Residence Life Facilities Operations
Katherine Fox, senior program manager of Population Health in Duke Primary Care Population Health
Katie Wood, director, Educational Programs, Duke University Marine Lab Student Services
Keith Holder, senior manager, Network & Data Center Facility Services in Duke Health Technology Solutions
Lauren Cohen, assistant director, Manager Clinical Trials from the Duke Clinical Research Institute
Lee Mewshaw, IT senior manager in Duke Health Technology Solutions
Melissa Williams, clinical manager, Registry Team in the Center of Excellence, Duke Heart Center
Minal Shah, associate director of Duke Clinical Research Institute
Promila Pagadala, team science project leader, Duke Clinical & Translational Science Institute
Send story ideas, shout-outs and photographs through our story idea form or write working@duke.edu.