Duke Dining Recognized for Food Allergen Safety
Duke is the first college campus in the country to receive FARECheck Gold status for an entire dining facility
Image
To earn the certification, Duke Dining completed a five-month audit of its allergy protocols, including examining recipe ingredients, storage processes and, in some cases, switching manufacturers for ingredients and getting creative with new recipes. Staff members on the project also made the decision to discontinue use of some ingredients, like unrefined coconut oil, which had previously been used in numerous vegan recipes.
Peanuts and tree nuts account for 60 percent of the food allergens among Duke students and, according to the American College of Allergy, Asthma, & Immunology, these two allergens are most often linked to anaphylaxis, a serious rapid-onset and life-threatening allergic reaction.
"I have anaphylactic food allergies to all nuts, seeds, and lentils and throughout my life, I have constantly struggled with eating out as a result of my food allergies," said Jacob Lee, a member of Duke's class of 2026. "This was one of my fears heading into college. For me, Marketplace and Trinity Cafe being certified as nut free friendly means that I feel more safe eating on campus."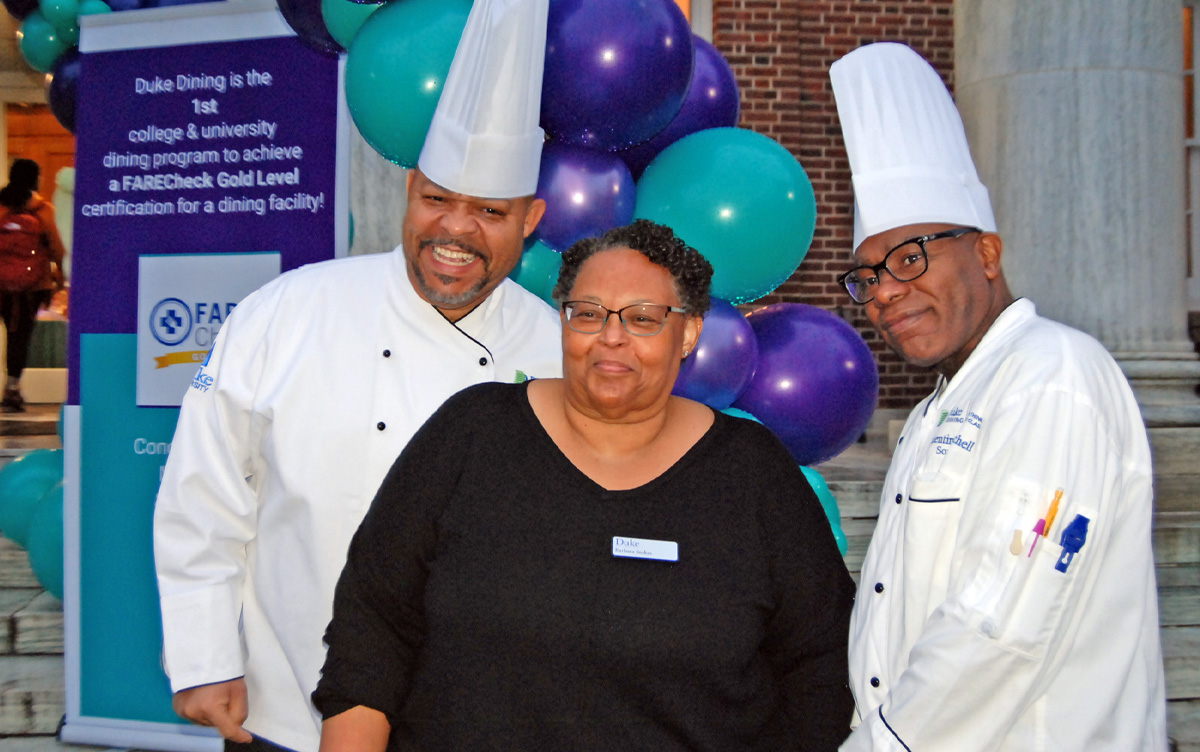 On Tuesday, Jan. 17, Dining hosted an all-day celebration ceremony at Marketplace, which concluded with a ribbon cutting ceremony to mark the certification officially. The slate of festivities at Marketplace included a question and answer session, balloons, ice sculptures and games, and a demo from sous chefs James Prince and Val Mitchell on how the facility will prepare allergy-free dishes like curry shrimp and curry tofu, which were previously made with nuts.
"It's a culmination of a lot of hard work," said Barbara Stokes, director of Residential Dining at Duke University, shortly after the ribbon cutting ceremony. "We're really proud of it because we want to take care of our students and provide someplace where they can eat safely. It's really important to the team."
The FARECheck Gold Status, which is renewed annually, is part of Duke's efforts to keep community members with food allergies safer.
"It's very exciting to be here today to celebrate this milestone," said Tiffany Leon, assistant director of Training and Professional Programs for FARE. "It has been an amazing experience to work alongside staff who are looking to bolster an already strong program with more support for their students with food allergies."
Prior to the certification, Dining already required all staff members to complete a basic level of food allergy training before working on campus. All 112 staff members on East Campus also complete an annual training on food allergies, which provides refreshers on the top nine food allergens — including gluten free friendly food service, prevention of cross contact and how to recognize and respond to allergic reactions.
"Food allergies have always been something top of mind for us, especially in the world we live in today," said Grayson Crabtree, program director for Duke Dining. "We want to make sure that everyone feels safe when eating eat here because food is a big part of our lives. It's important to make sure that we're able to accommodate anyone who dines with us and to do so safely."
Send story ideas, shout-outs and photographs through our story idea form or write working@duke.edu.