Blue Devil of the Week: From Data Entry to Associate Director
Brenda Franklin-Goode of the Duke Clinical Research Institute uses curiosity to help clinical trials find answers
Image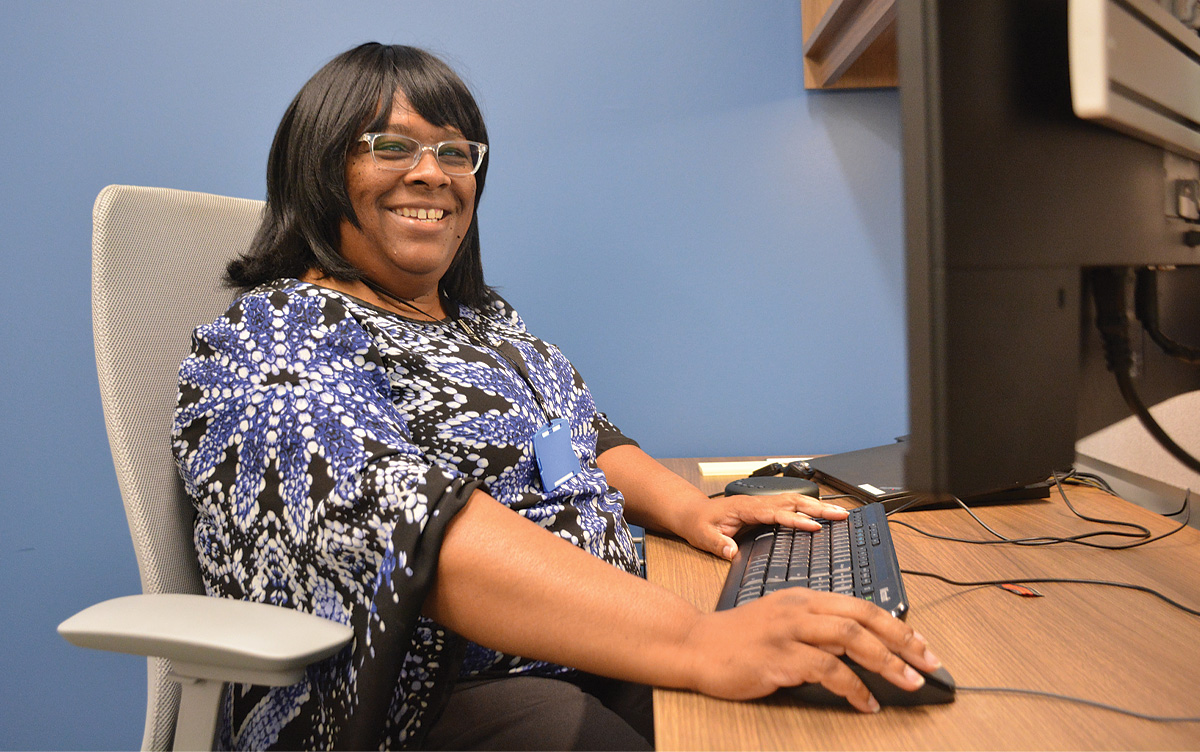 "Every time they gave me something more challenging to do, and I realized I liked it, I was intrigued," said Franklin-Goode, who gained skills through courses at Durham Technical Community College, and online tutorials from LinkedIn Learning and Coursera, both of which offer no-cost learning options for Duke community members.
Now, overseeing a team of roughly 40, Franklin-Goode's works with principal investigators to figure out which technologies – such as wearable smart devices or sophisticated databases – can help them collect and analyze the most accurate and appropriate data for the trials, which can yield life-changing treatments.
"When I came to Duke, I wanted a change, but I didn't realize what I really needed was a challenge," Franklin-Goode said.
What she values about working at Duke: In the spring of 2022, Franklin-Goode and her colleagues on theDiversity, Equity and Inclusion Advisory Group for DCRI's Technology and Data Solutions team, organized a 21-day Racial Equity Challenge. Inspired by similar initiatives in recent years, the challenge involves sending participants a short article, video or podcast on topics relating to inequality each weekday for three weeks. Once a week, virtual lunch-and-learn session provide participants with opportunities to discuss the topics covered in the materials, which included the school-to-prison pipeline, how discrimination is used against other demographic groups, and why it's crucial to have diversity in clinical trials.
Drawing more than 100 DCRI colleagues for the first weekly meeting, and with roughly 50 colleagues – many from outside her department – completing the entire challenge, Franklin-Goode said the effort was a complete success. DCRI leaders and principal investigators participated in the discussions, which Franklin-Goode said is a reminder of the close-knit, encouraging atmosphere she cherishes about her part of Duke.
"It's a workplace, but it's also like a family," Franklin-Goode said. "We support each other."
Something people may not know about her: Franklin-Goode is a passionate football fan, tracing her love of the game back to Sundays spent watching games on television with her uncles.
The professional team that's closest to her heart is the Green Bay Packers.
The connection came through William Henderson, an old college friend of Franklin-Goode and her husband, Stephon. Henderson was a Packers running back for 12 seasons, winning a Super Bowl and earning a spot in the Packers' Hall of Fame.
Franklin-Goode got to enjoy the ride, even watching several games in-person at Lambeau Field.
"If it's Sunday, you'll probably find me with my Green Bay jersey on," Franklin-Goode said.
Is there a colleague at Duke who has an intriguing job or goes above and beyond to make a difference? Nominate that person for Blue Devil of the Week.