Bestselling Author Mikki Kendall to Lead MLK Commemoration
Image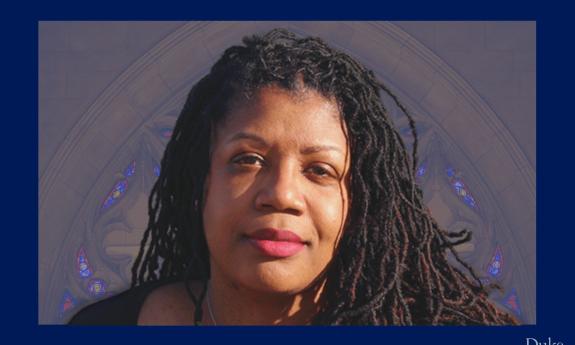 "Members of the Duke and Durham community gather in the chapel each January for this long-standing tradition – to coalesce around Dr. Martin Luther King Jr.'s vision through the words and presence of current activists and leaders," said Kimberly D. Hewitt, vice president for Duke's Office for Institutional Equity and chair of Duke's MLK Commemoration and Celebration Committee.
"The MLK event committee was interested in hearing from a speaker that would resonate with all constituents, including the greater Durham community, which always has a big presence at this event," Hewitt added. "Mikki Kendall's intersectional view of feminism is ripe and impactful at this moment when civil rights for women are being threatened."
Kendall is an essayist, diversity consultant and self-described "occasional feminist" whose commentary on current events has been published by The New York Times, The Washington Post, Ebony, Essence, Salon and other media.
In recent pieces, she has addressed topics including police-involved shootings in her hometown of Chicago, the racist mom-shaming of Meghan Markle, the representation of Black women's bodies in media, the 2021 insurrection at the U.S. Capitol and the loss of the late rapper DMX. She has also appeared on the BBC, NPR, "The Daily Show," PBS, "Good Morning America," MSNBC, among other outlets.
"Hood Feminism," her New York Times bestselling collection of essays, was hailed as a top book of 2020 by BBC, Bustle and TIME. The essays reflect on contemporary feminism and its predilection for representing the concerns of only a small portion of feminists. Conspicuously absent, she argues, are the perspectives of Black feminists and advocacy for issues that intersect with gender, including race, class, sexual orientation and ability.
Kendall is also author of the graphic novel "Amazons, Abolitionists, and Activists." She has spoken on race, feminism, education, food politics, police violence, tech and pop culture at institutions and universities across the country.
The service will feature music performed by Duke Divinity Gospel Choir and the John Brown Quintet, as well as greetings from Duke University President Vincent Price, Duke University Health System President Dr. A. Eugene Washington, Durham Mayor Elaine O'Neal and Joshua Crittenden, president of the Black Graduate and Professional Student Association.
Black Student Alliance President Isaiah Hamilton (Trinity '24) will introduce Kendall. The ceremony will open and close with prayers from Rabbi Elana Friedman, campus rabbi for Jewish Life at Duke, The Rev. Bruce Puckett, assistant dean of Duke University Chapel and Chaplain Joshua Salaam, chaplain for the Center for Muslim Life.
News media are invited to cover the event and will receive guidelines on attending. No flash photography or tripods may be used by members of the public inside the chapel.
Free parking will be available in the Bryan Center garage at 125 Science Drive. ADA parking is available in the Bryan Center Surface Lot at the same address.
Face masks are currently not required inside Duke buildings, but are encouraged. Read more about current campus public health measures at https://returnto.duke.edu/public-health-measures/.
Other campus events include:
2023 MLK Day of Service Meal Packaging Event
9 a.m. to 1:30 p.m.
Monday, Jan. 16
Duke School, 3716 Erwin Road, Durham
Duke students, faculty and staff can volunteer with Triangle-area Rotary clubs to support North Carolina food banks through Interfaith Food Shuttle and Meals of Hope. Volunteers will assemble more than 100,000 pre-packaged meals. Advance registration required. For more information and to register, visit bit.ly/Duke-MLK-Meal-Packaging. Find more opportunities to volunteer through the Duke Office of Durham & Community Affairs website.
Learn more about this year's commemoration at mlk.duke.edu.