Journalist, Duke Administrator William Green Dies
Green, a retired vice president of university relations at Duke University and a former Washington Post ombudsman at a time when the newspaper had to return a Pulitzer Prize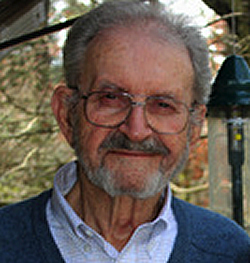 William Lester (Bill) Green, a retired vice president of university relations at Duke University and a former Washington Post ombudsman at a time when the newspaper had to return a Pulitzer Prize, died on Monday, March 28, at his family home in Durham, N.C. He was 91.
Duke has lowered its flag outside the main administrative building in honor of Green.
A native of Zebulon, North Carolina, and a graduate of the University of North Carolina at Chapel Hill, Green was the first in his family to earn a college degree. He joined the Air Force during World War II, where he flew reconnaissance missions for the US 15th Air Force in Italy. He was decorated for his service.
Green was married for 65 years to the former Viola Isabel Yates of Raleigh, and together they raised five children on three continents.
After graduating from college in 1949, Green began a career in journalism in North Carolina as a reporter for the Durham Sun and as editor of the Morganton News Herald and the Shelby Daily Star. He joined the United States Information Agency (USIA) in 1957 and became press officer at U.S. embassies in Bangladesh and South Africa.
Returning to Washington in 1963, he was appointed special assistant to USIA's deputy director before serving as deputy assistant administrator for public affairs at NASA. The space agency awarded him its Exceptional Service Medal for his work during early manned space flights.
In 1970, Terry Sanford, who had been named president of Duke University, made Green his director of university relations. At Duke, Green was a founder of a visiting journalist program that grew into one of the nation's premier programs of its kind. He also taught news writing in the university's public policy department for more than a decade.
Green is credited with helping elevate Duke's national reputation. When The New York Times Magazine came to Duke to take pictures for a story on "hot'' schools in the early 1980s. Green had his staff buy dozens of sweatshirts and hand them out to people walking by during the shooting. That helped land Duke on the magazine's cover.
On sabbatical from Duke, he served as ombudsman for the Washington Post in 1981. While there he investigated a fraudulent story by staff reporter Janet Cooke, who had been awarded a Pulitzer Prize for stories of "Jimmy's World," about an alleged 8-year-old heroin addict in an impoverished Washington neighborhood. Ultimately, Cooke admitted that the character of Jimmy did not exist and the prize was returned.
The Post was determined to carry a full and accurate account of how its editors had been duped and executive editor Benjamin C. Bradlee insisted that, as ombudsman, Green was the man for the job.
Just as the story was about to hit the Sunday edition, Bradlee made an unusual Saturday visit to the newsroom, Green recalled in an interview with Duke Magazine. "He sat in his office and read the story on the screen, and he came charging out when it was over. And he said in that marvelous, hoarse voice of his — 'Bill Green, you ungrateful sonofabitch, I salute you.' That was a high compliment, obviously.'"
Retiring from Duke in 1986, Green became a senior assistant on the staff of Sanford, then a U.S. senator, for three years before retiring to his home in Durham.
Green, a former member and vice chairman of The Herald Sun's board of directors in Durham, was inducted into the North Carolina Journalism Hall of Fame in 2012. Each year, Duke issues the Green-Rossiter Award -- named for Green and former Duke news chief and UPI executive Al Rossiter -- for exceptional reporting on higher education issues in North Carolina.
Green was also a lifetime member and former chairman of the Durham Salvation Army's board of advisers and was a veteran member and former president of the Osher Lifetime Learning Institute at Duke.
He is survived by his wife, Viola Isabel Green, and their five children: Lisa Kelley of Suwanee, Georgia; Claudia Green of Durham, N.C.; Erick Green of Washington, N.C., Bryan Green of Old Fort, N.C.; and Audrey Green of Chapel Hill, N.C. He and his wife had eight grandchildren seven great-grandchildren. Green is also survived by siblings Warren Green, Ronald Green and Zelma Williams.
Funeral services will be held at Eno River Unitarian Universalist Fellowship at 11 a.m. Saturday, April 2.  A reception will follow. In memorial, donations may be made to the Salvation Army of Durham.