In preparing his new online course on public art, Pedro Lasch faces one of those happy problems: He has more guest lecturers than he anticipated.
No big deal, right? Well, it is when you're building a course for the first time. And it is when the course is massive, free, and digital. And it is when some of those lecturers — colleagues from throughout the art world, urbanism, and public policy — say they're signing up in part to see if this new sort of course will even work.
"We invited 31 people, expecting maybe 10 to accept the offer," says Lasch, a Duke professor of art, art history and visual studies. "To our happy surprise, we got 29. That means a lot more editing, a lot more preparation."
Lasch, 40, has spent 13 years at Duke teaching studio painting, drawing classes, and seminars on social practice for advanced undergraduate and graduate students. But his newest project is unusual for an art class in that it will be a MOOC — a Massive Open Online Course. It will be hosted by Coursera, the digital education platform the university has worked with since 2012 to provide high-quality classes free to anyone who wants to take part.
MOOC (n) - a Massive Open Online Course
Lasch is navigating new terrain with this venture. MOOC courses in art have been offered less often than those in science, mathematics and other disciplines, and Lasch believes this to be the first such class focusing on the actual creation of public art, not just its historical study.
He is partnering with an art world heavy hitter: Creative Time, a New York City-based non-profit that commissions and presents ambitious public art projects in the city and beyond, like the famous twin light beams commemorating 9/11 in New York for various years. Nato Thompson, the organization's chief curator, is co-teaching the course with Lasch. Together, they have recorded traditional lectures for the six-week course, which they hope will provide students the intellectual foundation to create art in their own communities.
The course begins Oct. 19.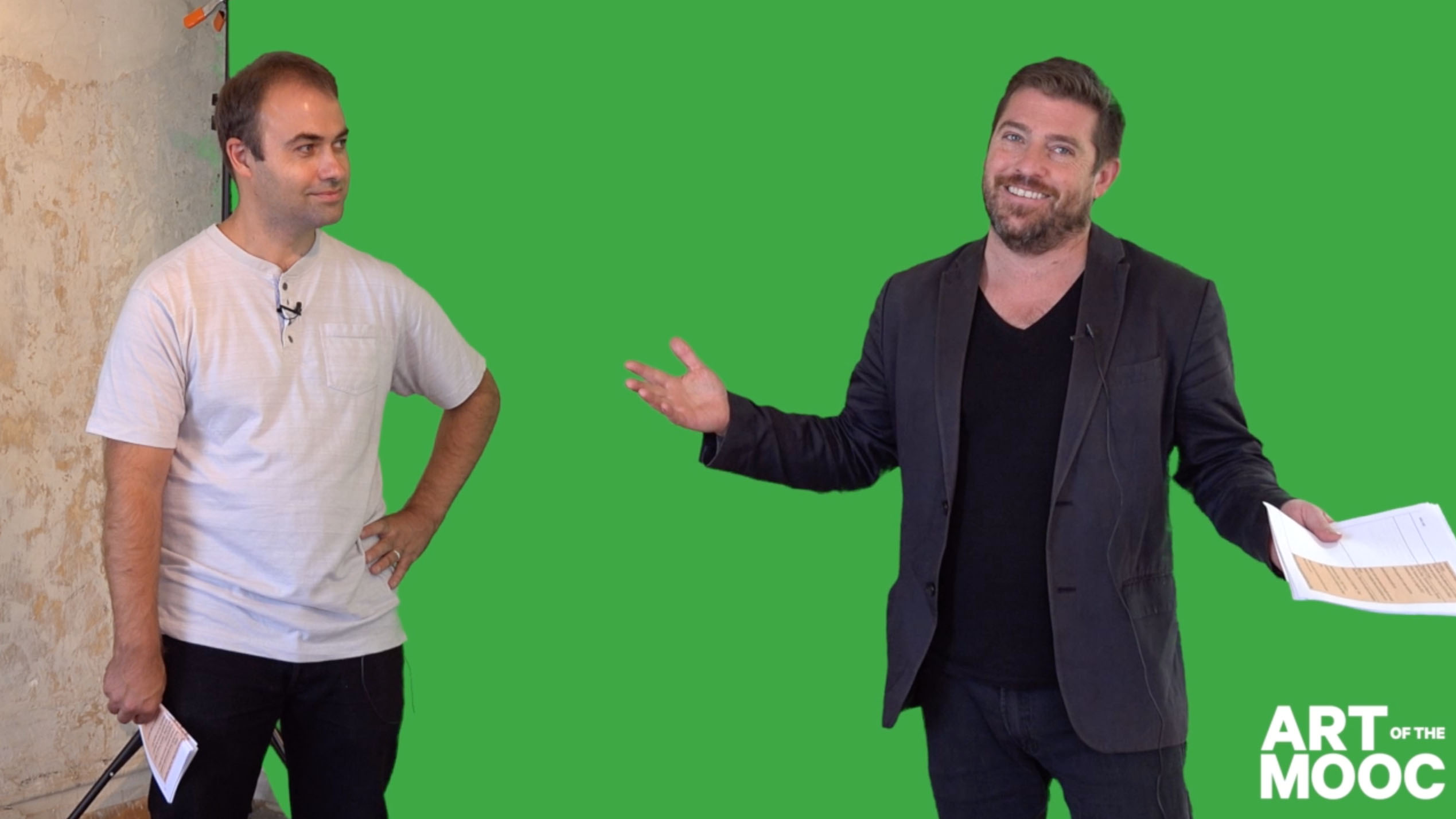 In the months leading up to the course's launch, Lasch is trying to answer some basic questions, chief among them: Can an online course of this kind, in itself, be a work of art? A native of Mexico City, Lasch loves to push boundaries and question convention, which is why he wasn't put off when some colleagues he asked to take part in the course turned him down, saying they didn't believe a web-based course on public art could work. Seven more who agreed to take part admitted they're skeptical.
"I'm a scholar, and I do legitimate scholarly stuff," he says. "But when someone invites me to do something on the outside, I like to have fun and stretch the boundaries. This is the perfect opportunity."
Lasch's MOOC moves Duke's online education offerings in a new direction, says Lynne O'Brien, the university's associate vice provost for digital and online education initiatives.
"I like to have fun and stretch the boundaries."
"Initially, instructors tried to take their campus courses and replicate them in online courses," O'Brien says. "Now we have instructors thinking about using online education to do more creative things that could not be done in a campus course.
"Pedro's MOOC will allow him to bring in a wider variety of voices and opinions than you can typically do in a campus class. Pedro has projects planned that attempt to engage people from around the world in discussion and even production of art. It's a much more creative use of online technologies than only recording lectures."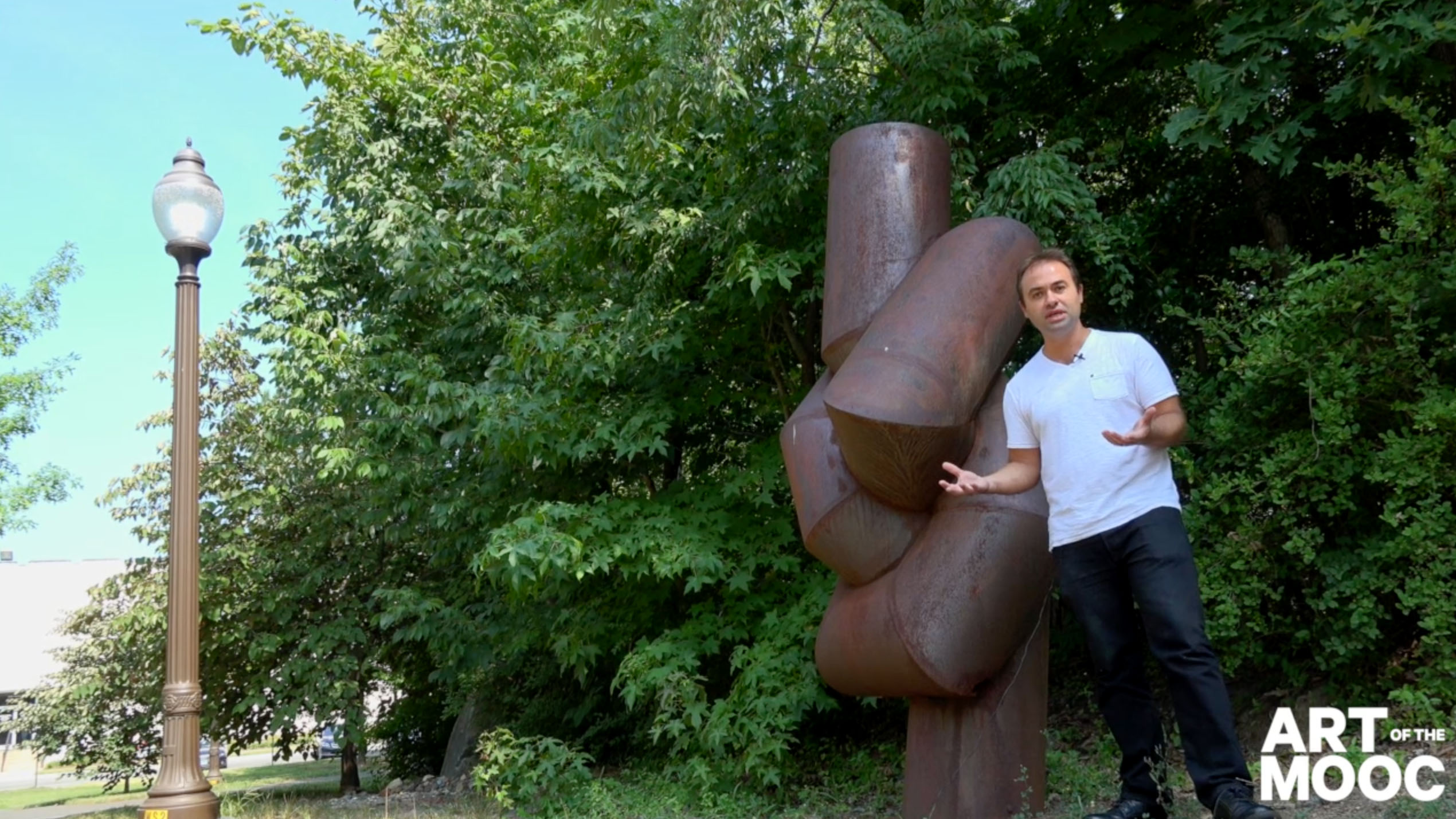 Lasch's course will be broken into six modules, each one-week long. Students will watch video lectures and take quizzes; he has also added much more creative elements to the course — a challenge given the logistics of teaching what could be tens of thousands of people.
Duke has offered dozens of MOOC courses through Coursera since 2012, with some enrolling hundreds of thousands of students across the world. For professors at Duke and elsewhere experimenting with this new type of teaching, the sheer number of enrollees — and the challenge of effectively working with them — can be daunting.
"The challenge is that it is massive," Lasch says. "It's exciting, but there are challenges you don't have in a traditional class. It requires an extraordinary amount of planning and flexibility."
"It is society that defines art, not an individual."
Lasch has had to stretch a bit in dreaming up ways for his students to create art in their communities. One might be as simple as mapping out a walk in an unfamiliar place, a way to examine the choices and interactions you face along the way. This is a spin on an exercise Lasch has incorporated in his regular Duke classes; he once took 18 students to a local shopping mall, where they were promptly tailed by a security detail. (The assignment addressed how patterns and layouts affect people's movements and habits, and how they provoke reactions from others.)
By course's end, Lasch hopes to have an idea of whether the course itself might be considered to be 'art.' But he insists it isn't critical if some don't see it that way.
"It is society that defines art, not an individual" he says.
More information about the course is available at Art of the MOOC on Coursera.
"Pedro Lasch and Art on the Internet" is a project of Duke University's Office of News and Communications. It was reported and written by Eric Ferreri with videography by Julie Schoonmaker and Carson Mataxis, music by Scott Lindroth, design by Jonathan Lee and editing by Keith Lawrence.

It is the fourth installment in the "Taking Note" series, which features profiles of Duke humanities faculty.




© Duke Today, September 28, 2015