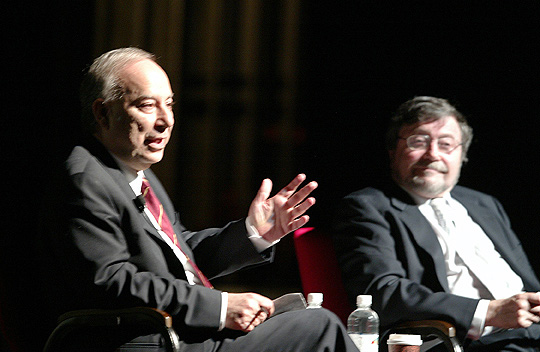 Akbar Ahmed, left, and Judea Pearl. Photo: Jim Wallace
Building Bridges Between Jews and Muslims
Pearl, Ahmed bring their quest for peace to Duke
Related Items:


Event video


Student reaction
By Susan Kauffman
Thursday, March 3, 2005 -- Three years after the murder of his son by Muslim extremists in Pakistan, Judea Pearl continues to turn his personal tragedy into a quest for peace between Muslims and Jews.
Pearl, the Jewish father of slain Wall Street Journal reporter Daniel Pearl, and Akbar Ahmed, a Pakistani Muslim and expert on contemporary Islam, brought "The Daniel Pearl Dialogue for Muslim-Jewish Understanding featuring Akbar Ahmed and Judea Pearl" to Duke on Monday. In addition to their dialogue, the two men met with students, faculty and area Jewish and Muslim leaders.
"Three years and 10 days ago in a desolate dungeon of Karachi, Pakistan, a young man looked straight in the eyes of evil and proclaimed his identity," Pearl said in his opening remarks in Page Auditorium to an audience of about 400 people.
After reflecting on "Danny's last words – 'I'm Jewish,'" Pearl said he decided to channel his energy into fighting the hatred that took his son's life.
Pearl, a professor of computer science and statistics at UCLA, met with Ahmed, a former diplomat who is now a professor at American University, and asked him to help. The two immigrant grandfathers – Pearl was born in Tel Aviv and Ahmed grew up in the midst of Hindu-Muslim strife when Pakistan was created in 1947 –have become friends.
"It's important to point out how much we have in common," Ahmed said, explaining that Islam and Judaism – and Christianity – are rooted in the Abrahamic tradition. Followers believe in one God, Holy Books, the Ten Commandments, doing good and avoiding evil.
The men came to Duke to test their form of dialogue on a campus that had experienced divisive reaction to last fall's Palestine Solidarity Movement conference. They admitted there remain huge challenges to dialogue – both within and outside their societies.
"There's a sense of anarchy throughout Islam world that isn't only felt in Iraq," said Ahmed, noting that Arabs constitute only 29 percent of the world's Muslims. "That feeds into a sense of anger that can easily explode into violence."
Ahmed said many Muslims believe that America is on the warpath against Islam and criticize him for engaging in dialogue with the likes of President Bush and Pearl. "A lot of people tell me, "You're an Uncle Tom, a Zionist agent,'" Ahmed said.
Pearl, for his part, declared himself a Zionist, stating emphatically that Jews deserve a homeland because they are largely a secular people whose cohesiveness comes from their history, nationality and traditions. But, he said, most people have a mistaken understanding of Zionism, which he described as a dream of a piece of land with undefined borders existing in peace and friendship with its neighbors. Opposing Zionism equates to being anti-Semitic and racist, Pearl said.
The audience, which varied greatly in age and background, listened quietly to the speakers. Afterwards, they reacted favorably to the program.
"The similarities in the religion were really striking to me," said Martie McGirt, a Greensboro resident whose daughter Megan is a student of Ahmed's. "I, as a person who is not Jewish and not Muslim, looked at it as: 'Thank God and what can I do to help?'"
Judd King, a senior, said he was heartened to see Pearl pursue public dialogue in light of his loss, but expressed doubt that the format would change people's hearts.
"I think that probably people who are very firmly in one camp or the other would probably benefit greatly from this talk, but I think that the type of people who would go to it might not need quite as much convincing that dialogue is the answer," King said.
For more information, contact: Susan Kauffman | phone: (919) 681-8975 | email: susan.kauffman@duke.edu