In 1927, a small number of students formed Duke's first "foreign study group" as they enrolled in classes at what was then known as the University of Dijon in France. Nearly eight decades later, more than 40 percent of Duke undergraduates study abroad through the Global Education Office for Undergraduates (GEO), and some 2,800 students have participated in DukeEngage. In the three charts below, Duke Today explores where this learning and engagement now takes place:
1. There are 57 GEO programs for undergraduates.
With the launch of the DKU Global Undergraduate Semester in Kunshan this fall, students can pursue studies through 59 Duke-administered or "Duke-In" programs offered by GEO across the globe. In addition, students can earn credit in more than 150 Duke-approved programs and universities around the world.
2. GEO domestic education and DukeEngage programs immerse students in 15 communities across the United States.
New DukeEngage programs in Miami and Detroit and a new GEO program in Chicago extend opportunities for Duke students to work with urban communities in the South and Midwest.
3. Programs administered by GEO and DukeEngage provide learning opportunities in 38 nations.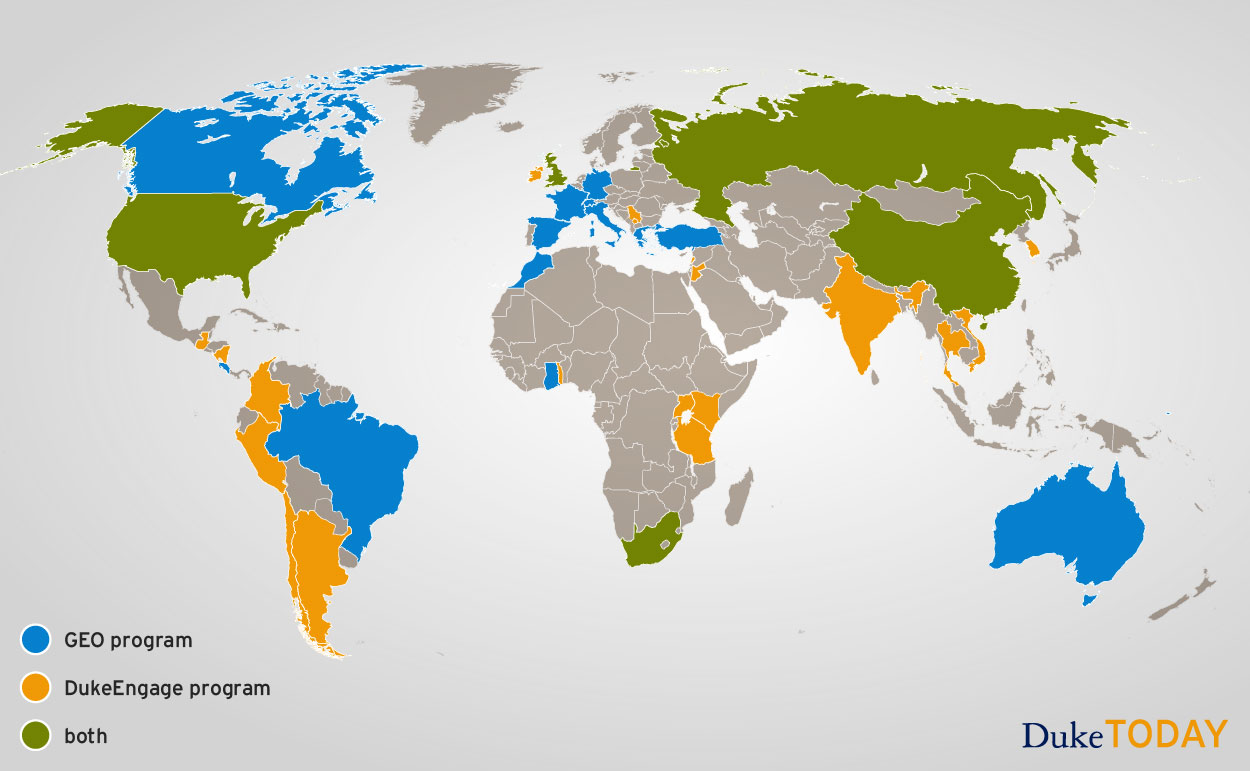 Undergraduates have access to six continents through these programs. The latest ones arrange for students to work with communities in Serbia and South Korea.
Programs offered through GEO and DukeEngage represent only a portion of the immersive learning opportunities available to Duke undergraduates. Several on-campus classes include fieldwork or travel, and many students pursue research opportunities abroad. For more information on Duke in the world, visit global.duke.edu.
[Data compiled in . For updates, visit the websites for GEO and DukeEngage.]