It's a little before 9 a.m. on one of those damp spring mornings when the sky has yet to declare its intentions, and Mackenzie Zalin is sipping hot chocolate.
The classics doctoral student is stuffed into a plush easy chair in Duke's von der Heyden Pavilion, cycling through a familiar morning ritual. He's collecting his thoughts, skimming the news on his laptop and enjoying the calm provided by the pavilion. The greyish sky is plainly visible through the massive glass windows.
"I stop by at least once a day to get my bearings," says Zalin, who this semester taught Greek to undergrads. "It's a disarming place. Students enjoy it. I enjoy holding office hours here. I inevitably run into people I know."
"It's a disarming place. Students enjoy it."
Zalin speaks Spanish, Italian and a little German, and chose classics because it combines the best of other humanities disciplines like history, drama and languages. His dissertation is on Herodotus, the Greek philosopher, and he aims for a career in academia. Hopefully, he'll find a workplace with a coffee shop as visually stunning and emotionally soothing as where he sits.
Von der Heyden Pavilion is the glass-encased pavilion wedged between Duke's languages building and Perkins Library. The bright, airy space was built in 2005, with looming arches pointing to towering ceilings and a whimsical Blue Devil weathervane – clutching a book – perched atop its roof. It is named for Karl and Mary Ellen von der Heyden, who contributed to the Perkins Library renovation that included the new pavilion. Karl von der Heyden is a 1962 Duke graduate and a former trustee.
The Perk is the pavilion's coffee shop, though plenty of folks refer to the entire place as The Perk. Others call it Vondy.
Regardless of nickname, the space has become Duke's social crossroads where students study, professors grade papers and baristas sling frothy cappuccinos to a crowd that swells every hour or so as classes let out.
Public Seclusion
A couple of tables away from Zalin, Tom Ferraro is preparing for class. A member of Duke's English faculty since 1988, Ferraro taught two courses in American Literature this semester. He is also close to finishing a three-year term as his department's director of undergraduate studies, an administrative role that occupies much of his time.
Which is why The Perk is his get-away spot many Tuesday and Thursday mornings when he wants a little public seclusion. He does this leaving his computer in his Allen Building office when he pops in soon after The Perk opens at 7:30 a.m.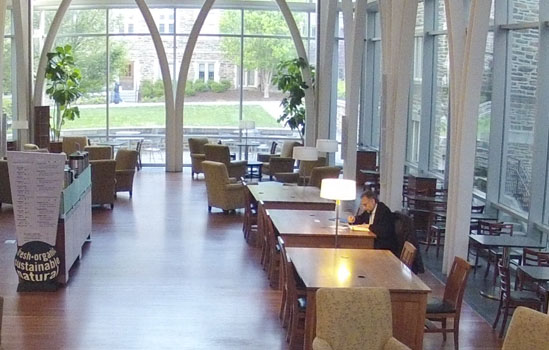 "I have to avoid email because email is a holy terror," he says, proud to briefly disconnect from an overly connected world. He reaches into his pocket and digs out a flip phone – the kids might call it "vintage" – that doesn't offer Internet access. That's how he likes it when he's here.
"I like prepping here and I like reading papers, dissertation chapters, stuff I have to evaluate," he says. "I'm more generous when I'm in public. I remember there are real people on the other end of what I'm evaluating."
Ferraro drinks espresso with sugar.
Doing Business
A little later in the morning, the line for coffee is suddenly a dozen people deep – with nine of those noses buried in smart phones. Among those grabbing coffee is Lynne O'Brien, Duke's associate vice provost for digital and online education initiatives. O'Brien works in nearby Bostock Library, and she pops in most every morning hoping to run into people.
"I get more business done in 15 minutes getting my coffee than in hour-long meetings."
O'Brien's job is to help faculty improve their teaching using digital tools. Thus, she considers The Perk a great place for the un-planned interactions that often yield quick and efficient results. On this day, O'Brien runs into one library colleague who she had been meaning to ask a question; later, she spies a woman who, she hopes, may clear up a budget issue for her.
"I get more business done in 15 minutes getting my coffee than in hour-long meetings," O'Brien says.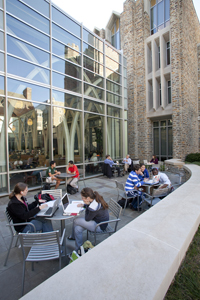 With that said, O'Brien has to go. She has a meeting, of course, back at the library. She's still working on her coffee – half-decaf with cream.
The Perk is actually Saladelia @ The Perk, the pavilion's coffee shop that sells sandwiches, wraps and other on-the-go foods, as well as all manner of caffeine. Music wafts from overhead speakers, battling for ear space with the low din of chatter, clicking of keyboards and steady tapping of feet across hardwood flooring.
Amid the chaos stands Kevin Summers, who manages the Perk for Saladelia, a Durham-based restaurant group. A Chicago native, Summers came to The Perk a year-and-a-half ago after a long career in more traditional restaurants.
Summers manages about a dozen staff members, scheduling work shifts, coordinating food deliveries and making sure food and drink are re-stocked and re-brewed between hourly rushes.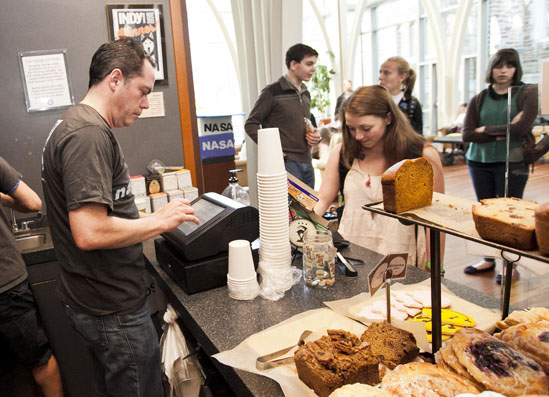 From his view behind the counter, Summers sees a familiar clientele.
"Our staff knows some customers by name, and you see some people come in five or six times a day," he says.
His staff serves up north of 300 cups of coffee each day. Other customer favorites: The caramel leche and the turkey arugula sandwich.
When he's not slinging drinks himself, Summers prefers a dirty chai. That's a chai latte with a shot of espresso.
Alone With His Thoughts
By afternoon, the pavilion is hopping. There are few empty seats and the tables are piled high with textbooks on biology and mathematics and Shakespeare. The coffee line is long and there's a buzz in the air.
In a corner, Max Beninger sits quietly and pecks at his laptop. He's a doctoral student in philosophy studying for his next class. Daunting texts by philosophers John Locke and David Hume sit in front of him on the table.
Beninger comes in once a week and spends a couple of quiet hours, his sole company a chai latte.
A Vondy Girl
Nadia-Estelle Fiat is a junior who spends so much time here that she and her friends joke – sort of – about making "Vondy Girls" T-shirts. She pops in all the time, morning, afternoon, even later after the sun sets, the room darkens and the crowd thins. She's not crazy about these later hours; she prefers the buzz of white noise that a packed room provides.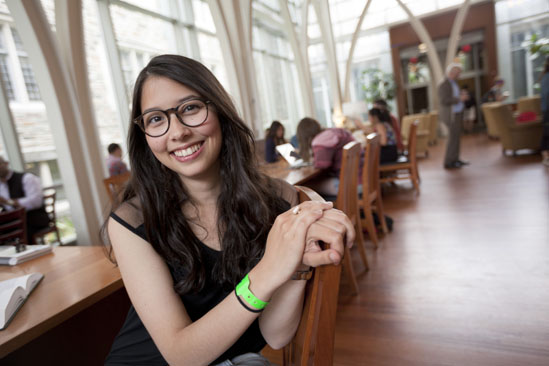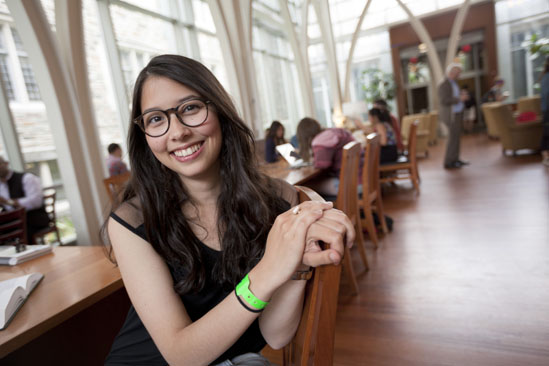 She's such a regular that she has a custom drink at the coffee shop. It's a French soda, introduced to her by one of the coffee shop employees. It features Perrier, skim milk, hazelnut and raspberry syrups. It is, to Fiat, one small sip of heaven – and she's told so many others about it that it's becoming a popular request.
It's not on the menu. But go ahead: Ask for one.
Fiat's journey to Duke was one huge leap of faith. As a teenager in Thailand, Fiat knew only that she wanted to go to college abroad – maybe in England, or maybe on the west coast of the United States.
She knew nothing about Duke before stumbling across its enrollment application. Something appealed to her. She applied, was accepted, and made her first trip to the United States to visit campus during Blue Devil Days, the annual event for admitted, prospective students.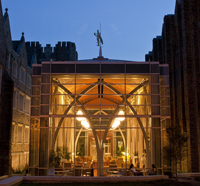 She was hooked. Now she's studying cultural anthropology and is ensconced in an independent study research project about the Parsi, a community of people who live, among other places, in Hong Kong. She's headed there this summer for three months of research.
Eventually, she hopes for a career that focuses on issues of diaspora, the smatterings of uprooted people who find new homes elsewhere.
For now, she'll remain a regular here in the pavilion, a community of sorts itself, a transient collection of people passing through each other's lives, stopping briefly for a caffeine jolt and laptop charge.
"You never know who you're going to see here," Fiat says. "But you really do see every single kind of person in this room."
One Day at the Perk is a joint project of Duke's Office of News & Communications and Duke Photography. It was reported and written by Eric Ferreri; layout and design by Jonathan Lee; photography by Megan Morr, Bill Snead, Jon Gardiner and Beth Doyle; editing by Sonja Foust, David Jarmul and Chris Hildreth; and social media promotion by Cara Rousseau and Amanda Peralta. Special thanks to Saladelia @ The Perk.

© Duke Today, April 30, 2014