Cook Society Honors Five for Helping to Build Stronger Communities
Durham Mayor O'Neal receives Distinguished Service Award
Image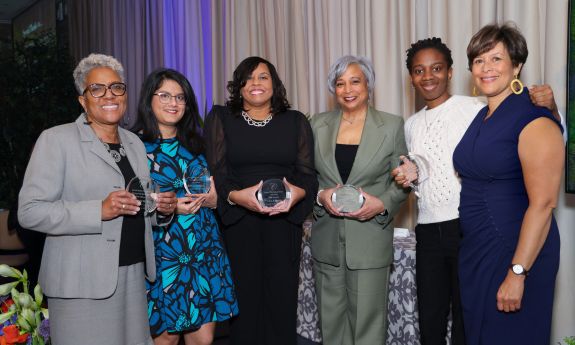 In honoring O'Neal, the society paid tribute to a leader whose roots in Durham stretch for generations. With a bachelor's and law degree from N.C. Central University, O'Neal was a judge for 24 years and was the first woman to be named the chief judge of the county's District Court. In 2011 Durham voters elected her the first woman Superior Court Judge in the county's history.
She was elected mayor in 2021.
O'Neal has long worked with Duke officials to improve university-city relations and to advise the university on steps that would build a stronger community.
"Elaine has the heart of a public servant and a deep abiding love for her hometown and for all who choose to call Durham home," Hewitt read in the award citation.
In addition to O'Neal, Cook Society Awards were presented to the following:
Kansi Udochukwu, a senior history major, received the Undergraduate Student Award. The president of DukeAfrica, Udochukwu currently serves on the President's Council on Black Affairs. She also works with the Duke Impact Investing Group, which analyzes data from startups in the Durham region.
Kamillah Jena Kassam, a chemistry Ph.D. candidate, received the Graduate Student Award. Studying in the lab of Professor Amanda Hargrove, Kassam has worked on issues of equity and inclusion both at Duke and across higher education. She currently works as director of diversity, equity and inclusion for the Graduate and Professional Student Government.
Lisa Davis, director of operations for the Duke-N.C. Central Bridge Office, received the Staff Award for her efforts in community-based public health. Davis also serves as director of special projects for the Duke Clinical and Translational Science Institute. A health behaviorist, Davis has helped raised attention to programs to improve population health among underrepresented minorities and has won several awards in health education.
Brigit Maria Carter, professor and associate dean for diversity and inclusion at the School of Nursing, received the Distinguished Faculty Award. Her current educational research focuses on students' experiences with microaggressions and developing strategies to mitigate the impact of microaggressions. Carter is a fellow in the American Academy of Nursing, an Atlantic Fellow for Health Equity, and a Duke Teaching for Equity fellow. She retired from the U. S. Navy as a commander after 28 years of service in 2018.