Support Student Journalism in 'The Greatest Rivalry of Them All!'
Duke Chronicle and the Daily Tar Heel square off in a challenge to raise $100,000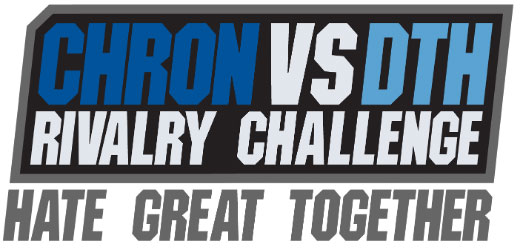 As of last year's challenge, which raised a combined $97,000, the two schools are tied, with Duke taking two wins (2022, 2021) and UNC taking two (2019, 2018).
This year, to mark the 5th anniversary, the schools have a combined goal of $100,000 and will use spirited social media banter, email campaigns, raffle prizes and more to see if the good-natured animosity between the schools can make a difference for the professional-level coverage they depend on all season long.
Chronicle General Manager Chrissy Beck says that, while charitable giving is often inspired by the love a supporter feels for an organization, the Rivalry Challenge taps into a different motivator altogether – the desire to see the other team lose.
"For nonprofit news organizations across the country, fundraising has become a central source of revenue amid the continual decline of advertising dollars," says Chronicle General Manager Chrissy Beck. "We know our supporters are invested in us and in the news we bring them, but they also have tremendous school spirit. They turn out for the Rivalry Challenge because they want to see us win." From January 27 to tip off at 6 p.m. on February 4, fans will watch a digital tracker closely as the lead changes hands.
Rivalry Challenge V ends just before tipoff of the men's basketball game on Feb. 4, 2022. The special edition comes out on both campuses on Friday, Feb. 3.
Those who donate at least $25 to their respective schools will receive a copy of the special edition in the mail. Fans of both teams can track challenge progress and read all the Rivalry stories at dailytarheel.com/rivalrychallenge and dukechronicle.com/rivalrychallenge.
About the DTH / Chronicle Rivalry Challenge:
For over 100 years, the biggest rivalry in college basketball has played out in the pages of The Daily Tar Heel at UNC and The Chronicle at Duke. These two college media programs are as storied as the basketball teams they cover. Both have a tradition of excellence — they compete for awards and bragging rights, and their alumni compete for the best journalism jobs.
The first Rivalry Challenge in 2019 raised a combined $75,000 in advertising revenue and donations for the two newsrooms. This news revenue innovation received national attention in journalism circles and inspired similar campaigns between schools like Michigan and Ohio State, Texas and Oklahoma, Florida and Georgia, and Washington and Oregon.
Here in North Carolina, the DTH and the Chronicle are both nonprofit newsrooms committed to funding the college media experience on their campuses for the long haul. In the short term, that takes some investment from alumni and friends as they find new ways to generate revenue and streamline operations.