Image
Building Hope for Racial Equity Work at Duke in 2023
Day-long retreat of 250 faculty, staff and administrators lays out plans both large and small for the year
"Each time I scanned the room yesterday, I came away inspired: Hundreds of colleagues from every corner of the university struggling together to imagine ways to address one of our foremost challenges," said Gary Bennett, vice provost for undergraduate education, who will soon become dean of Trinity College. "I will long reflect on the table conversations with colleagues from diverse backgrounds and disciplines and aligned in their commitment to change."
Much of the ongoing work is coordinated by the Racial Equity Advisory Council (REAC), formed by President Price in 2021 with the responsibility to hold the university accountable for fulfilling the concepts of racial equality cited in the Juneteenth message.
A 2021 campus climate survey found significant racial differences in how life on campus is experienced. Black members of the Duke community reported higher rates of experiencing microaggressions, concerns about pay equity and advancement opportunities and dealing with harassment at higher rates than other racial and ethnic groups. In the opening session at Monday's retreat, Price reminded all that "momentum comes in small increments," but pointed to signs of change in hiring, enrollment and other areas of the university. He emphatically stated that the university will not give up on the challenge.
"You can only turn an ocean liner if you lean hard on the lever and never let up. Real change requires patience to invest in things and see them out and not give up prematurely," Price said.
"I'm proud of the way we've reached out across the university and the health system, including those who were somewhat worried or skeptical. As a community I think we've taken this up in a heartfelt way. [But] we don't confuse progress with accomplishment."
The chairs of REAC's four subcommittees presented updates on their work, including plans in 2023 to release new tools for university units to better assess racial disparities in their programs and best practices to address them.
Among the new resources will be educational resources to help people address microaggressions, both dealing with harm from these incidents and helping managers create systems that prevent them. Other tools will address racial healing work, both at the personal and institutional level.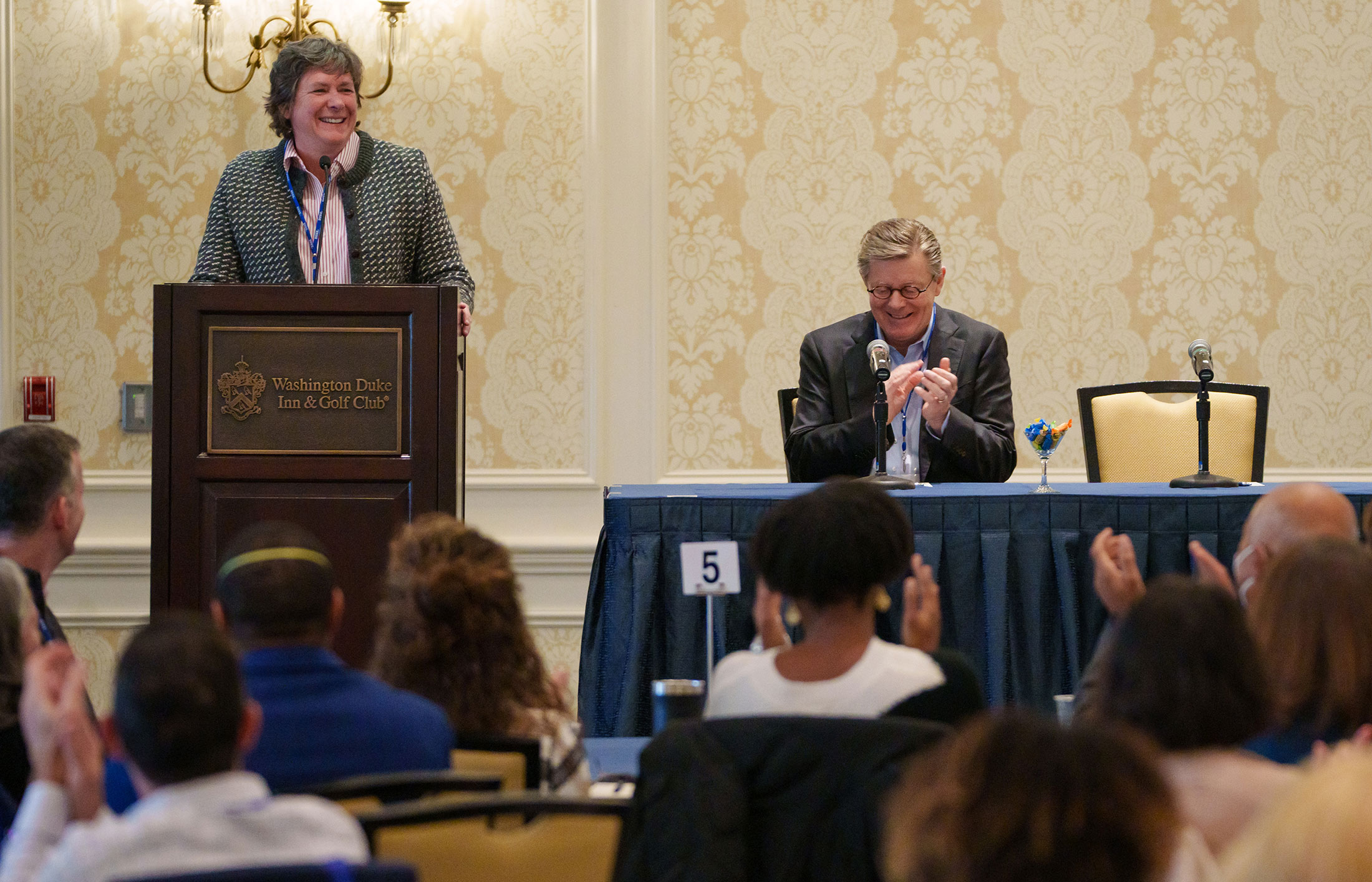 Sherilynn Black and Merlise Clyde, co-chairs of REAC's Climate and Assessment Subcommittee, announced that for the first time at Duke, a pay equity study will be conducted for staff. (A faculty pay equity study is already conducted every two years.)
Details about the staff study will be completed later, Clyde said. The study will be assessed by university experts to determine if there are systematic trends in pay equity related to gender and under-represented groups. "The purpose will be to develop a system-wide analysis for staff comparable for that of the faculty," Clyde added.
Kim Hewitt, vice president for institutional equity and the co-chair of REAC (along with Abbas Benmamoun, vice provost for faculty advancement), shared details about the forthcoming Duke Annual Report on Racial Equity (DARRE), an institutional reporting mechanism that will support accountability and transparency on racial equity. Currently a pilot project in select units, DARRE will assess departments and other units on issues of representation, policies and practices, education and training and environment.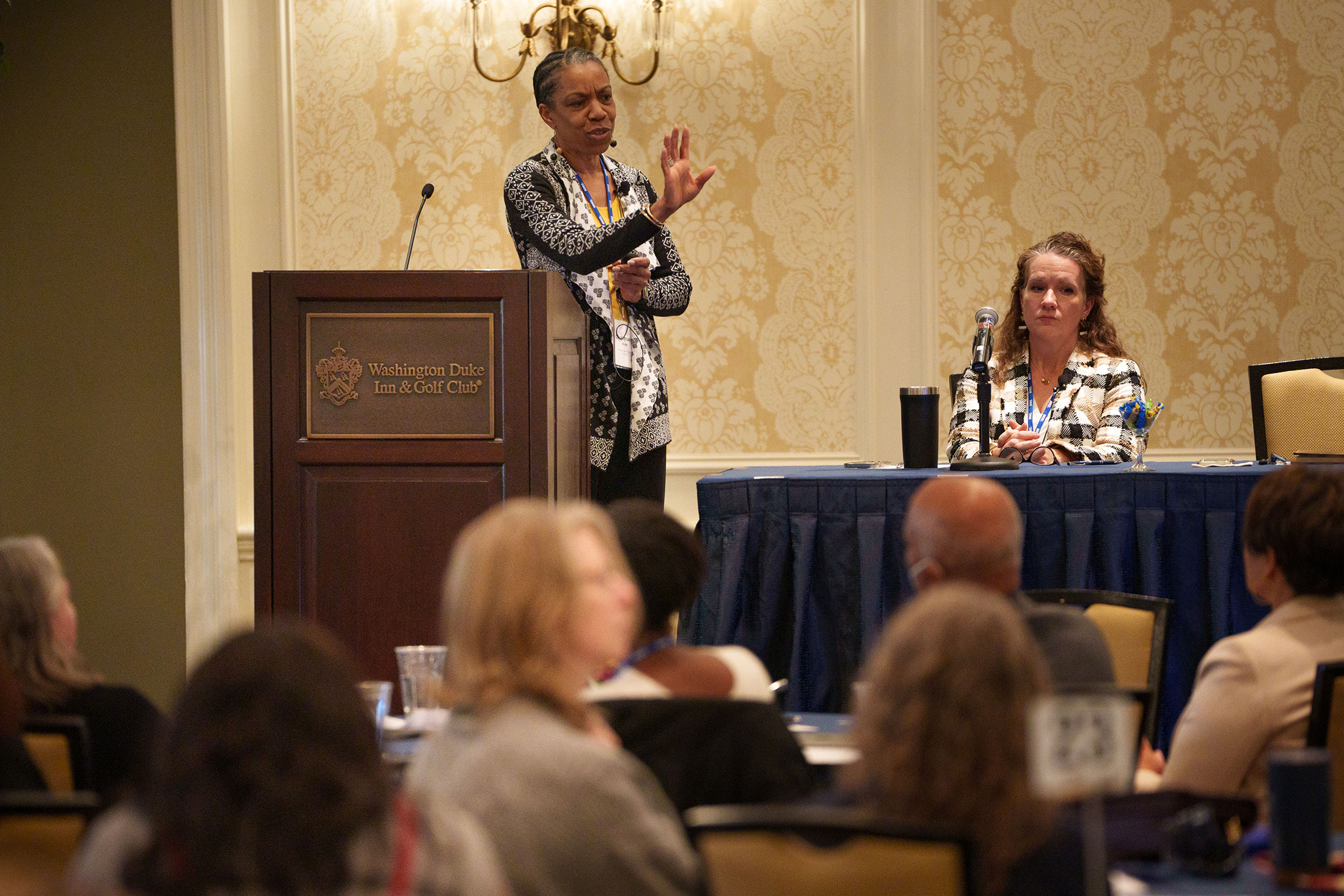 Each unit will be graded as "emerging," indicating that racial equity efforts are being incorporated; "developing," which means there are structures to support racial equity but more work is needed; and "transforming," marking that equity principles have been woven into all parts of the unit's work and learning missions.
Hewitt said the hope is that grading units will not be taken as punishment, but will instead assist them in identifying programs and then accessing the resources to take action.
"The idea is for units to have the opportunity to self-assess and use the results to establish internal initiatives and programs for diversity, equity and inclusion," Hewitt said.
Interim provost Jennifer Francis spoke directly to faculty members about plans to further strengthen hiring initiatives begun by former provost Sally Kornbluth, who left Duke last month to become president of the Massachusetts Institute of Technology.
"Many of you will remember that we also began the year last year, in 2022, with day-long sessions focused on unit-level plans for advancing equity," Francis said "I specifically recall seeing and discussing data at that retreat that caused me to think more deeply and very differently about the existence and transparency of career paths within universities -- and with particular attention to the career paths for staff, but also for faculty who wish to have greater opportunities to explore and pursue leadership roles."
The discussion wasn't all about university-level initiatives. At a working lunch and in session discussions, participants shared lessons learned from work they were doing in their schools, departments or administrative units that could benefit others.
Ernestine Briggs-King of the School of Medicine offered a success story from the Department of Psychiatry where she serves as director of equity, diversity and inclusion (EDI).
Shortly after the death of George Floyd in 2020, leaders in her department established a virtual support group for people of color that meets monthly.
"It gives people a sense of connection, helps them develop relationships and build trust," Briggs-King said. Many participants in the group might be the only person of color in their unit, and the support group gives them a safe space to share their concerns and connect with colleagues they might not have otherwise met, she said.
"It's a place to hear their peaks and their valleys," Briggs-King said. "It's not a place where we try and fix it. It's about creating a safe space for people to be heard."
Some of the projects extended to the academic mission. Linda Davidson-Ray, director of EDI for Duke Clinical Research Institute, shared her team's work assessing journal articles published by DCRI researchers over the past 25 years. They found that only a small number of articles assessed health disparities based on race, gender and demographics.
That work has brought change, Davidson-Ray said. Since July 2022, her focus has been on reviewing new research proposals and evaluating how they consider questions around health disparities and how study sponsors plan to recruit diverse participants so the data paints a more representative picture of populations being studied.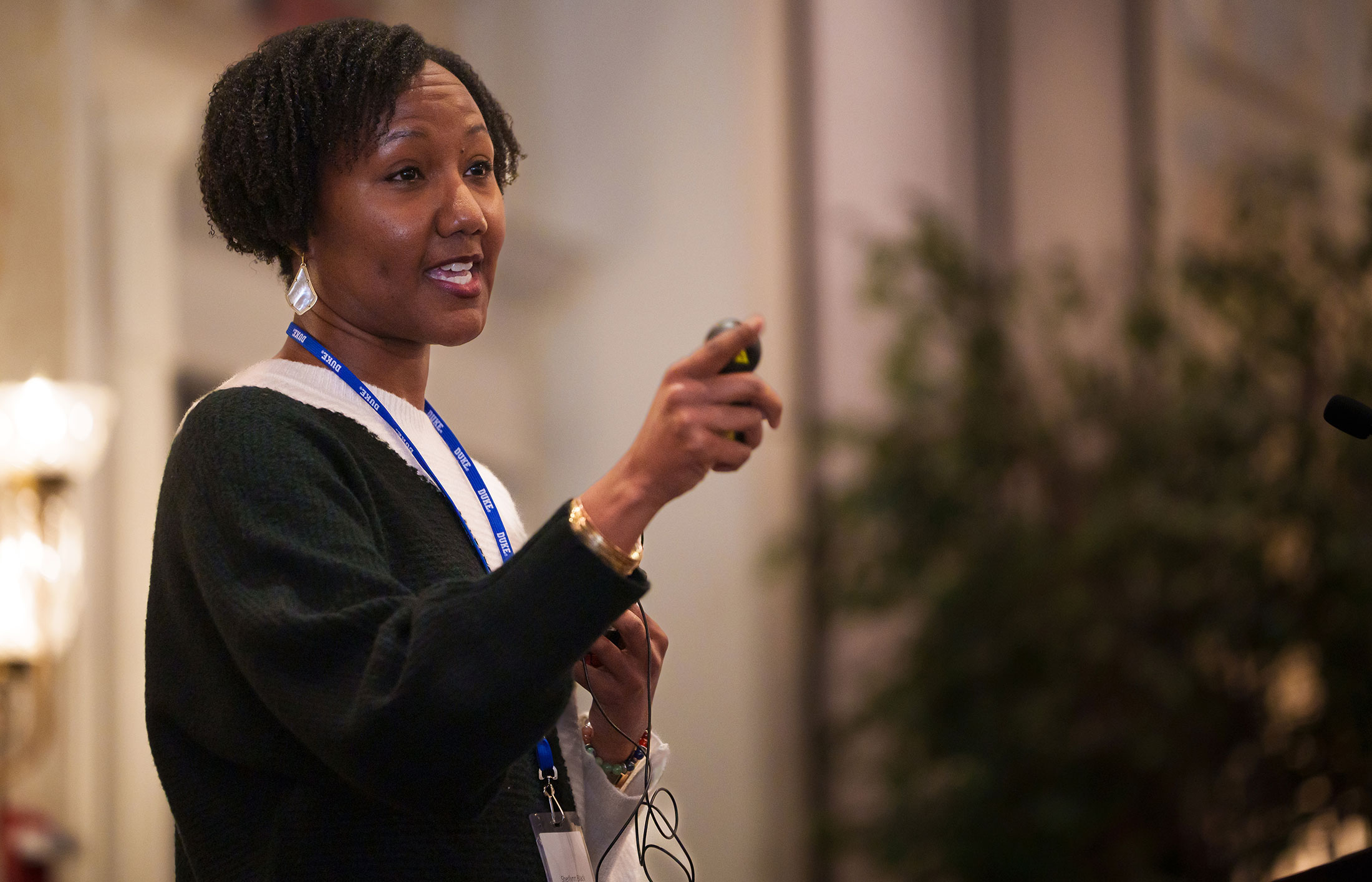 Sherilynn Black, associate vice provost for faculty advancement, underscored the valuable difference smaller racial equity efforts at the unit-level can also make in the lives of people of all backgrounds on campus.
"It means something that we're all here," Black said. "We want you to acknowledge the journey. Many of you have engaged in complicated work and stepped outside of your comfort zones to lead your units through unprecedented times."
One of the common themes throughout the day is the difficulty of equity work, of how the challenge to change long-standing systems can be "exhausting," Black said.
Executive Vice President Daniel Ennis told the audience that challenging work lies ahead, but he left the meeting feeling confident that the university is up to having uncomfortable conversations. "We're here because there are people in our community whose experience at Duke is not one we're proud of," he said.
"The leadership in this room to have thought about this curriculum is extraordinary," Ennis added. "The depth and breadth across the institution is extraordinary. We're here and we're going after it and we'll continue to do so. We have a lot of work left to do – building from a strong foundation."
But afterwards, several participants said they left the meeting feeling a stronger energy for this work.
"Monday's gathering was an important step in Duke's journey toward becoming a more racially just community," said Divinity School Dean Edgardo Colón-Emeric. "I was particularly encouraged by how different units are testing tools such as DARRE, tools which will advance assessment and accountability of our work in diversity, equity and inclusion. I ended the day feeling convicted and committed, filled with paciencia ardiente (burning patience). We are not where we need to be, but we are not where we were, and we are all in."
Samiha Khanna, Sarah Dwyer and Maria Moreno assisted with the reporting and writing of this story.
More Resources on Racial Equity