Two Duke Seniors Win Rhodes Scholarships
Recipients are selected based on high academic achievement, personal integrity, leadership potential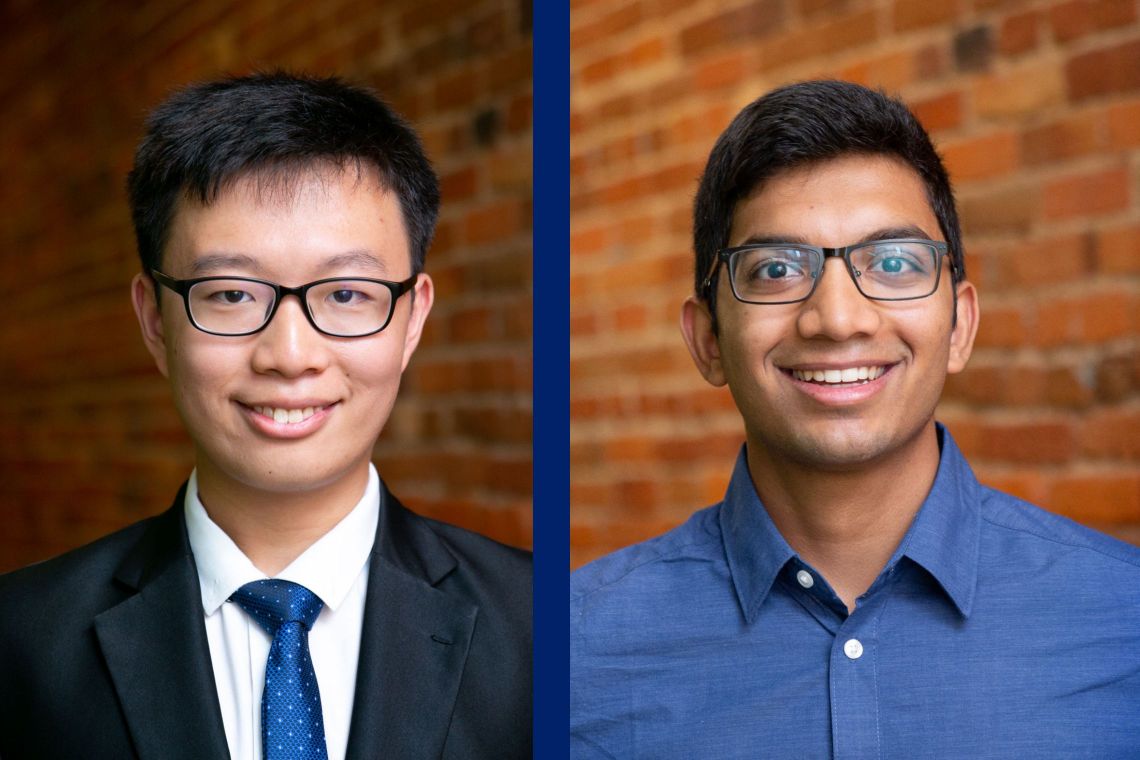 DURHAM, N.C. – Two Duke University seniors were among the recipients selected this weekend for the prestigious Rhodes Scholarship.
Qi Xuan Khoo and Shreyas Hallur were chosen from among many applicants from colleges and universities. Hallur received one of the 32 scholarships available to students from the United States, while Khoo won the only scholarship available to Malaysian citizens. The scholarships provide all expenses for two or three years of study at the University of Oxford in England.
Recipients are selected based on high academic achievement, personal integrity, leadership potential and a commitment to service, among other attributes. 
"I am thrilled to congratulate Qi Xuan Khoo and Shreyas Hallur on this extraordinary honor, a reflection of their commitment to academic and research excellence and leadership," said Duke University President Vincent Price. "We can all be tremendously proud to call them fellow members of the Duke community, and I look forward to following their careers in the years ahead."
Originally from Phoenix, Hallur is both an A.B. Duke scholar and a Nakayama Public Service Scholar. He will graduate with degrees in statistics and public policy. Hallur is interested in Medicaid policy and in improving care for autistic people who have intense care needs through shared decision-making. 
He serves on the board of directors of a private school that has designed a novel, hands-on STEM curriculum to meet the educational interests of its autistic students. And at the Southwest Autism Research and Resource Center, Hallur initiated a program to create inclusive science learning opportunities for autistic children that has won a $1 million grant from the National Science Foundation.
At Duke, Hallur is a Bass Connections researcher and a Margolis Scholar in health policy and management. Through the Duke Disability Alliance, Duke Student Government and Neurodiversity Connections, he has also advocated for greater accessibility on campus. He has done extensive research into Medicaid reform in Massachusetts, Arizona and with the Center for Medicare and Medicaid Innovation. Hallur is also a student researcher at the Duke Center for Autism and Brain Development.
He plans to pursue degrees in Medical Anthropology and Evidence Based Social Intervention and Policy Evaluation at Oxford.
A Karsh International Scholar from Malaysia, Khoo is a senior pursuing a double major in economics and computer science with a minor in mathematics. While at Duke, Khoo has been actively involved in academic research at the nexus between economics and computer science. He has assisted professors in investigating U.S. Medicare fraud, analyzing county level COVID-19 policy and building a data pipeline for domestic violence shelters in North Carolina. As a Bass Connections researcher, Khoo co-authored a paper on developing machine learning predictive models for COVID infection based on wearables data. He is also a Woodman Scholar at the Duke Economic Analytics Lab and an Arete Effective Altruism fellow.
Outside of academia, Khoo co-founded and leads Technify, an initiative that connects tech talents at U.S. colleges with nonprofits and social enterprises across developing countries through pro bono tech projects. With seed funding from the U.S. Department of State's Mission to Southeast Asia, Khoo and his team have launched 20 projects matching more than 80 volunteers with nonprofits from Malaysia, Panama, Thailand, Philippines and Indonesia.
He has also performed as a pianist through the chamber music program at Duke.
Inspired by various experiences working on digital transformations in the frontline, Khoo aspires to further explore the opportunities and challenges faced by developing countries at the intersection between technology and economic development. At Oxford, he plans to pursue a master's degree in Social Data Science followed by a master's degree in Economics for Development.
The Rhodes Scholarship was created in 1902 by the will of British philanthropist Cecil Rhodes.
The value of the Rhodes Scholarship varies depending on the academic field, and the degree (bachelor's, master's or doctoral) chosen. The Rhodes Trust pays all college and university fees, provides a stipend to cover necessary expenses while in residence in Oxford and during vacations, and transportation to and from England.
A complete list of this year's recipients is online at http://www.rhodesscholar.org.
--
Duke experts on a variety of topics can be found here.
Follow Duke News on Twitter: @DukeNews