Duke in Pics: Commemorating Veterans Day 2022
Duke Chapel ceremony honors the contributions of veterans at Duke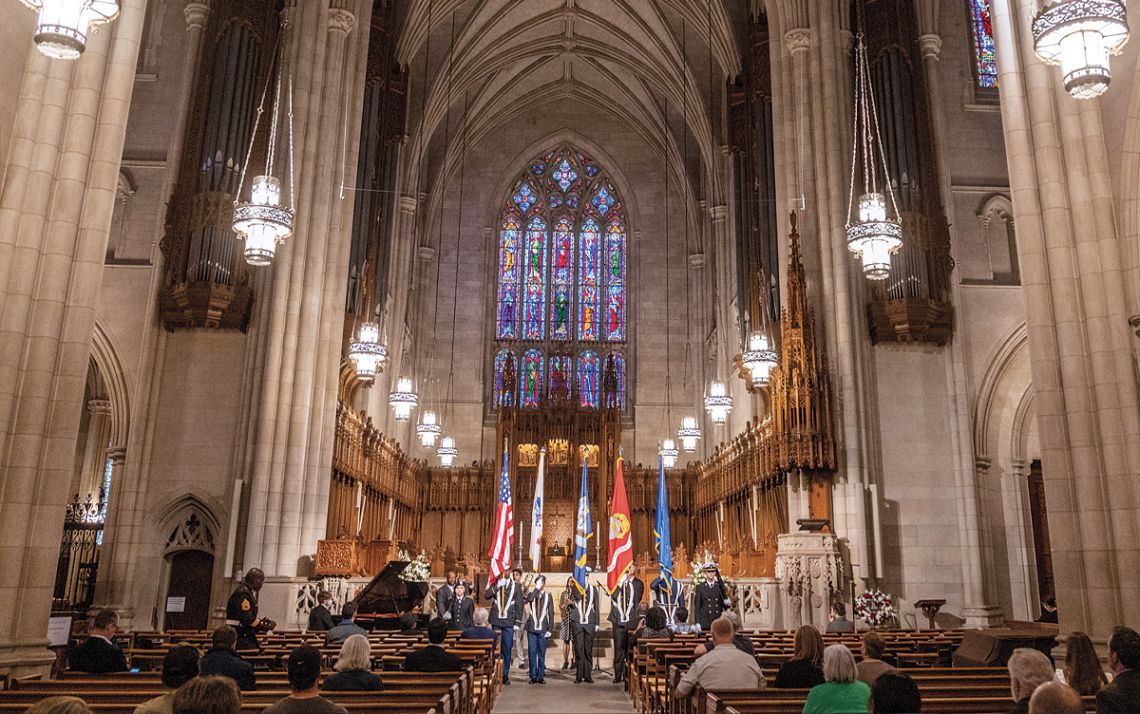 Tim Hudson gathered his breath, pulled his trumpet up to his lips and began to play taps, a military bugle call that rang out into the still-damp air around Duke University Chapel. 
When he did, many gathered closed their eyes, pondering in silence what Veterans Day means to them. When the music was over, Antwan Lofton, interim vice president of Human Resources, reminded those gathered of the sacrifices veterans make every day.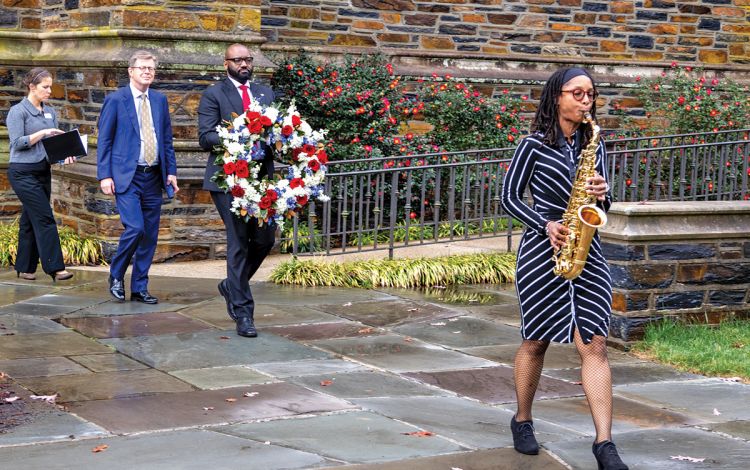 "As you go about your day, please remember those who sacrificed their lives so we can have the freedoms that we do," Lofton said. 
On Friday at 11 a.m., a couple hundred campus community members gathered for Duke's event inside Duke University Chapel, honoring those in the campus community who have served, or are currently serving, in the United States Armed Forces. The ceremony included music from the John Brown Ensemble, remarks from Duke leaders and a procession outdoors for a wreath laying ceremony.
"Through their service, humble leadership and commitment to mission, veterans have also given so much to Duke," said Duke University President Vincent E. Price, who served as keynote speaker for the event. "Whether in a lab, classroom, on the athletics field or in an operating room, our veterans offer inspiration in their example and use their talents to serve our fellow Blue Devils and our neighbors in the Durham community."
There are approximately 16.5 million military veterans across the United States, according to the U.S. Census Bureau, including approximately 1,300 faculty and staff at Duke, who now contribute to campus life in important ways during and after their service. 
This includes community members like Paul Dillon, an adjunct instructor in the Sanford School of Public Policy, who sat in a wooden pew on Friday wearing a suit and a U.S. Army Vietnam Veteran hat commemorating his service from 1969 to 1971. 
"It's a very important day for all of us veterans and non-veterans alike," said Dillon, who will teach a spring course about public policy and veterans. "It's great to see Duke as an institution recognize it." 
Here are some moments from the ceremony. 
Marine Staff Sgt. Carl Bee, right, coached the Duke Joint ROTC color guard and stood at attention when they presented the colors during the national anthem.
For Bee, Veterans Day is a reminder that people appreciate the many levels of sacrifice military members make each day.
"We make a great sacrifice that people don't always understand, the sacrifices are missing holidays and birthdays and family and time," said Bee, who said he misses his two children and three siblings back in home in Georgia. "That means a lot to us. So to have someone put on an event and have a day to celebrate us, it really means a lot."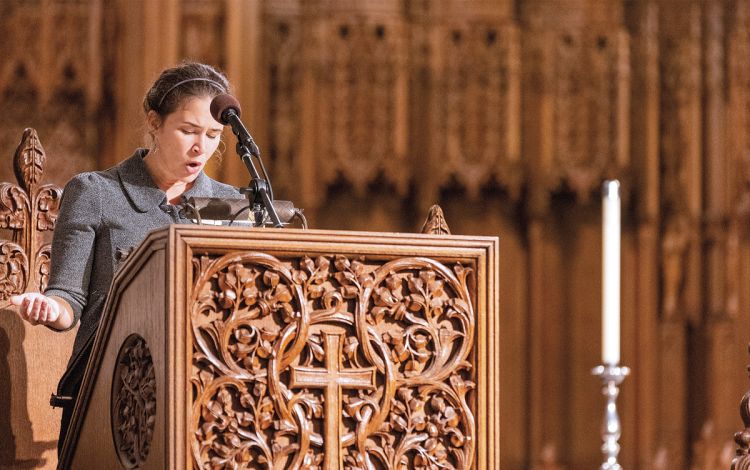 The Rev. Kathryn Lester-Bacon, director of Religious Life at Duke University Chapel offered an invocation to start the ceremony.
"We give you thanks for the devotion and courage for all those who have offered military service for this country and for those who have fought for freedom and laid down their lives for others, for those who have borne suffering of their mind and body and for those who brought their best gifts in times of need," Lester-Bacon said.
In his remarks, Duke Interim Vice President for Human Resources Antwan Lofton underscored the connection between the service of our military members and the freedom students, staff and faculty enjoy at Duke.
"It is because of these great men and women that institutions like Duke can bring people together to debate ideas and find new ways to solve real problems," Lofton said. "It can be easy to take such freedoms for granted, but this is not the case in many places around the world. You may not know it, but many of these individuals work beside us here at Duke, or who are in our classrooms as students."
Duke University President Vincent E. Price reminded attendees about how Duke's history has been intertwined with the military, citing examples such as the Duke doctors who treated wounded soldiers in the 65th General Hospital in England during World War II and the Physician Assistant Program, which was created in the 1960s to provide a career path for service members with medical training who were leaving the military.
"We have been committed to serving our service members from the earliest days of this institution," Price said.
Peter Asmuth and Nate Schwartzbauer, who both served in the U.S. Army and are now graduate students at the Fuqua School of Business, were on hand to watch the service.
"It's nice personally to have an opportunity to reconnect and reflect on the people you served with and those who didn't come back," Asmuth said. "You can get caught up in the busy day-to-day, but it's good to think about what we used to do and what people are still doing."
The ceremony ended with a procession from Duke University Chapel to the Duke Memorial Quadrangle, where names of Duke alumni killed while serving in the military are listed. 
Sheena Martin, a 2005 Duke graduate and saxophone player in the John V. Brown Jazz Ensemble, led the procession while playing the song "Highland Cathedral." Martin's father served in the Air Force, a fact she said she is proud of.
Later, Price and Lofton placed a wreath on the memorial wall and shared a few moments with some of the veterans who attended the ceremony.
"Our founding document highlighted Duke's mission to 'maintain a place of real leadership in all that we do," Price said in his remarks. "This work is strengthened by our veterans' perspective, experience and dedication, Today, we are reminded of the service and sacrifice of so many members of the Duke community – which extends beyond their years in the armed forces."
If you missed Duke's Veterans Day Ceremony, you can watch a recording of the livestream here (ceremony begins at 9:47 of livestream).
Send story ideas, shout-outs and photographs through our story idea form or write working@duke.edu.