Built in the Early 1930s, Houses Along Campus Drive Hold History
Duke's 20th-century ambitions have links to homes where professors lived
For the residents of Myrtle Drive in the early 1930s, the wooded area outside Durham city limits was home, a place where they could retreat at the end of the day, take long walks and welcome home family and friends.
They lived like ordinary neighbors, looking after one another in the collection of 14 houses along the once unpaved road that is now Campus Drive. At the time, William Preston Few raised chickens in his backyard and often pushed a wheelbarrow with chicken manure to his neighbor and gardener, Maude Vollmer, the wife of Department of Germanic Languages chair Dr. Clement Vollmer.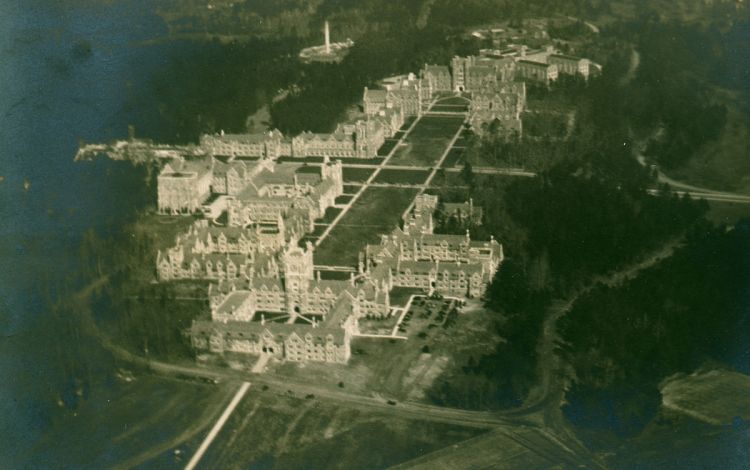 Constructed between 1930 and 1933, the faculty houses on Campus Drive addressed the needs of a Duke University campus that saw its student and faculty population increase exponentially between 1910 and 1940. The homes attracted top teaching talent across the country, remaining contemporary markers of another campus era.
Varying in size and style, from Tudor to cottage-style, the houses were laid out by the chief architect of West Campus, Horace Trumbauer and the Olmsted Brothers landscape architecture firm. They were designed intentionally as a landing place for faculty and administrators at an important stretch between East and West campuses.
"There's something nice and quaint about it when you drive or take the bus from East to West and you see these old faculty houses," said Mark Hough, Duke University Landscape Architect. "It's a past vision of Duke that may not be the same programmatically but it's still kind of neat."
Before the houses converted to offices beginning in the late 1950s, the professors and administrators who lived in the houses guided Duke through a transition period, from a regional school to an institution known for world-class research, teaching and patient care.
Here are some glimpses of the people and time in the homes.
No. 1: The President's House
Construction on the faculty houses began in 1930 with the home of William Preston Few, president of Trinity College from 1910-1924 and president of Duke University from 1924-1940. His house, built for approximately $60,000, was a symbol of a modern university.
Few came to Duke in 1896 as a professor of modern languages and was pivotal in navigating the transition from Randolph County to Durham, spending 30 years as president of Trinity College and then the renamed Duke University.
Under sweltering heat on June 3, 1930, President Few's wife, Mary Reamey Thomas Few, a 1906 Trinity College graduate, took a tour of the plot and gave final approval for the house. Accompanied by The Duke Endowment Building Committee that included her husband, she gave a final recommendation to move the house farther back from Myrtle Drive.
Called Faculty House 1, the Few house included a striking stone façade and was completed in 1931 at 2138 Campus Dr. Mary Reamey Thomas Few's writings to her husband provided a window into what it was like to live there.
She wrote of hosting community members, visitors, and family at the house. She regularly walked to Duke University Chapel on Sundays and detailed happenings around campus while Few traveled.
"We went to get wild irises for our rock garden," Mary Few wrote in an April 1934 letter. "Our tulips — three large beds in full bloom — the irises, spirea and dogwoods make our place really lovely."
Among his accomplishments, William Preston Few helped establish The Duke Endowment, the initial funding for Duke from James B. Duke. Few oversaw the construction and planning of West Campus and helped Duke establish a hospital and health system. He lived in the house, now occupied by Undergraduate Admissions, until his death in 1940.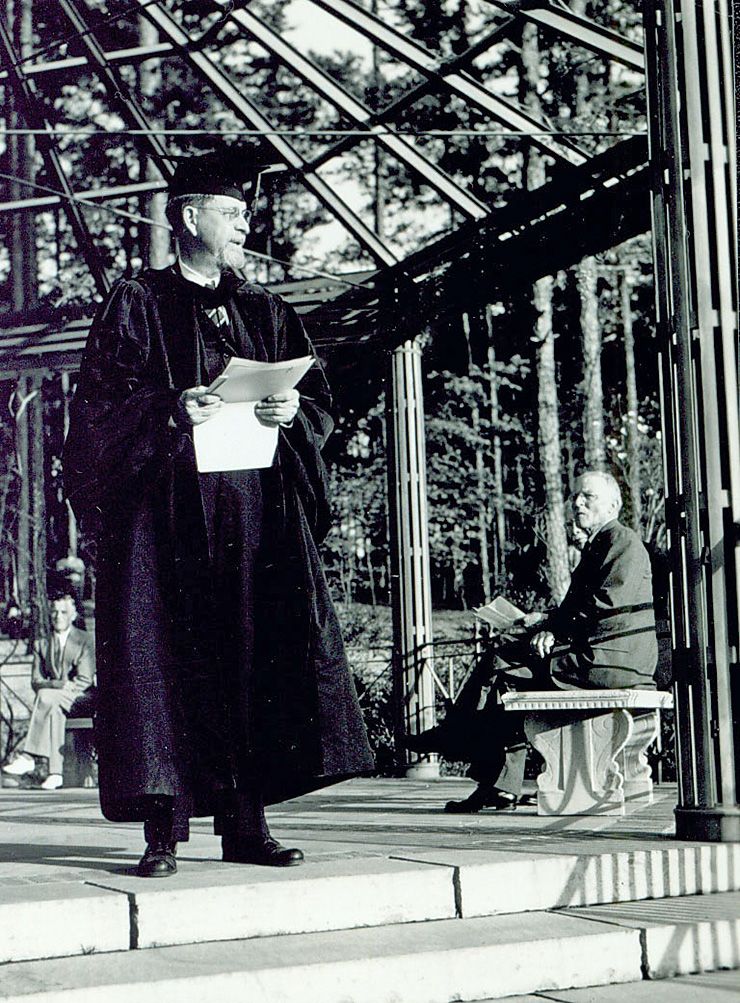 "An able administrator, an educator of infinity wisdom and industry, President Few built a great University where a small one once stood …" an article in the Oct. 16, 1940, Duke Chronicle said when announcing his death. "This man has laid the foundation upon which Duke University has grown, is growing and will continue to grow from now until end."
After Few's death, the house remained the home for several other Duke presidents and family, including Arthur Hollis Edens and Douglas Knight, who was the last resident in 1966.
When Alumni Affairs moved into the house in 1967, a modern era for the building began. Today, the presence of Undergraduate Admissions in the space ties the building to its history, as the house remains the headquarters for important decisions about Duke students.
House No. 2 and No. 4: House Swap
On the day West Campus opened on Sept. 24, 1930, an article in the Raleigh News & Observer revealed just what it meant to Robert L. Flowers to see ambitious goals become reality. Flowers, vice president of the Business Division and later university president during World War II, gave 60 years to Duke as a professor and administrator.
"Faculty members were beaming with exultation," the story in the News & Observer read. "None more so than Dr. Robert L. Flowers, vice president of the university, who, starting with Trinity College in Randolph County 40 years ago, had seen his brightest dreams come true."
Robert Flowers and his wife, Lily Virginia Parrish Flowers, moved into their Georgian-style house at 2127 Campus Dr., across from the Few family, in 1931. The house, now occupied by the Duke Graduate School, was a point of pride for a sprouting campus.
Flowers oversaw every detail of all faculty houses, including his own home, taking vigorous notes and correspondence on their progress. His Faculty House 2 was designed so the front door opened into a library. Through double doors, an ornate winding staircase led to four upstairs bedrooms. The first floor included an adjoining porch, living room, dining area, breakfast room, and large kitchen.
Four years in, the Flowers swapped houses with Dr. Frederic M. Hanes, according to an agreement signed in 1935. The document indicated Hanes and Flowers would trade homes and swap cash "in an amount satisfactory to both," though the document didn't indicate why the swap was initiated.  
Hanes, a faculty member of the Department of Medicine whose idea it was to create Sarah P. Duke Gardens, came to Duke in 1930 and settled in Faculty House 4, now the home of University Communications, before moving into Flowers' home.
His daily walks to work often led Hanes past a debris-filled ravine. An avid horticulturist, Hanes thought that it would be a perfect site for a garden featuring his favorite flower, the iris.
In 1934, Hanes persuaded Sarah Pearson Angier Duke, widow of Benjamin Duke, one of the university's founders, to donate $20,000 for the garden. Construction soon commenced, and by 1935, the garden boasted 100 flower beds containing 40,000 irises, 25,000 daffodils, 10,000 small bulbs and assorted annuals.
"It is my belief that your mother and yourself have created something uniquely beautiful here at Duke, and that it is destined to become one of the famous gardens of the country," Hanes wrote to Mary Duke Biddle in 1938. "It will surely be visited by many thousands each year."
No. 9: 'The Beloved Little White House'
Maude Vollmer recalled hopping in a car to ride across campus with her husband, Dr. Clement Vollmer, chair of the Duke Department of Germanic Languages, in the late 1920s. During both World Wars, Clement Vollmer served as a translator for the U. S. Government.
"We used to ride around and say, 'this is where the chapel will be, this is where our house will be…" Vollmer told the Durham Morning Herald in 1988.
Maude Vollmer and her husband, Clement, lived in the modest Faculty House 9 at 2114 Campus Dr. for 25 years, paying $88.05 per month in rent when they moved in. From that house, the Vollmers saw Duke transform.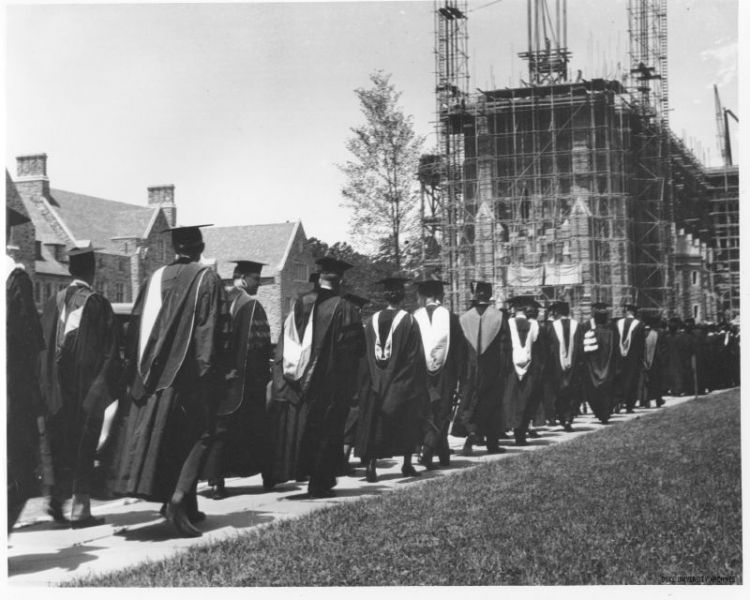 Over the years, Maude Vollmer wrote in her Wanamaker Diaries, bound journals issued by John Wanamaker Department Store in New York, of days in the house. Before moving in, it was clear she was excited to start her life in the home.
"Long walk with Clem to see new faculty home," she wrote on Feb. 22, 1931.
During World War II, Maude assisted Clem as a translator of German for U.S. causes. Maude wrote that on many evenings, she typed class documents for Clement or snuck upstairs early to read in bed. During the day, she hosted families and wives of faculty and administrators, writing of a time when she served toasted cheese sandwiches, coffee and tea for the Faculty Wives Club. In her free time, she walked around Durham, played her violin or baked cakes and cookies that filled the house with a sweet aroma.
In the backyard, the Vollmers kept a garden and planted bulbs and flowers in the front. Every summer for 24 years, the Vollmers traveled to Europe and rented the house to Duke community members.
"People had a tale about us," Maude Vollmer told the Durham Morning Herald in 1988. "The day of commencement, I would arrive with the car loaded, and Clem would come down after the procession, take off his cap and gown, put them in the car and we'd be gone."
Though not often mentioning the house itself, Maude Vollmer indicated that she enjoyed her life in Durham. On May 30, 1956, ahead of her husband's retirement, Maude commented about the house in her diary, as the couple prepared to depart from Duke for another home in Durham.  
"Last night in the beloved little white house after 25 years," she wrote.
In 1957, the year the Vollmers moved away from campus, the Duke University Planning Committee was initiated to determine the future needs of Duke in the next 25 years post-war. The overwhelming response from Duke departments in the years after was the need for office space, and the faculty houses were prime locations to meet those needs.
Today, the Vollmer house remains a special place for Graduate Liberal Studies (GLS), which moved into the office space in 2007.
"It's the perfect headquarters for our program, in the sense that it sets up this homey family-style atmosphere," said Dr. Kent Wicker, assistant director of Graduate Liberal Studies.
GLS staff members are fond of the home's features, once enjoyed by the Vollmers, including an inviting front porch. The bedrooms upstairs have been converted to offices, with the legacy of the building living on.
"Bedrooms, as it turns out," said Wicker, "make good offices."
If you know more about the history of Duke's faculty houses, let us know. Contact us through our story idea form or write working@duke.edu.