PUBLISHED
Brodhead, Hill, Two Alumni Honored at Founders' Day Dinner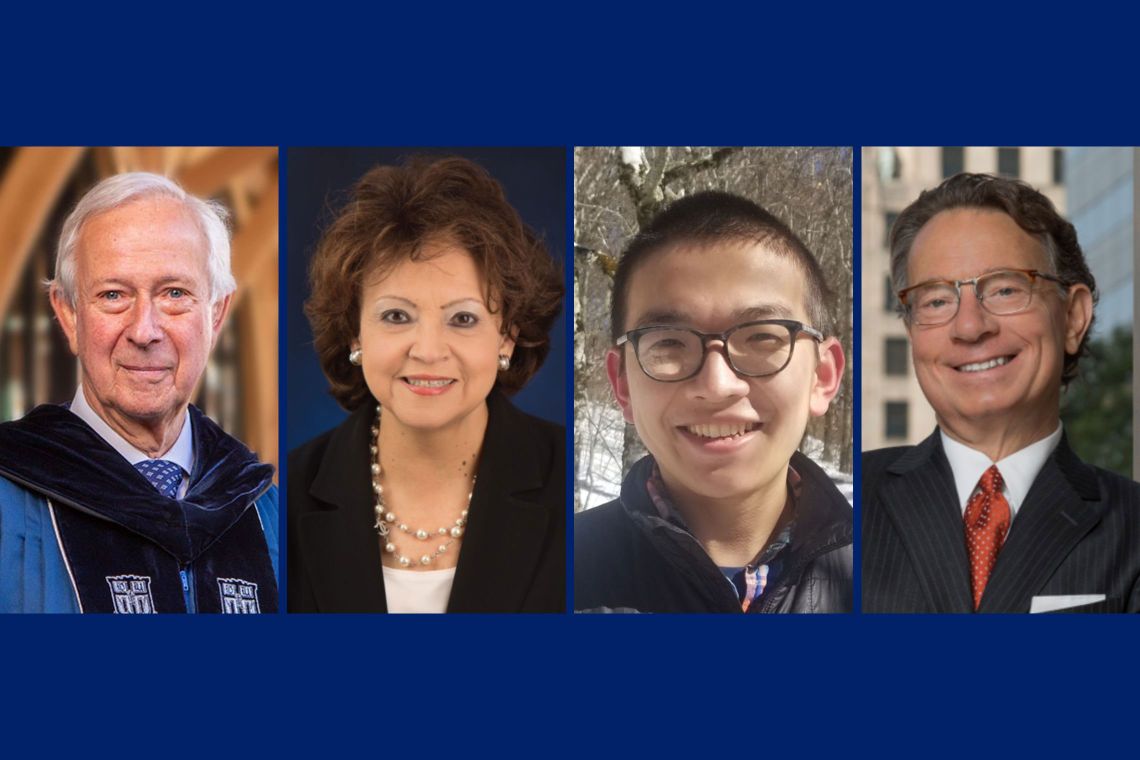 A former Duke president who strengthened undergraduate education and Duke's international presence and a trustee emerita who served as a mentor to many received the 2022 University Medals for Distinguished Meritorious Service at the annual Founders' Day dinner Friday night.
The highest honor presented by Duke, the University Medal went to President Emeritus Richard Brodhead, who led the university from 2004-2017, and the late Janet Hill, who was a trustee from 2006-21 and was the mother of former Duke basketball star and current trustee Grant Hill '94.
In addition, Yue Jiang '12, an assistant professor of the practice of statistical science at Duke, received the Alumni Distinguished Undergraduate Teaching Award, and Michael Marsicano '77, A.M.'78, Ph.D.'82, Duke trustee emeritus and CEO of the Foundation for the Carolinas, received the Distinguished Alumni Award.
The medals were presented by President Vincent Price at the Founders' Day dinner. Founders' Day is a tradition that honors the original visionaries who helped build the university and acknowledges all who have contributed to the university community.
"Tonight, we are inspired by the example of these extraordinary leaders," Price said. "We are reminded that our university is only as great as its people, only as strong as their commitment to make this a better community, only as bold as their aspirations for tomorrow."
In honoring Brodhead, Price said he left an immense academic legacy at Duke. "Dick forever transformed our university—strengthening undergraduate education, launching signature programs like DukeEngage, and underscoring our commitment to access and opportunity. Under his leadership, Duke also established international programs including the Duke Global Health Institute and Duke Kunshan University," Price said.
Beyond the campus, Brodhead oversaw successful efforts to build stronger community relations in Durham – including a crucial role in the transformation of downtown Durham – and to further outreach efforts across the state and internationally, Price said.
Janet Hill, who died in August, was a Wellesley College graduate who connected to Duke when her son came to Duke in 1990. From the start, Janet and her husband Calvin Hill committed to university service, chairing the Duke Parents Committee when Grant was an undergraduate.
In addition to serving on numerous committees during her years as a trustee, she chaired the Committee on Honorary Degrees and helped to launch Duke Proceed, an initiative that led to the formation of Duke Black Alumni.
Beyond that service, Price said, Janet was a mentor and counselor to many on campus, including himself.
"Janet's greatest talent may have been her sharp wit—and willingness to always tell you what she thought—but to do so in a way that was productive and made you feel heard, seen, and respected," Price said. "While Janet sadly passed away this summer, Duke will forever remember her for her diligence, intelligence and energy in service to our university. Janet loved this place with a boundless passion—even painting her nails Duke blue before each board meeting—and she always worked to help Duke become better."
Calvin Hill, Janet's husband, accepted the award on behalf of the family.
In presenting the Alumni Distinguished Undergraduate Teaching Award to Jiang, Sterly Wilder, associate vice president for alumni affairs, noted his interest in sharing his "passion for making statistics relatable and relevant, along with his passion for the Duke learning community." Wilder said Jiang is an active mentor to students and encourages statistics majors to engage in research projects.
"In his free time, you can find Jiang serving as an inaugural QuadEx Faculty Fellow, as part of a group of invested faculty members who are responsible for fostering connections between Duke's academic mission and undergraduate students' social and residential lives," Wilder said.
The Distinguished Alumni Award winner Marsicano has served both Duke and the larger community. In Charlotte, he is a leader in major civic initiatives and fund-raising campaigns through his work with the Foundation for the Carolinas.
"At the Foundation, he has been a leader in major civic initiatives and fund-raising campaigns to address community needs and opportunities, launching major programs in affordable housing, economic opportunity, public school reform, the arts and the environment across a 13-county region," Wilder said.
At Duke, in addition to his trustee service, Marsicano also served on the boards of the Duke University Health System and the Nasher Museum of Art and served a two-year term as the National Chair of the Duke Annual Fund.