Final Words from School, Department Graduation Ceremonies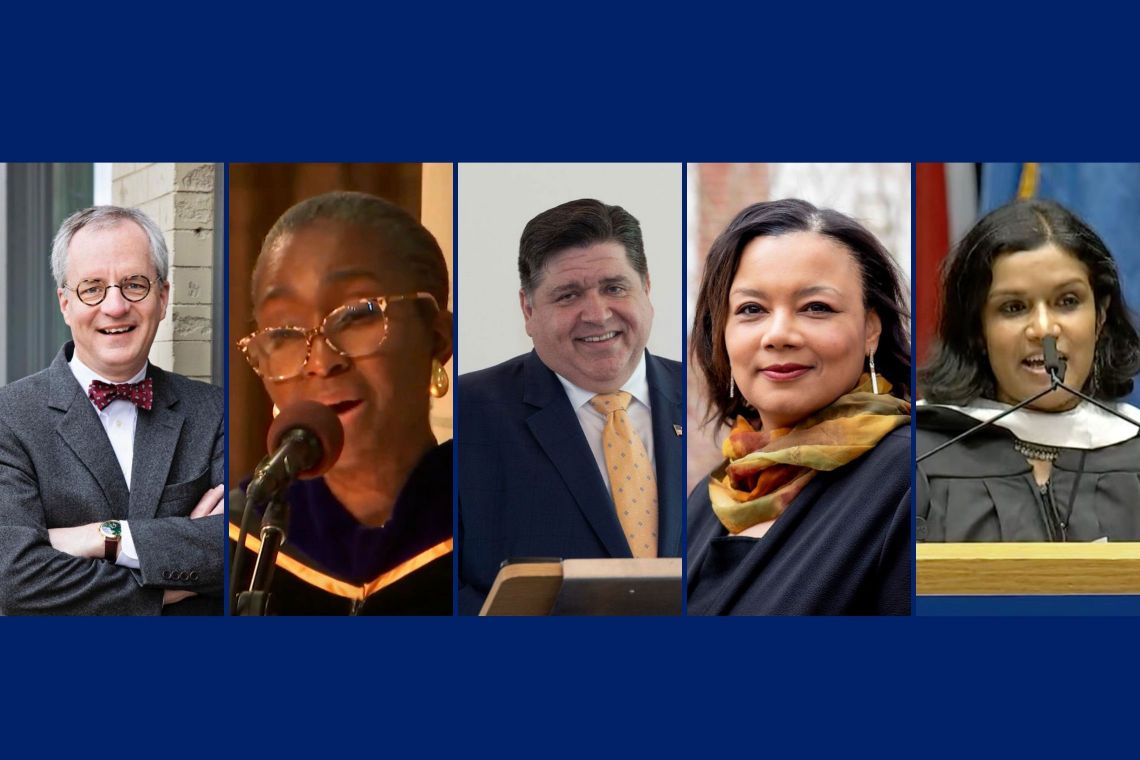 There were plenty of commencement weekend highlights away from Wallace Wade Stadium as schools and departments held their own ceremonies bringing in outside speakers, alumni and faculty to share last words with their graduating students.
Speakers included Illinois Governor J.B. Pritzker, U.S. District Court Judge J. Michelle Childs, New York state public health official Sonia Sekhar and Harvard Professor Tomiko Brown-Nagin, who chaired the committee that reported on Harvard's historical connection to slavery this month.
Here are some of the comments from the ceremony:
School of Nursing
"Despite the lingering uncertainties about where this pandemic is now and where it is going and when it will end, I'm ready to let the hope and promise of today take centerstage. The last 26 months have tested us on so many levels, but we have confronted this crisis with grit, resilience, kindness, and embracing a common spirit of being in this together. "
"No matter what sort of difficulties, how painful the experience is, if we lose our hope, that's our real disaster. The hope to triumph. We as nurses need to be involved. Now your journey begins, and I challenge you to go out there and make a difference."
Ernest Grant, internationally recognized nursing leader and president of the American Nurses Association
School of Law
"Serve people, not just professional accomplishments. Step into your role for your community, your clients, your environment, and your nation. Do not shy away from opportunities, and know that when you are ready, they will find you. My task, always, and your task now, is to use your education, your skills, and your hope for the future, to ensure that when these doors open, you are prepared to walk through them and pull others through with you."
"The skills and knowledge instilled by this fine institution, and the treasured connections it allowed me to foster with faculty, colleagues, and new friends, undoubtedly prepared me to meet challenges of which I could only dream. When I finally had my confirmation hearing for my nomination to the DC Circuit before the US Senate Judiciary Committee last week, I knew no matter the question, no matter the level of scrutiny, a life's worth of aspiration, preparation, and determination had trained me for that moment. You too, are ready for the most unimaginable and unexpected opportunities."
Judge J. Michelle Childs, MJS '16, of the United States District Court for the District of South Carolina.
Read more on the law school website
Graduate School
"I truly loved graduate school. I can still remember the thrill of receiving my acceptance letter from Duke. My acceptance letter to Duke graduate school held special meaning for me and for my family. You see, I had begun my educational journey in higher education as a first-generation college student, with little knowledge of what to expect or how to navigate elite institutions. I had been raised by able and hardworking parents, but they had come of age in the Jim Crow South, unable to realize their potential because of racial discrimination. The opportunities available to me, to attend a fine liberal arts college and enroll in graduate school, had been denied them."
"But nations, institutions and people can change. And by the time I came along, a generation later, this country had evolved into "a more perfect union." The Civil Rights Act of 1964, the landmark law enacted by a bipartisan Congress in the wake of activism by courageous freedom fighters in Birmingham and throughout the South—made a way for me. It created opportunity for those like me from modest beginnings, lending credence to the American ideal that success in life results from hard work and talent, rather than class at birth, race, or gender."
Harvard history professor Tomiko Brown-Nagin, Ph.D. '02, receiving the Graduate School's distinguished alumni award.
Sanford School of Public Policy
"Everyone has power. Your power may be something that you're born with or have gained from your life experience. It may stem from immense privilege or from experiences of injustice and a lack of privilege. Your world-class Sanford education and the Sanford network of which you are now part, greatly enhance your power to make good policies that improve people's lives."
Sonia Sekhar, MPP '14, Deputy Director, NY State of Health
Read more on the Sanford website. Watch Sekhar's talk on YouTube.
"I am proudly a first-generation American. A low-income student, I was born and raised in Las Vegas, Nevada. … Majoring in public policy has made me feel like I am on the path of becoming the civil servant that I've always wanted to be."
Kyle Melatti, undergraduate student speaker
Watch Melatti's talk on YouTube.
Pratt School of Engineering
"As global change introduces higher levels of disparities across our global communities, we must be extremely thoughtful about who are the beneficiaries of our solutions with the aspiration to advance the common good. This demands an all-hands-on-deck approach—meaning you must immerse yourself in diverse teams that allow you to leverage the wealth of identity, perspective, and experience to fuel the creative process that leads to technological discovery."
Jerome P. Lynch, Vinik Dean of Engineering
Read more at the Pratt website.
Divinity School
"As you go forward, when times get tough, when you find yourself cowering in life's corner, and when those 'what-if' questions arise, remember that you are restored, redeemed, forgiven, and nothing can put you beyond the reach of God's insurmountable love. Fear is no match for God's restoring power."
Wylin Wilson, Assistant Professor of Theological Ethics
Watch the service on YouTube.
Department of Economics
"My own view of the college experience is perhaps a bit old-fashioned, that it should be a preparation for life. For thinking about, and even at times understanding, the world around us. For citizenship—local, national, and international. For one's vocation, or calling in this world. For relationships, both intimate and distant. For parenting, if one goes down that road. For continuing to grow and develop as a person. For flourishing.
"On the face of it, your economics education might seem to have little to do with these big-picture aspects of life. Well, at least beyond the propensity to equate "flourishing" with a high salary. But that would be to miss the point. To quote—and, you know, every commencement address must include a quotation from an eminent philosopher—to quote the great Mexican philosopher Dani Rojas, 'Economics is life!' (You were expecting Aristotle and you get "Ted Lasso." Sorry, I'm not that deep.)"
Steve Medema, research professor of economics
Department of Political Science
"There's one last lesson I have for you, especially on this Mother's Day. Listen to your mother. My mother instinctually knew what many people in politics never learned; it's ok to be the lone voice for change."
J.B. Pritzker, Duke Class of 1987 and current governor of Illinois. A member of the Duke Board of Trustees, Pritzker received the department's Distinguished Alumni Award.